Holtz visits Tigers, imparts words of wisdom
Former Notre Dame football coach takes playful dig at Michigan's Harbaugh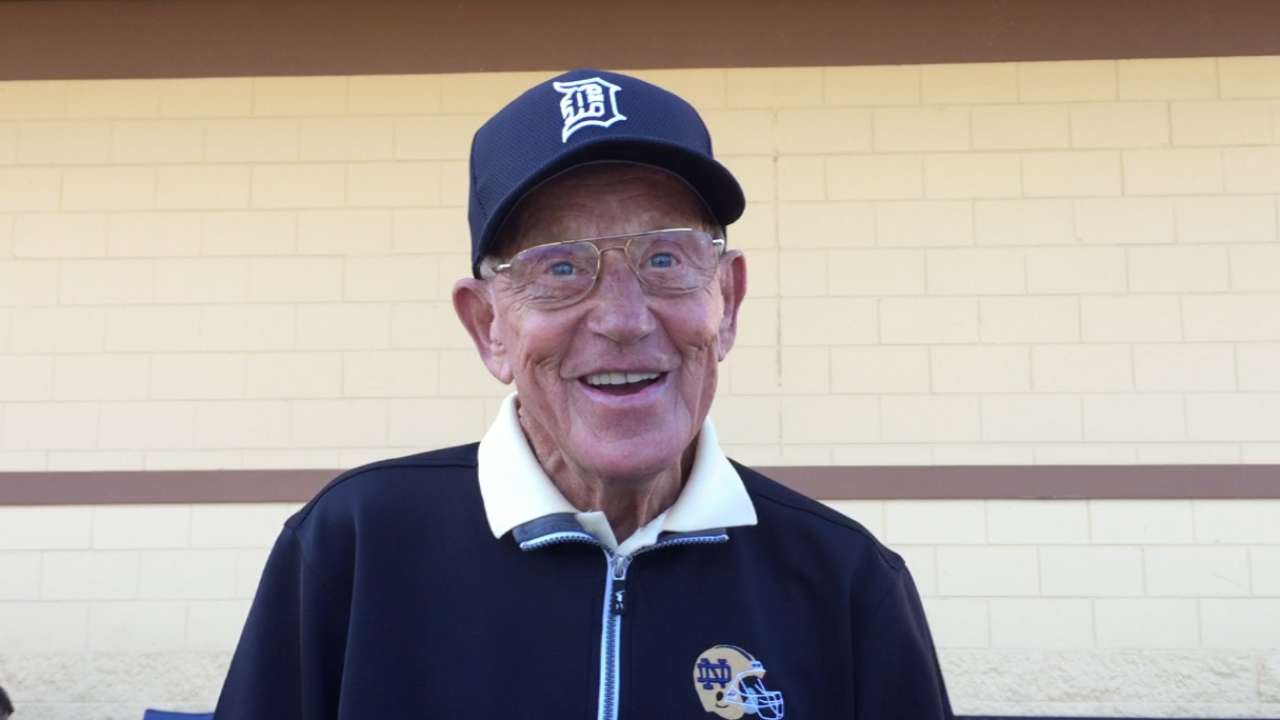 LAKELAND, Fla. -- Lou Holtz heard about Michigan football coach Jim Harbaugh's day with the Tigers on Wednesday. That wasn't why he visited their camp Friday, but he couldn't resist getting in a one-liner.
"Obviously they don't trust his decision-making, or he would've been on third," Holtz said with a smile before the Tigers' 3-0 win over the Yankees.
• Spring: Tickets | Ballpark | 40-man roster | NRIs
Holtz, the former Notre Dame football coach and legendary Michigan nemesis, visited Joker Marchant Stadium on Friday as a guest of the Tigers' Lakeland crew. The 79-year-old, who lives in Orlando, spoke to the team during its daily morning meeting before his grandson threw out the ceremonial first pitch.
His message, he said, was simple.
"Just about deciding what you want to do," Holtz said, "that you have to ask yourself some serious questions, what sacrifices you're willing to make and what skills you have to acquire, the same things I try to teach with our football team.
"You have to be able to trust each other and you have to be committed to excellence, and you have to care about one another. Those three qualities -- trust, commitment and love -- are the basis of what we did at every school I've been."
Before Holtz became a football coaching legend, though, he grew up a baseball fan. He grew up in Ohio as a fan of the St. Louis Cardinals, he said, because his name was Louis. He recited the starting lineup for the 1946 World Series champion Cardinals as proof, then recited the lineup for the 1948 champion Indians.
"When I left the third grade, I was a terrible reader," he said. "I came back in the fourth grade and the teacher could not believe that I was one of the best readers. You know why? I started reading the sports page about baseball."
Holaday tries utility work
Bryan Holaday remains in a roster bind as he competes with veteran Jarrod Saltalamacchia for the backup catcher job, but he's doing what he can to help his case, whether in Detroit or somewhere else. After taking ground balls at third base in early spring workouts, he entered Friday's game against the Yankees at third.
Manager Brad Ausmus said he talked with Holaday about it in the offseason, just before the Tigers signed Mike Aviles during the Winter Meetings. At that point, a right-handed hitter at third base and outfield had appeal.
"As much as it's an option for us, I think down the road it could be a bigger option for Bryan Holaday," Ausmus said. "His value as a player goes up if he can play multiple positions, catcher being his primary position."
Holaday had only one play Friday, but fielded it deftly. Like former Tigers catcher-turned-infielder Brandon Inge a decade ago, Holaday said the quick reactions at third are a relatively easy transition.
"No hesitation," Holaday said. "Your instincts take over. At third base, you don't really have time to think about what you're doing. It can be a good thing or a bad thing, I guess."
Sanchez sidelined by illness
Anibal Sanchez was scheduled to throw a bullpen session this weekend as he works back from triceps inflammation. However, a bronchial ailment left him unable to throw for the time being, according to Ausmus.
Sanchez, who has been playing catch all week, was sent home -- he lives in Orlando -- and won't return until he's feeling better.
A. Wilson still dealing with tight shoulder
Reliever Alex Wilson, who played catch Thursday after being shut down for a few days with a tender shoulder, experienced tightness in the same shoulder Friday and won't pick up a ball again for a couple of days.
Jason Beck is a reporter for MLB.com. Read Beck's Blog, follow him on Twitter @beckjason and listen to his podcast. This story was not subject to the approval of Major League Baseball or its clubs.