Hellickson makes first bid for Opening Day assignment
Right-hander strikes out five over two innings against Braves
CLEARWATER, Fla. -- The Phillies haven't named their Opening Day starter yet. The choice seems to boil down to Aaron Nola, who was pitching for LSU two years ago, and Jeremy Hellickson, who has more than five years of big league service time.
Hellickson made his pitch against the Braves on Friday at Bright House Field. After giving up back-to-back doubles to Ender Inciarte and Erick Aybar to open the game, he retired the next six batters he faced, five of them on strikeouts as the Phillies went on to a 12-11 victory.
"He knows how to pitch," said manager Pete Mackanin. "He changed speeds, he hit spots. He wasn't happy when he gave up that run, even in Spring Training, which we like to see. "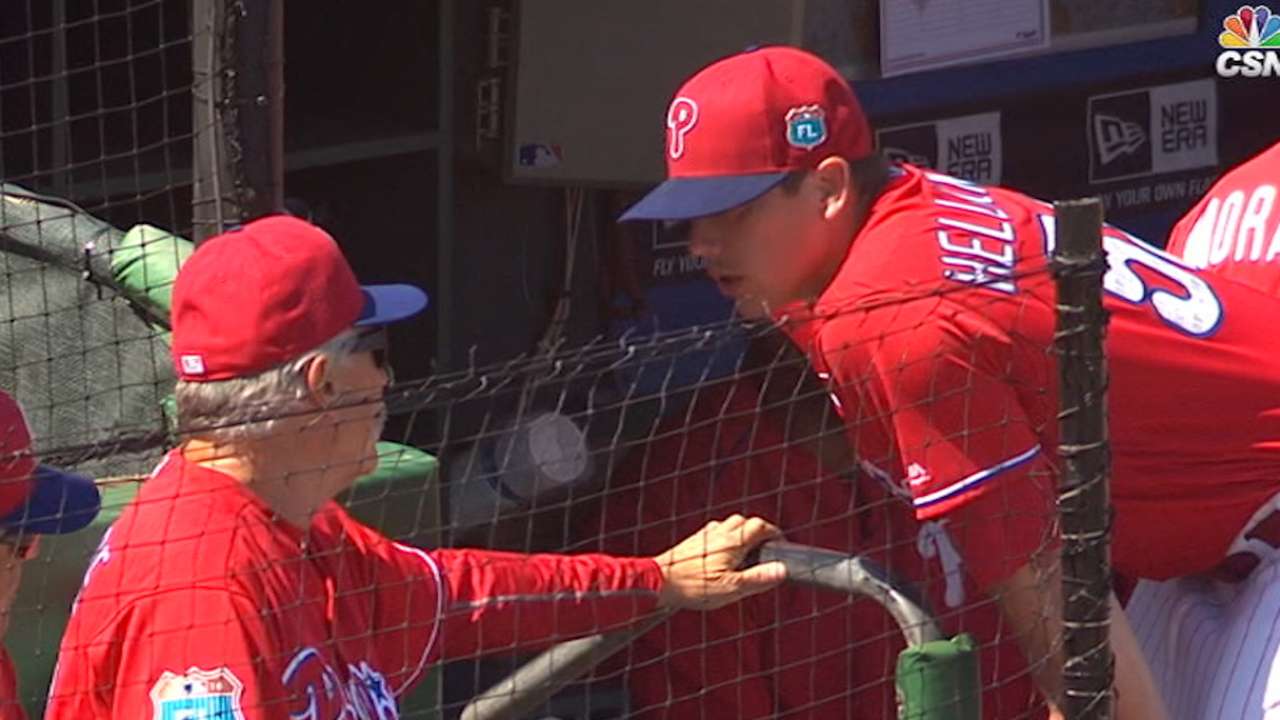 The Phillies have amassed a lot of good young arms, but acquired Hellickson from the Diamondbacks (and signed Charlie Morton as a free agent) to add some veteran stability to the rotation.
"After the first couple of batters, I felt sharp," Hellickson said. "My fastball command was a little shaky. But after those first couple of batters I got locked in a little bit, started pitching backwards. The off-speed stuff was pretty good today. I've just got to work on the fastball command a little more.
"I think I threw all my pitches today. As I said, the fastball command was a little shaky. It just wasn't there today. So I just kind of went away from that early and worked on my off-speed stuff. Last year I tried to establish my fastball early in games. Games like this I probably would have tried to keep forcing it instead of going to my off-speed early. I'm going to try to get back to more changeups, more curveballs this year."
Paul Hagen is a reporter for MLB.com. This story was not subject to the approval of Major League Baseball or its clubs.