Ngoepe looking to improve bat for big league shot
Shortstop ditched switch-hitting before 2015 season
BRADENTON, Fla. -- A little less than a year ago, manager Clint Hurdle told Gift Ngoepe he'd been reassigned to Minor League camp. That was when Ngoepe decided he had something to tell the Pirates, too.
After the 2014 season, Ngoepe returned home to South Africa and decided to give up switch-hitting. He didn't feel comfortable with his left-handed swing, and it was affecting his preparation as a right-handed hitter. But he knew he'd be in big league camp in February, so he decided to hold off a little longer.
• Liriano strikes out four in strong spring debut
On March 19, Ngoepe sat in an office at McKechnie Field and got the news he'd been cut and sent out to the Pirate City complex for Minor League camp. That's when Ngoepe laid out his desire to ditch his left-handed swing. Impressed by his conviction, the Pirates didn't push back.
"He had a good 'Why.' He wanted to eliminate some clutter," Hurdle said. "That's pretty good. Let's go with it."
"When the organization's backing you up like that and having faith in you and trusting in you to make such a decision, it's huge," Ngoepe said. "They didn't question me like, 'Why wouldn't you try it a little bit longer? Why don't you do this?' It was just like, 'OK, we hear where you're coming from and we'll let you try it.'"
The Pirates have consistently praised Ngoepe's glove. This week alone, Ngoepe has made a handful of highlight-reel plays at shortstop. General manager Neal Huntington even said in November he'd feel comfortable immediately putting Ngoepe at shortstop in a Major League game, if necessary.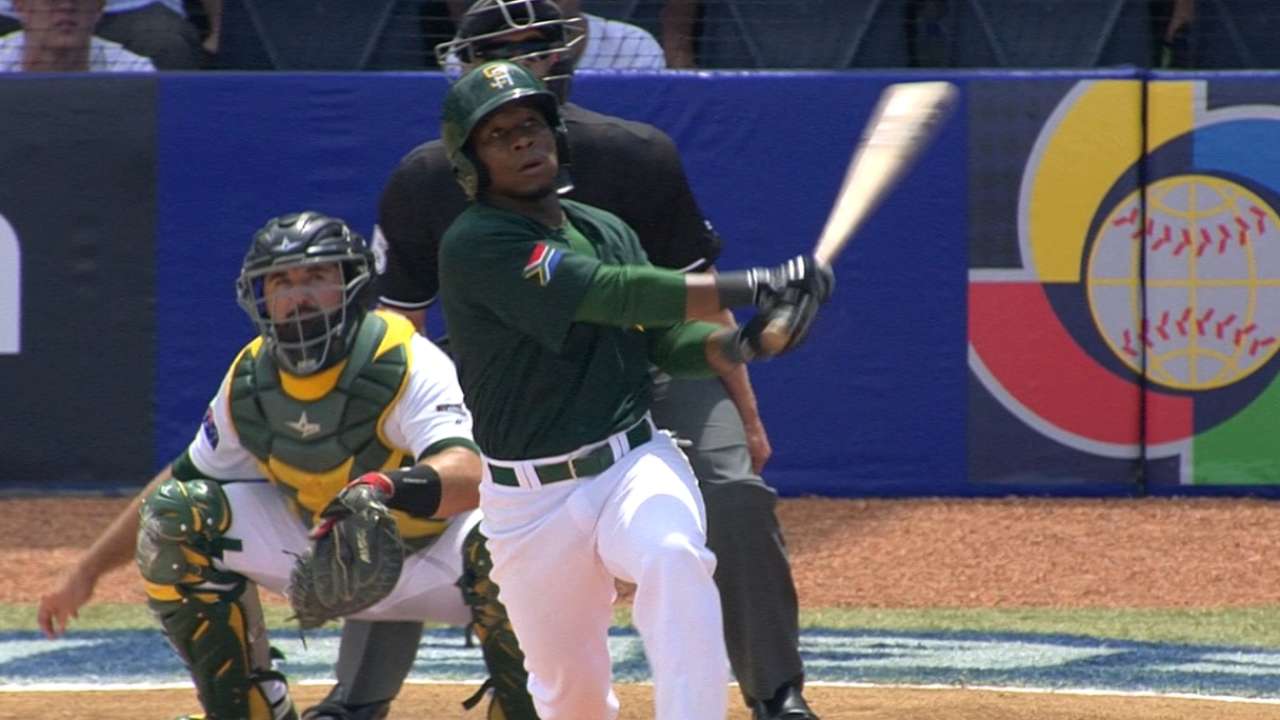 "He has defensive skills that grab your attention immediately," Hurdle said.
The Pirates added Ngoepe, the first black South African to sign a professional baseball contract, to their 40-man roster over the offseason.
"I was excited and ecstatic about it," Ngoepe said. "I went home with a big smile because I was like, finally, I'm one step closer to knocking on the door and now I'm putting one foot into the door."
Ngoepe's outstanding defense at shortstop could get him to the Majors as soon as this season, and his simplified offensive approach appears to be catching up. Last year, his first batting exclusively right-handed, he hit .257/.333/.352 between Double-A Altoona and Triple-A Indianapolis.
More important than the numbers was how Ngoepe felt at the plate. He found himself able to analyze his own swing, make the necessary adjustments and be confident in his approach.
"Leading up to that, I was just struggling. I had zero confidence trying to balance both sides and having the confidence and the swag that hitters talk about," Ngoepe said. "I just didn't have that when I was switch-hitting."
A year later, Ngoepe's "good why" has led to better results.
"He's made some improvements there," Hurdle said. "It'll be fun to continue to watch him play."
Adam Berry is a reporter for MLB.com. Follow him on Twitter at @adamdberry. This story was not subject to the approval of Major League Baseball or its clubs.