Confident Franco swinging hot bat early in spring
Third baseman launches home run for second straight day
CLEARWATER, Fla. -- Third baseman Maikel Franco played well enough after being called up last season to start being included in the National League Rookie of the Year conversation.
A broken wrist in August short-circuited his chances. He's a key piece to the Phillies' rebuilding plan, though, which is why manager Pete Mackanin is so happy to see Franco off to such a hot start this spring.
Franco drove in four runs in Friday's 12-11 Grapefruit League win over the Braves at Bright House Field, including his second home run of the spring.
"The success he had last year helped him gain confidence," Mackanin said. "When you're a young player and you're in big league camp all of a sudden, you have to get your feet on the ground. You have to feel good about yourself and feel like you belong in the big leagues. Now he knows he belongs in the big leagues. And he's just going to grow from there and get better and better."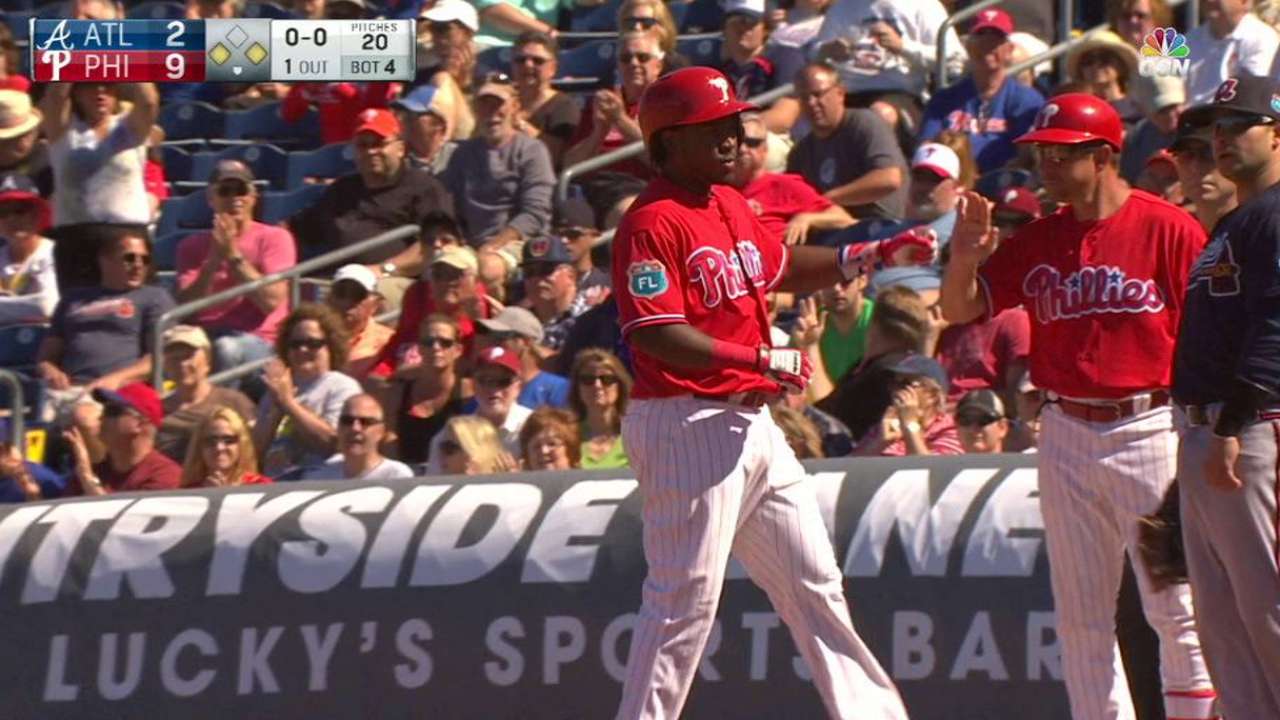 Said Franco: "[My confidence level is] really good, because that's what I've been working for, to feel comfortable at the plate. And now I feel comfortable and just want to keep doing that. Every day, try to do my job. [Being injured last year was] a little bit frustrating. But I'm healthy, my wrist is getting better. My wrist is 100 percent. Now I'm just trying to do my workouts and what I have to do to get better every single day."
The last two years, Franco has struggled in the spring. He was determined to avoid that this year.
"That's what I've been working for -- come in early, do my program, do my routine in the batting cage. Be prepared for the game. Now it happened and now I'm happy," he said. "I've gotten focused, seeing the ball pretty good and just trying to go out there and enjoy the game and win."
Paul Hagen is a reporter for MLB.com. This story was not subject to the approval of Major League Baseball or its clubs.