'Grandpa' Ross defies age to turn double play
38-year-old backstop plans to retire following 2016 season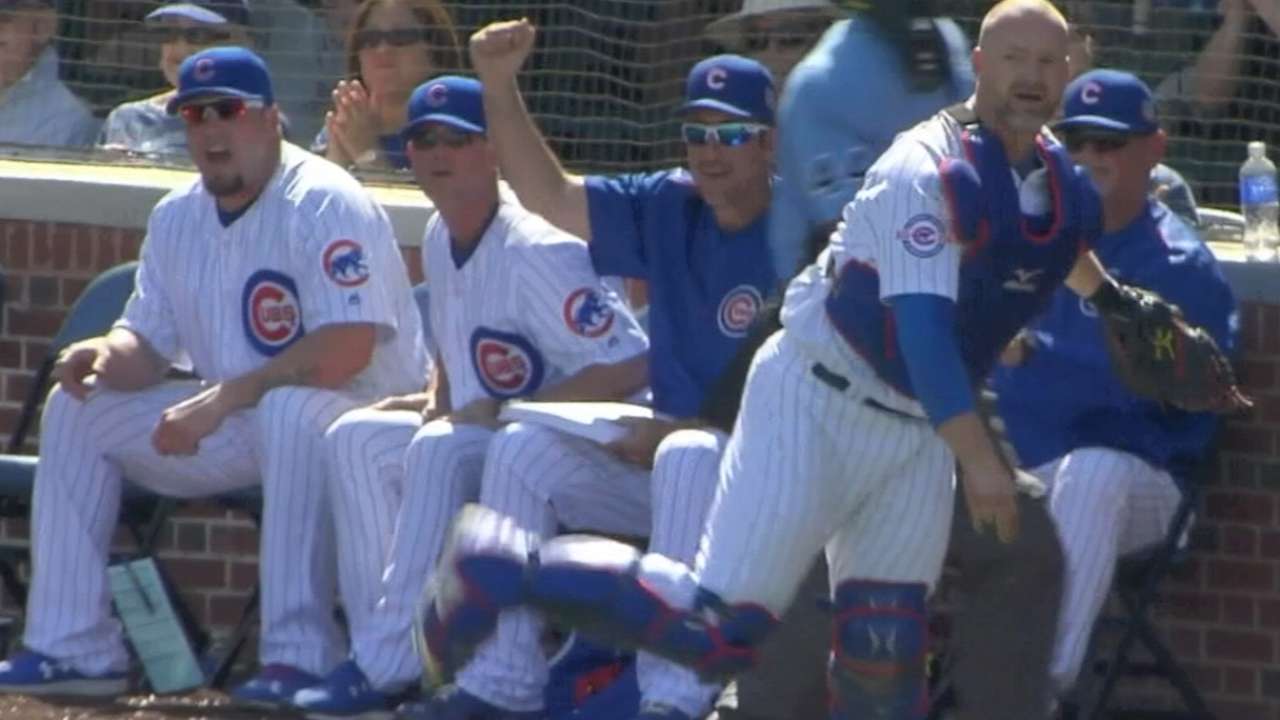 MESA, Ariz. -- Who's old? Not David Ross, who has been a good sport this spring as young Cubs Anthony Rizzo and Kris Bryant tease him about his age. Grandpa Rossy showed them how the game should be played when he turned a double play in the fourth inning during a 3-0 win against the Angels on Friday.
Ross, 38, snared Cliff Pennington's foul popup with a diving catch in the Angels' fourth, then threw out C.J. Cron at second for an inning-ending double play.
"I was looking for 'Riz' in the dugout to scream at him, 'Who's old? Who's grandpa now?'" Ross said, laughing.
It was the defensive highlight of spring, and the Cubs have had plenty of highlights so far, what with Munenori Kawasaki's karaoke singing and Dexter Fowler's surprise return. Ross, playing his final season, got high-fives from everyone in the Cubs' dugout.
Spring Training: Schedule | Tickets | More info
"I was surprised at how excited I got," Ross said. "It was fun to make that play. I didn't know I was going to dive. It was one of those things that just happened, and I looked up and the guy's going to second. [Shortstop Addison Russell] made a great play, give a little credit to him. It was nice to get the first game and do something fun so I can yell at these young bucks."
Russell hit a two-run blast in the bottom of the fourth to get Chicago on the board.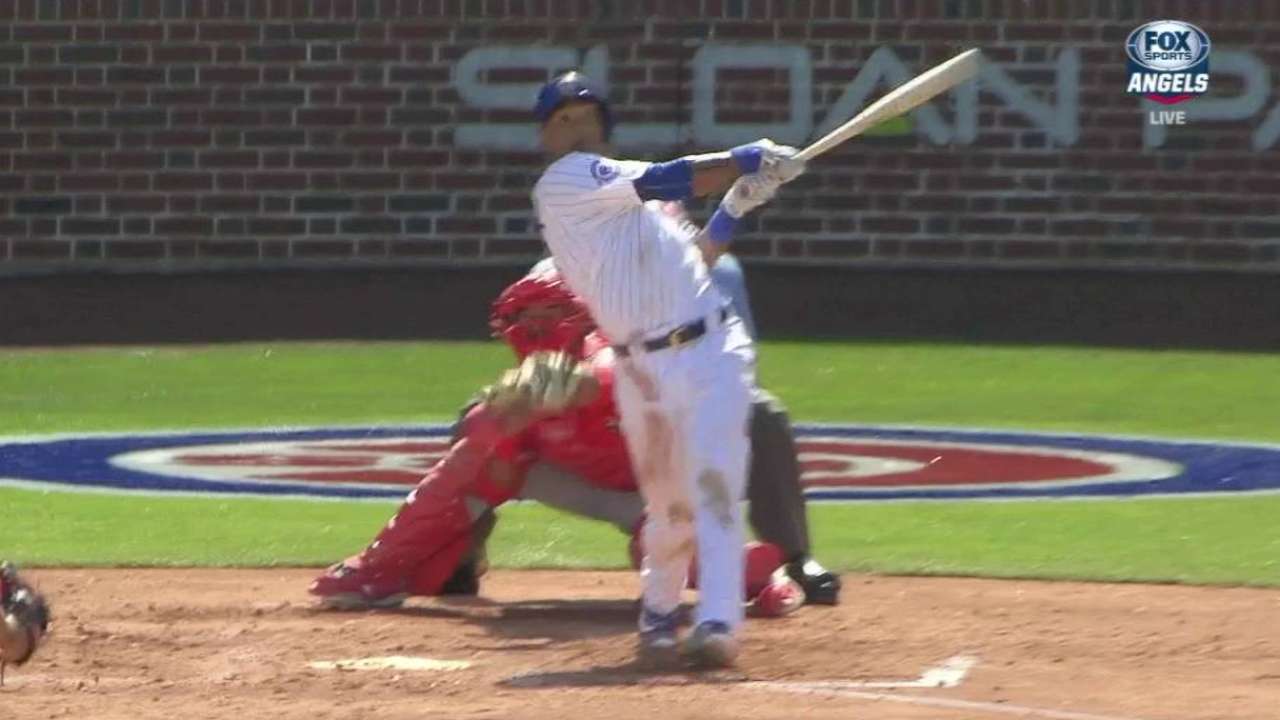 On Thursday, the Cubs presented Ross with a motorized cart to help him get around the practice facility. Rizzo and Bryant are documenting Ross' final season on Instagram. They're not going to stop razzing him.
"They're probably not going to stop harassing me, but it's a little motivation for me," Ross said. "It makes me just try to prove them wrong."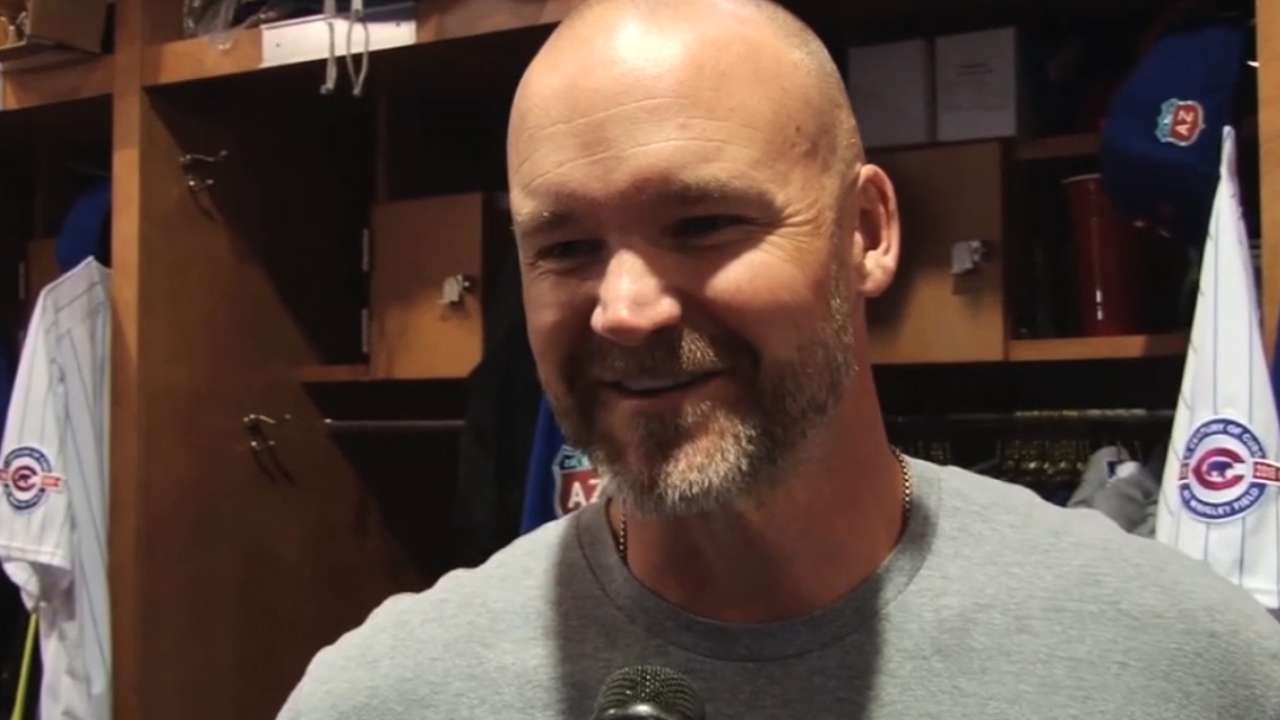 Rizzo was standing next to Ross, and he took over the interview.
"Do you realize the effect you have on these young kids on a daily basis?" Rizzo said.
"I don't," Ross said. "I love these young kids. They treat me great. I love them like my own."
Rizzo was on a roll.
"Do you ever reflect on what it is that you do for Anthony Rizzo, Kris Bryant, Addison Russell, who give you credit for the big turnaround last year?" Rizzo asked.
"That is nice," Ross said, "but I don't think I deserve the credit. I just want to be a part of this team. I'll reflect on those things when my career is over and I yell at you from the first row. I'm going to sit in the front row and push you to be the greatest player I've ever seen."
Both Ross and Rizzo then laughed. Still, it's Ross' final season, and he's not going quietly.
"It's just one of those things that it just kind of happened," he said of the play and his motivation. "[Pitcher Neil Ramirez] is out there -- these guys are trying to make the team. I want to test myself. I was nervous going into the game. I want to play well. Like I've said, I don't want to be a weak link on this team. I'm one of the least talented players on this team, so I have to make sure I take my game up to another level and play hard and do special things. Did I plan on diving today in Spring Training and game one? No. It just happened."
Carrie Muskat is a reporter for MLB.com. She writes a blog, Muskat Ramblings. You can follow her on Twitter @CarrieMuskat and listen to her podcast. This story was not subject to the approval of Major League Baseball or its clubs.