Worley states case for rotation in spring debut
Veteran tosses two hitless innings vs. Blue Jays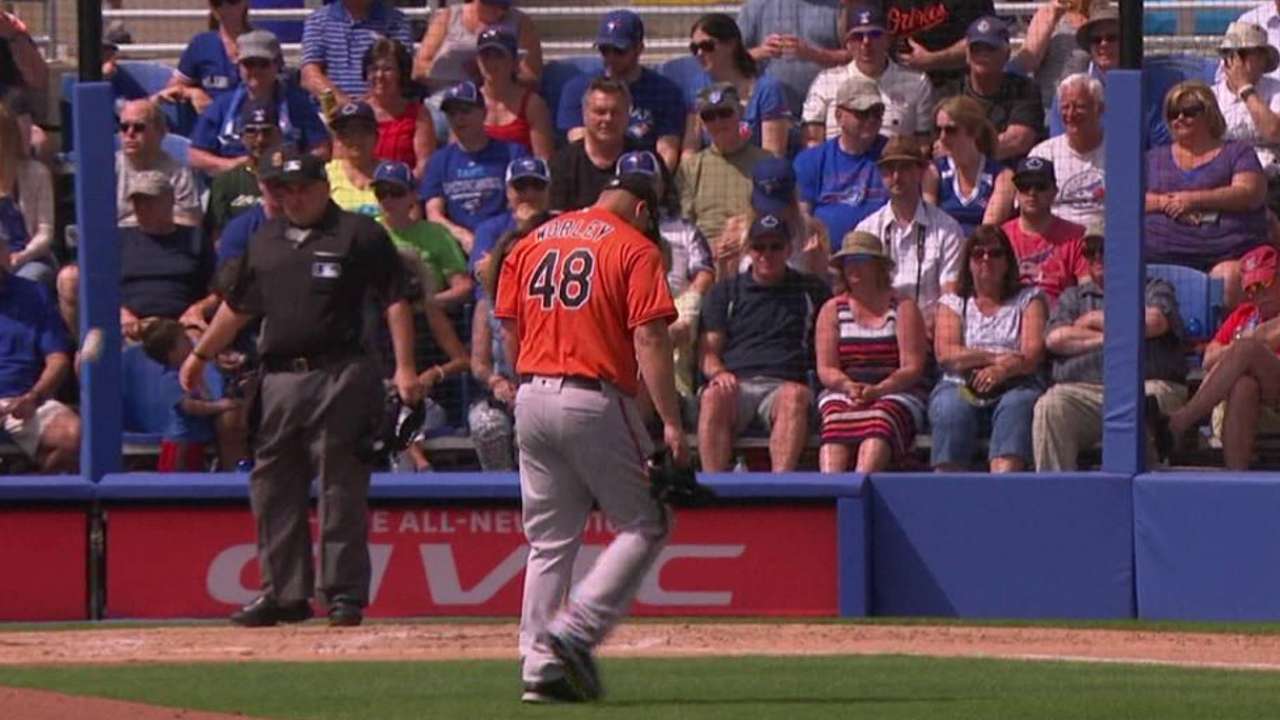 DUNEDIN, Fla. -- In his spring debut, Baltimore's Vance Worley showed he's going to make it a good fight to be a part of the Orioles' starting rotation.
The right-hander threw two no-hit innings against the Blue Jays at Florida Auto Exchange Stadium on Friday, giving up just a walk while striking out one in a 4-3 loss. Of his 36 pitches, 25 went for strikes.
Worley said he struggled with his command in the first inning, but settled in quickly in the second, which saw him retire all three batters he faced.
"I was just trying to keep the ball down in the zone, knowing that lineup over there," Worley said. "There's some swingers, and I was trying to mix it up and go in and out. Down was too down today, so I'm just glad the way the second inning went."
Baltimore pitchers had struggled in the early going in spring ball, allowing 25 runs through the first three games. Worley tried not to put much stock into it.
"I would say it's rust for everybody, and we're all trying to shake it off right now," Worley said. "It's about going out and competing. We work all week long to get things right, and I'm sure those guys will get things right."
What Worley was investing in was how important the early games could be for him as he tries to make his case for the rotation.
"I'm trying to show them my best effort out there and utilize my defense," Worley said. "If I can get a punch-out here and there, great, but I'm pitching to contact and having my team play for me."
One of the biggest adjustments so far has been learning his new batterymates, which affects how comfortable he is throwing different pitches in different situations. Francisco Pena had the start in Friday's game, and Worley said part of his second-inning success was being in sync with him.
"We were on the same page. It was quick and it was go, go, go," Worley said of the inning. "It'll be mixing [offspeed pitches] later on, but right now it's been more command."
Worley spent the last two seasons with the Pirates, going 12-10 in 41 games, including 25 starts. In 2014, the "Vanimal" pitched 110 2/3 innings with a 2.85 ERA. Worley had a rockier time last season, throwing just 71 2/3 innings with a 4.02 ERA.
"I just need to show up and do my job," Worley said.
Greg Zeck is a contributor to MLB.com. This story was not subject to the approval of Major League Baseball or its clubs.