Location prime focus for Archer in spring debut
Rays ace: 'I accomplished everything I wanted to accomplish'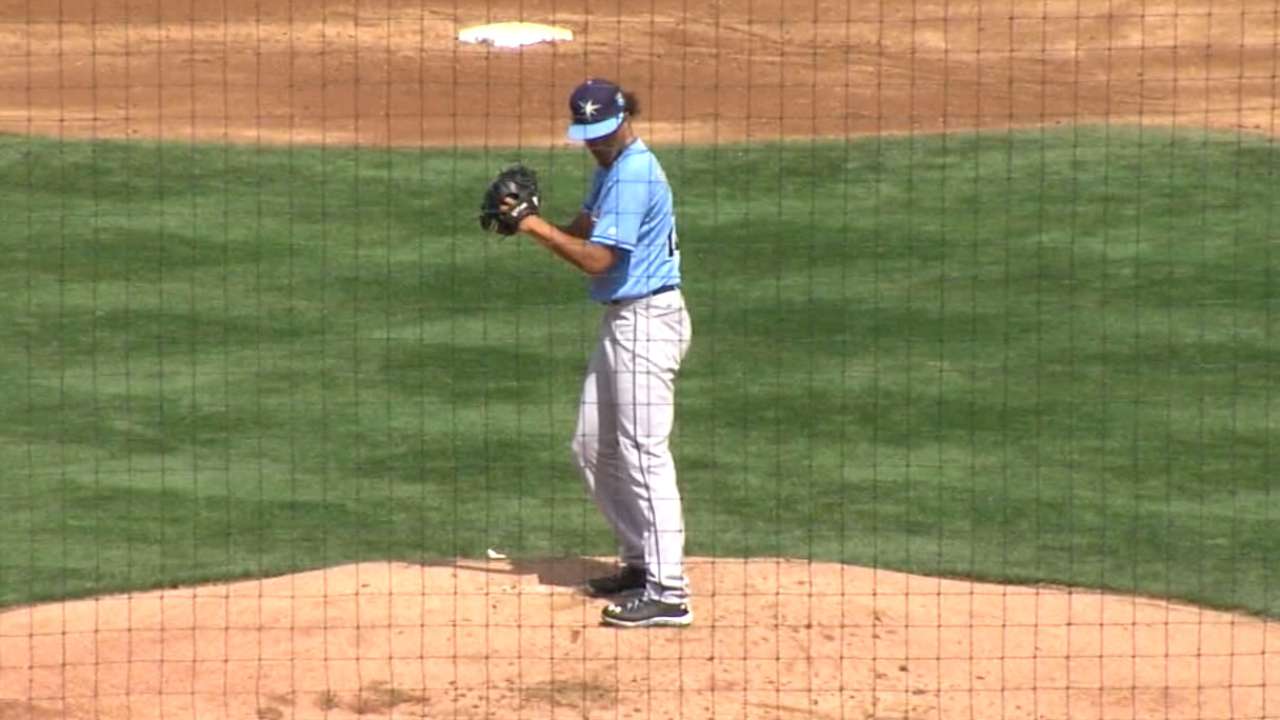 FORT MYERS, Fla. -- Chris Archer made it look easy his first time out this spring when he worked two scoreless innings against the Red Sox at JetBlue Park.
"I accomplished everything I wanted to accomplish, and that was be over the plate as much as I possibly could with everything," Archer said.
• Spring Training: Schedule | Tickets | Complete info
Archer struck out one, hit a batter and another reached base on an error. The Rays right-hander threw 26 pitches of which 15 were strikes.
"I thought he looked good, really good," Rays manager Kevin Cash said after the Red Sox closed out a 7-2 win. "I think he should be very pleased."
Working to be more consistent is Archer's mantra this spring.
"The goal is 34 starts of being as consistent as you possibly can," Archer said. "And we know as human beings that that's not always going to be the case. But I'm striving for perfection.
"You guys know that from Day 1. I might have had 15 out of 23 or 24 starts that were that consistent. Next season was a little more. Last year was a lot more. And the work's never going to stop because I'm never going to be perfect, but I'm striving for perfection."
Cash told reporters, "I don't think you need to tell him too much."
"He's going to always look to improve," Cash said. "I know [he] and Hick [pitching coach Jim Hickey] have discussed some key things for him to continue to evolve in being kind of that star pitcher that he's showed he's capable of being. You want him to just fine-tune everything a little bit.
"A guy like Arch is so driven. He'll pick something and really focus on it in Spring Training."
Archer has played the role of clubhouse leader well all spring. He is happy to share anything about anything that might help a teammate get better. Yet Cash noted that Archer hardly thinks he knows everything.
"As much advice as he gives, he still asks more questions than anybody," Cash said. "That's pretty impressive for a guy who really came on last year like he did."
Archer also came away from his outing somewhat pleased with the reactions he got from Red Sox hitters.
"That was one thing I was happy about, every batter I faced is probably going to be in their Opening Day lineup," Archer said. "So it was good to get positive feedback from that."
He also seemed pleased that his changeup got mistaken for a slider throughout his two innings.
"Worked on the changeup quite a bit [Friday]," Archer said. "I know that I threw quality changeups when the scoreboard said slider, and it really was a changeup. And that happened probably four or five times because I only threw three total sliders. So I was really happy with that.
"Sometimes you find small things that validate your work, and that's it. Because those guys are supposed to be professionals at identifying pitches for the fans. If it has the same late action and depth as my slider, then mission accomplished."
When asked if he saw his good friend, David Price, sitting in the Red Sox dugout, he smiled.
"DP and I exchanged text messages prior to the game," Archer said. "There were a lot of people in both dugouts so it was hard to see."
Price actually stopped to talk to reporters covering the Rays while they waited outside the clubhouse to talk to Archer. When asked if he wanted to join the interview process, which Archer once did last year when Price got interviewed in Toronto, Price responded: "My words aren't big enough."
Archer burst out laughing when told what Price said.
"Oh stop," Archer said. "He went to Vandy, so he's a smart guy."
Archer said he expects to expand to 45 or 50 pitches in his next outing.
Bill Chastain is a reporter for MLB.com. This story was not subject to the approval of Major League Baseball or its clubs.