Teams contacted Pennington about pitching
Angels utility man made relief appearance during ALCS with Blue Jays
MESA, Ariz. -- Cliff Pennington's emergency relief appearance for the Blue Jays in last year's American League Championship Series got some notice -- from teams that looked into signing him as a free agent.
Pennington, the Angels' new utility infielder, can handle second base, third base and shortstop. But apparently he can also pitch a little bit. The 31-year-old became the first full-time position player to pitch in a postseason game in the ninth inning of ALCS Game 4, facing three batters and recording the final out.
He threw his fastball 90 mph, flashed a curveball, cutter and changeup. And when the offseason came, some teams actually approached Pennington's agent about a unique hybrid role.
"In talking to some teams about straight utility, there was maybe some talk about maybe pitching a few innings to save a bullpen guy here or there throughout the course of a year," Pennington said. "Nothing more than six, seven innings in a year. It never was anything that was talked about with the Angels."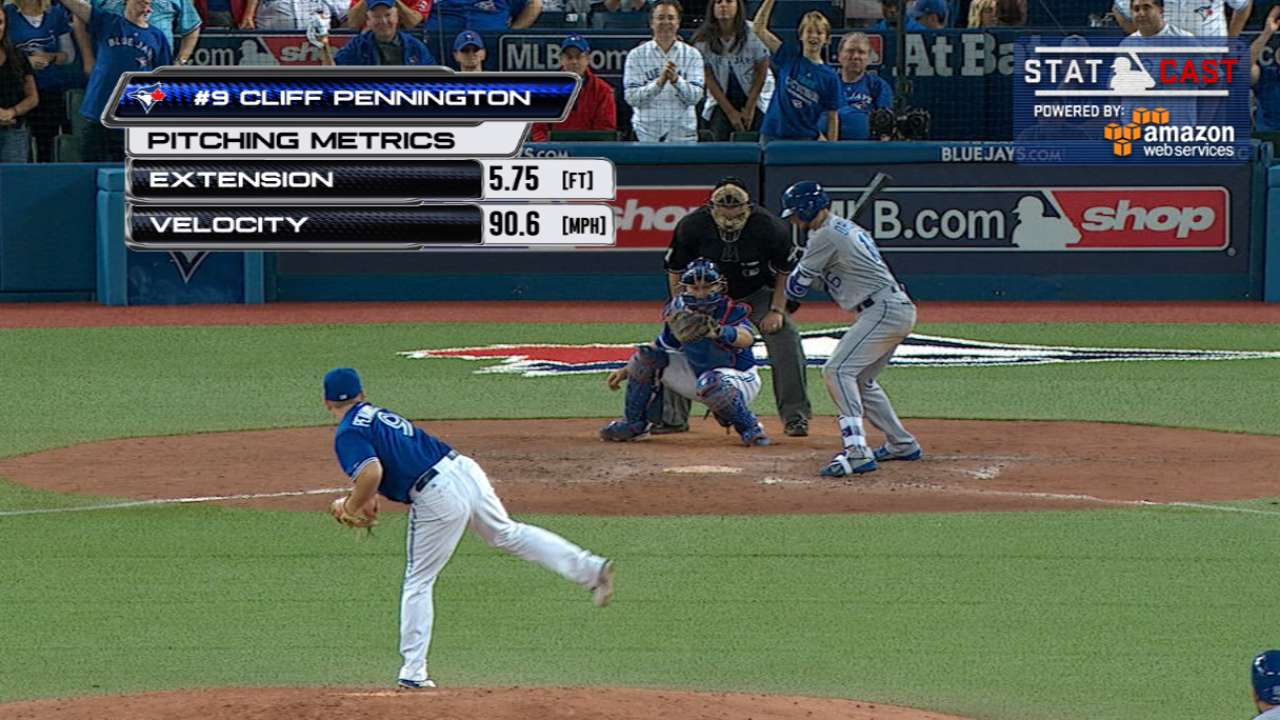 Angels manager Mike Scioscia has not used a position player to pitch in his 16-year managerial career, so Pennington probably won't have to worry about that here.
Pennington decided on the Angels pretty early, signing a two-year, $3.75 million contract on Nov. 17. He figures to get a lot of playing time as the backup infielder, and he could challenge Johnny Giavotella for at-bats as the starting second baseman.
• Wash expects improved 'D' out of Giavotella
Pennington was the A's everyday shortstop from 2010-12, but he has pretty much settled into a utility-infield role since. Last year, though, his slash line plummeted to .210/.298/.281 in 249 plate appearances, well below the career .248/.315/.350 mark he entered the 2015 season with.
"I just didn't swing the bat very well," Pennington said. "… Last year was one of those years. It just didn't start well, and it didn't go up from there much, either. But it's part of the game. I still tried to find a way to help a team any way I could. I know batting average wasn't the way I was doing it, but my walks were pretty good last year."
Spring Training: Schedule | Tickets | More info
Worth noting
• Scioscia raved about the sprawling catch Mike Trout made to start Thursday's Cactus League game, once again dismissing metrics that essentially deemed Trout an average defender last year. Said Scioscia: "There's two center fielders, maybe, that can get to where he was playing to that ball and make that catch. … His last five steps closing to that ball -- you're never going to see anybody faster getting to the ball. It was unbelievable."
• When shifting left-handed hitters to pull this season, Scioscia will keep Andrelton Simmons at shortstop and shift third baseman Yunel Escobar over to help cover the right side. Last year, shortstop Erick Aybar is the one who shifted and third baseman David Freese played shortstop because Freese was more comfortable on that side. With Simmons, the Angels will have more coverage on the flares to shallow left field that get hit by dead-pull guys.
• Albert Pujols is expected to make his Cactus League debut on Sunday as the designated hitter in a home game against the Royals. Pujols, still recovering from November surgery to his right foot, has been taking batting practice and doing defensive work since the start of camp. The Angels' first baseman recently began running the bases. Simmons will make his debut at shortstop on Saturday in Peoria against the Mariners, after previously nursing arm soreness.
• The Angels donated a large collection of toys to Children First Academy in Tempe on Friday morning, a tradition that has been going on for more than a decade. Jett Bandy organized it this year, collecting money from the players in order to buy the toys. Young players like Ji-Man Choi, Nate Smith and A.J. Achter also took part. Children First Academy provides care to underprivileged children.
Alden Gonzalez is a reporter for MLB.com. Follow him on Twitter @Alden_Gonzalez and Facebook , and listen to his podcast. This story was not subject to the approval of Major League Baseball or its clubs.