Choo, DeShields wage friendly competition
Rangers' table-setters challenge each other for best on-base percentage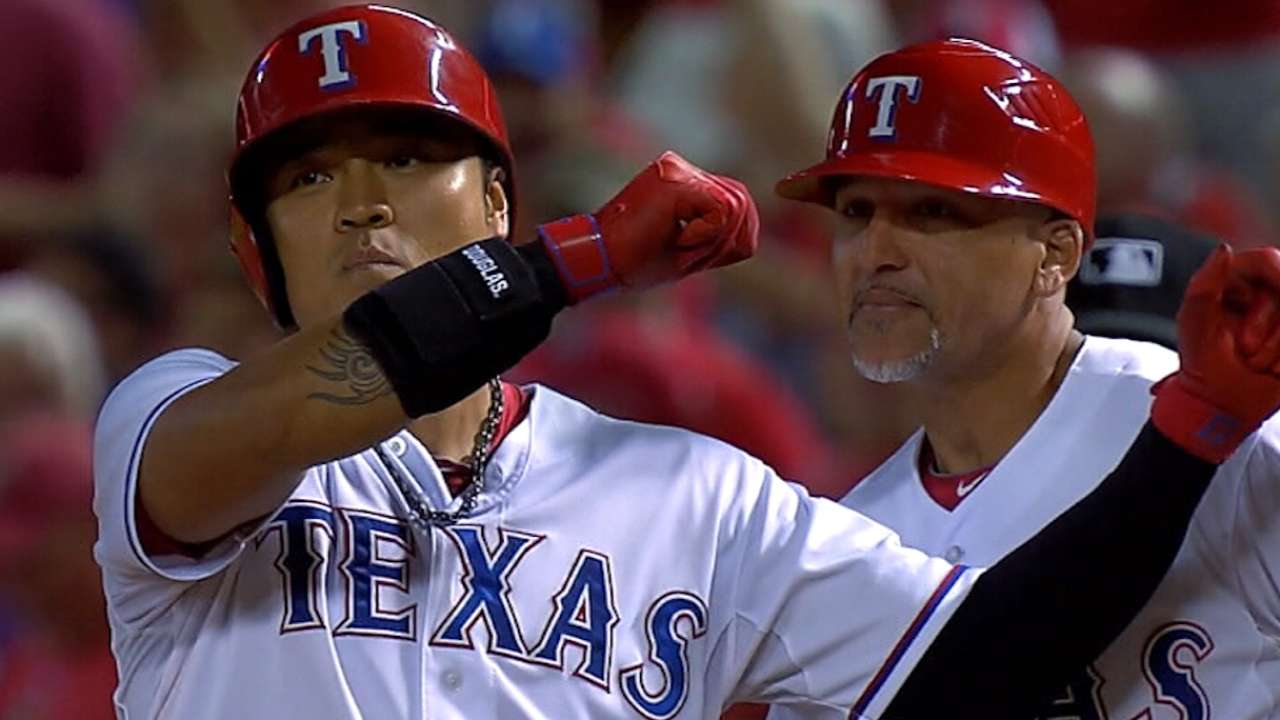 SURPRISE, Ariz. -- Delino DeShields and Shin-Soo Choo are well versed in their roles as table-setters atop the Texas batting order. Their job is to reach base and let the big boppers -- namely Prince Fielder, Adrian Beltre and Mitch Moreland -- do the rest.
In fact, DeShields and Choo have placed a wager for 2016 to see which player can do that job better. The hitter with the better on-base percentage at season's end wins a watch.
"If we don't get on base, we don't win games," DeShields said. "That was our thing last year. When Choo and I started hitting one and two, we used to tell each other in the on-deck circle, 'Get on base, that's how we win games.' ... We're constantly challenging each other to be better."
• Spring Training: Tickets | Schedule | More
DeShields posted a solid .344 OBP last season, tops among all rookies in the American League. But he'll have a tall task if he wants to beat Choo, who sports a career .382 mark.
No matter who ends up with the watch, Rangers skipper Jeff Banister loves the weapons at the top of his lineup, and he loves the way they complement each other.
"I like that combo of what we get out of DeShields and Choo," Banister said. "Choo can attack early, or he can be selective. He's patient enough to allow DeShields an opportunity to run, if we want him to run. He's also a weapon to go the other way or to hit the ball out of the ballpark."
That last part is key. Choo launched 22 home runs last season. DeShields only hit two. But in DeShields' eyes, if he can find his way on base before Choo goes deep, those two runs are just as valuable as if the pair had gone back-to-back.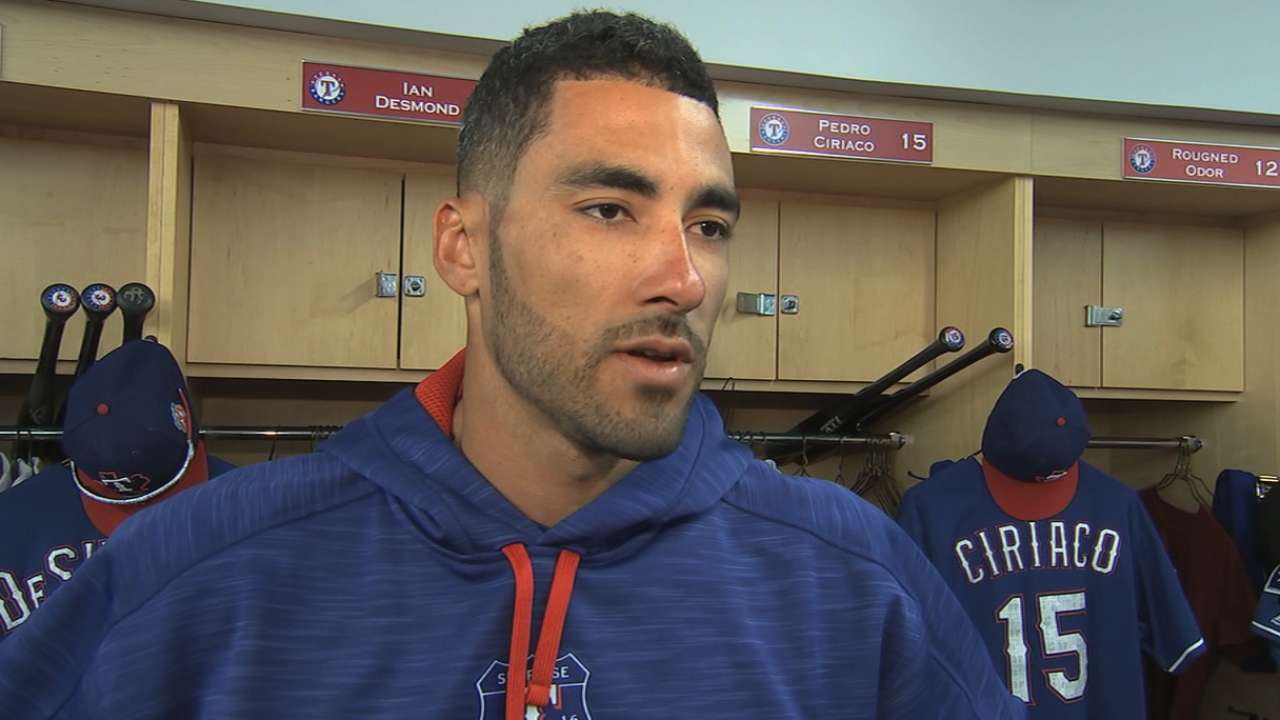 Plus, DeShields feels as though there's added value to his presence on the bases and the distraction it might provide to opposing pitchers, whose sole focus should be Choo.
"Me being on first base, it causes a lot of problems, because pitchers feel threatened that I might go," DeShields said. "And if I run, he'll take. He's very selective and patient. It makes it a little bit more comfortable for me, running and getting in scoring position for him and the guys behind him."
Worth noting
• Yu Darvish threw 25 pitches in a bullpen session Friday, as he continues to recover from the Tommy John surgery he had last March 17. He worked in breaking balls for the first time and felt fine afterward.
"He's starting to kind of get after it a little bit more, and I think he can really start to see the light at the end of the tunnel," said backstop Chris Gimenez, who caught the session. "He's going to continue to get more and more comfortable with all of his release points and stuff like that. The fact that he's starting to mix in some cutters is a really good sign, because that's a pitch that puts a little torque in that area.
"For him to feel great coming out of it, we couldn't be happier with that."
• Rangers closer Shawn Tolleson is day-to-day after experiencing lower-back spasms. It's the second consecutive year that Tolleson will miss time in Spring Training because of an ailment. But -- like last year's elbow injury, which sidelined Tolleson for a week -- this does not appear to be serious.
Tolleson is the second pitcher in as many days to be held out because of a back issue. Right-hander Jeremy Guthrie was scratched from his appearance against Kansas City on Thursday because of a stiff lower back. Assistant general manager Thad Levine said Guthrie lobbied to return to his throwing program Friday, but the club was "just being cautious" by holding him out.
• Banister is preparing as though Tony Beasley will not be available to begin the season in the third-base coaches' box. Beasley was diagnosed with rectal cancer during the offseason and began chemotherapy treatment earlier this week.
"I foresee us needing to be prepared for Tony's absence at third base and get as much time as we can with [interim third-base coach Spike Owen] over there," Banister said. "Obviously, he's got a lot of experience coaching at third base; he was the third-base coach at Round Rock."
AJ Cassavell is a reporter for MLB.com. Follow him on Twitter @ajcassavell. This story was not subject to the approval of Major League Baseball or its clubs.