Desmond untested on first day as left fielder
Only one ball hit to Rangers' newcomer during debut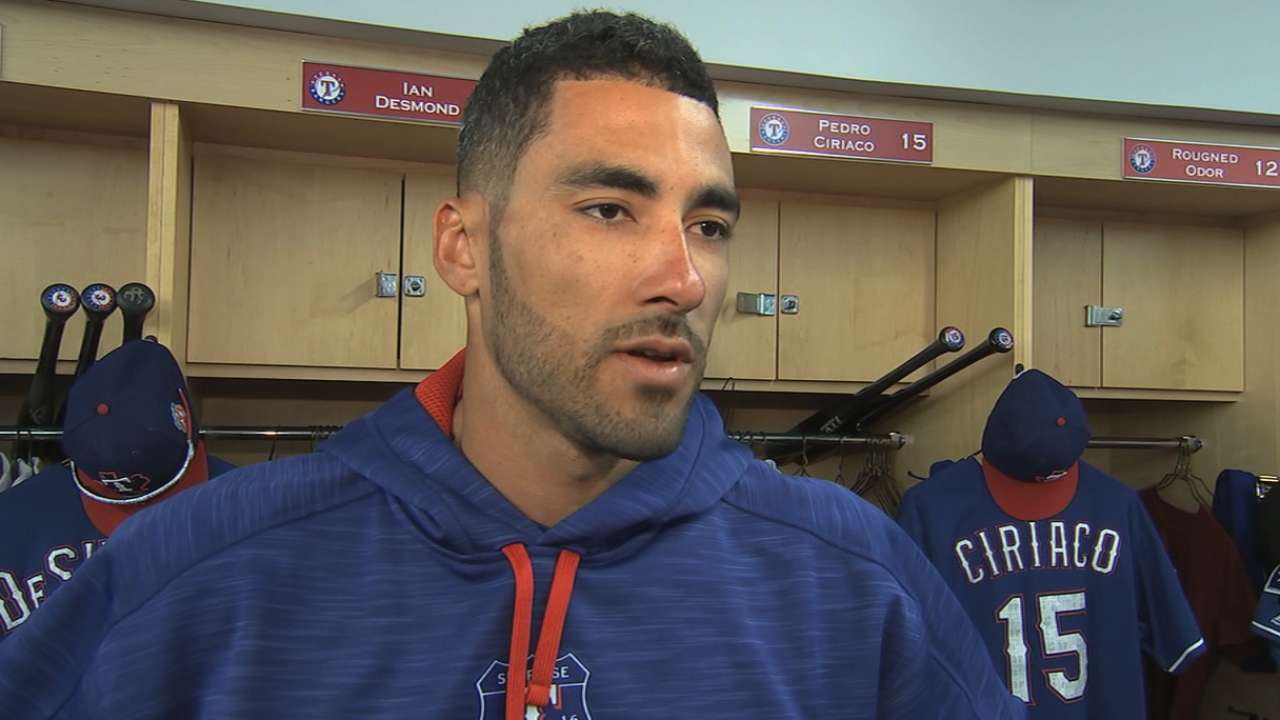 SURPRISE, Ariz. -- Ian Desmond's introduction to life as the Rangers' left fielder was a moment he hopes he doesn't relive very often this season. The first ball hit his direction during Friday's 3-3 tie with the Dodgers was a towering home run -- on which Desmond simply turned his back and trotted to the wall.
Desmond, who signed a one-year deal with Texas last week after spending seven seasons as shortstop for the Nationals, hardly saw any action in his first professional appearance in left. He fielded a bases-empty single in the sixth and tossed it back to the infield, but didn't touch the ball otherwise.
"It was nice to get out there, see what the pace of the game is out there," said Desmond. "Everything's still a little bit quick for me. Coming from short, those fast twitches, I've got to shut those down a little bit. I still want to be quick and get good jumps, but I think I'm going to get in trouble if I overreact too early."
• Spring Training: Tickets | Schedule | More
Desmond made a solid first impression at the plate, hammering a double off the left-center-field wall in the bottom of the sixth. He finished 1-for-3, including a rocket ground ball that turned into a double play in the bottom of the first.
But few are questioning Desmond's prowess at the plate. He's a career .264/.312/.424 hitter with 110 home runs. His resume as an outfielder, on the other hand, is practically blank. He's totalled 7 1/3 career innings in the outfield -- all of which came in right.
Desmond graded his reactionary instincts as a "D" and added that he also needs to work on his positioning.
"Being out there today, what I realized is that I don't know my depth," Desmond said. "I don't know if I'm playing close or deep."
Center fielder Delino DeShields helped Desmond with that Friday. But it was DeShields who saw most of the action, tracking a pair of fly balls hit to the warning track and recording five putouts in five innings.
Later, Desmond quipped about his new teammate, "Freaking ball hog."
AJ Cassavell is a reporter for MLB.com. Follow him on Twitter @ajcassavell. This story was not subject to the approval of Major League Baseball or its clubs.