Francona confident in reliever Shaw
Brantley progressing; Venable scheduled for Tribe debut, Uribe's TBD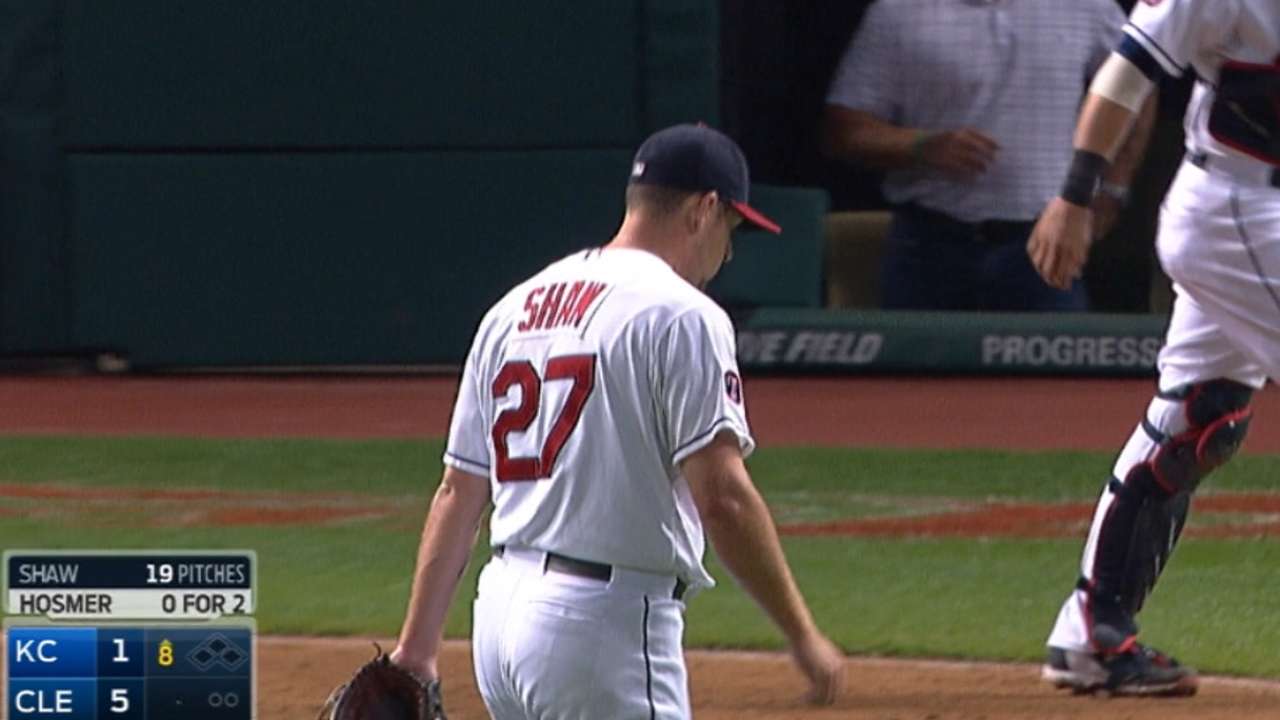 GOODYEAR, Ariz. -- Bryan Shaw is no stranger to tough Cactus League debuts. When the Indians reliever allowed five runs in his first outing of the spring on Thursday, it was an appearance that was eerily similar to his preseason debut one year earlier.
Needless to say, Tribe manager Terry Francona is not too concerned.
• Spring Training: Schedule | Tickets | More info
"If there's one guy that I'm not worried about his psyche, it's Shaw," Francona said. "He'll be fine. He's in good shape, and he's throwing [well]. He'll be fine. That's just what he did last year."
In his first outing of Spring Training on March 6 last year, Shaw gave up six runs (one earned) in two-thirds of an inning against the Royals. On Thursday against the Reds, the right-handed setup man allowed five runs on five hits in two-thirds of an inning, in which he walked one and hit a batter.
"He really wanted to throw fastballs pretty much exclusively," Francona said. "But he said they were hitting it so hard that he started throwing his breaking ball, and they started hitting that. He'll be OK."
One reason Francona has high confidence in Shaw -- beyond his track record in the regular season -- is the physical condition that the reliever reported to camp in this spring. Shaw, who has logged at least 70 games in each of the past three years and had a 2.95 ERA in 2015, showed up this spring looking trimmer than he has in previous years.
"I'm happy," Francona said. "I've talked to him about it a lot because he's pitched a lot. I worry about these guys a lot of times because I want them to have long careers. You can't just show up and pitch, especially the volume that these guys have. When you see him show up like that, you know he's put in the time, and I'm glad."
Worth noting
• Outfielder Michael Brantley (right shoulder surgery in November) remains in the soft-toss phase of his hitting program, but Francona noted that the left fielder has continued to increase both the intensity and volume of his workouts. Brantley has also spent time tracking pitches in live batting-practice sessions.
"He's just continuing to do very well," Francona said. "The volume has been picking up, increasing pretty well. He's trying to do everything he can, so as he gets the go-ahead, he's not hindered in another area."
• Francona has been starting his regular position players mostly on an every-other-game basis. The players and pitchers not slated to play on any given day are not required to attend that day's Cactus League contest. So far, though, many players have been spending time at the game before heading home for the day.
"It's been impressive," Francona said. "It's a pretty impressive group. They don't have to. It's not a test."
• Outfielder Will Venable is scheduled to serve as the designated hitter on Saturday against the Giants for his Indians debut. Venable, who signed a non-roster Minor League contract on Feb. 26, has been eased into game activities by Cleveland.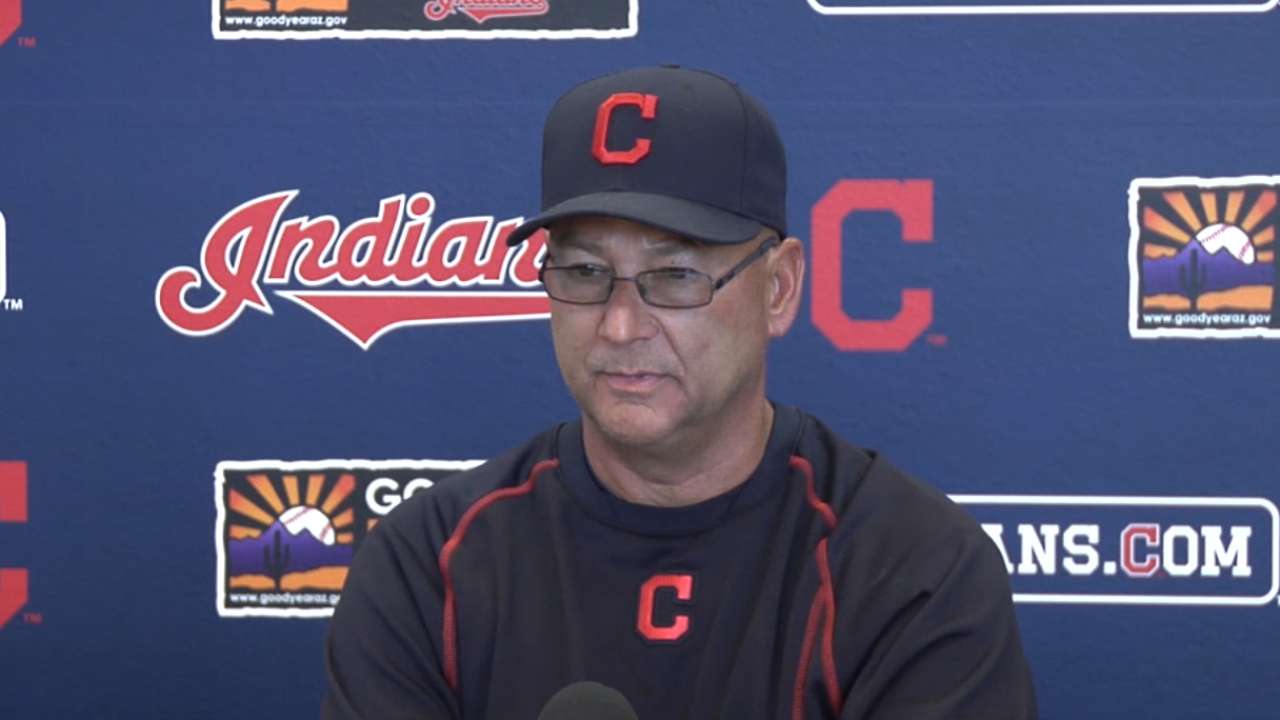 • Veteran third baseman Juan Uribe, who signed with the Indians on Sunday, is going through workouts, but there is no firm date yet for his Tribe debut.
"I've talked to the trainers and stuff on him, and I imagine we're getting closer," Francona said. "I just want to talk to him myself, too."
Jordan Bastian is a reporter for MLB.com. Read his blog, Major League Bastian, follow him on Twitter @MLBastian and listen to his podcast. This story was not subject to the approval of Major League Baseball or its clubs.