The Voice: Kawasaki serenades Cubs
Infielder shows love of karaoke with his rendition of hit Aerosmith song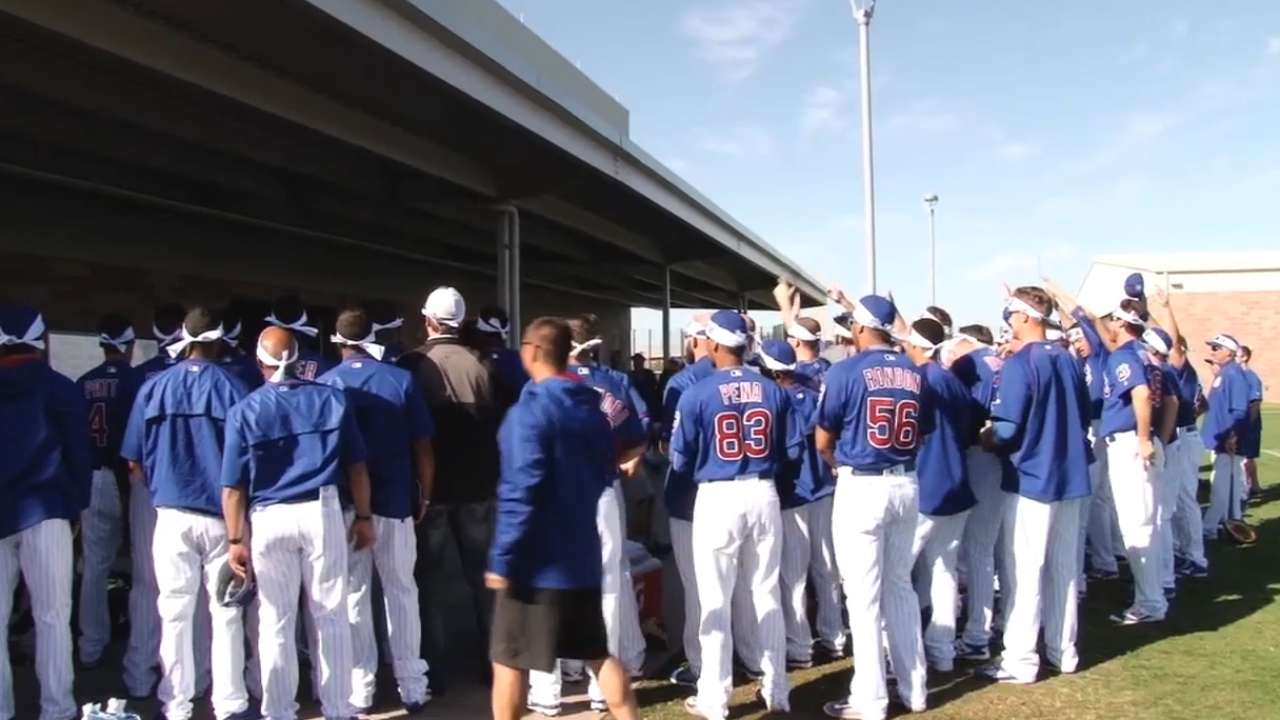 MESA, Ariz. -- Munenori Kawasaki sparked the Cubs' morning stretch Friday by singing karaoke to Aerosmith's "I Don't Want to Miss a Thing," and he inspired players to wear headbands with Japanese sayings such as "Must Win" and "Fighting Spirit."
"He can sing," Cubs outfielder Dexter Fowler said of Kawasaki. "He can sing karaoke with the best of them."
What prompted the lively jam session?
"Just the fact that Kawasaki is not afraid to do that," manager Joe Maddon said. "You've got to have a guy who's not afraid to do those kind of things. He loves karaoke."
Spring Training: Schedule | Tickets | More info
The players joined in the chorus at the end, then broke for stretch, and the leadoff music was "Kung Fu Fighting," which Maddon liked because it reminded him of some of his favorite music from the 1970s.
We feel you, @MuneKawasakiWB. "I don't want to miss a thing" during this #Cubs #SpringTraining.https://t.co/KpJcuyuUu2

— Chicago Cubs (@Cubs) March 4, 2016
It's just another attempt to keep the energy level up in camp. Maddon, whose headband said "Must Win," abhors monotony.
"I hope there's no monotony here," he said. "Why would you ever want to come out on a daily basis and grind it out in the Arizona heat, relentless sun, doing the same things every day and hoping to get the best things from your group? We just had a really good time a couple minutes ago, and now they'll get down to business and do their work and take a break and come out and play.
"I know how I've done my best work throughout my life, not just my career, and it's always when I'm having a good time," Maddon said. "You have to separate the fun moments from business moments. ... I like what we're doing now, and I think it's appropriate and I think it will help us. It's part of the group and part of the culture right now."
Maddon did ask a Japanese reporter if there was some way he could get a headband with the message, "The process is fearless," as opposed to "Must Win." He believes in the process.
"If they can put a Cubs logo on it, God bless them," he said.
Maddon also is aware some may think the antics were not politically correct.
"We're not trying to hurt anybody," he said. "It was just all in fun."
Is there anything Maddon won't do?
"I think there's things I wouldn't do," he said. "I don't know what that is yet."
Carrie Muskat is a reporter for MLB.com. She writes a blog, Muskat Ramblings. You can follow her on Twitter @CarrieMuskat and listen to her podcast. This story was not subject to the approval of Major League Baseball or its clubs.