Bagwell taking in first-base competition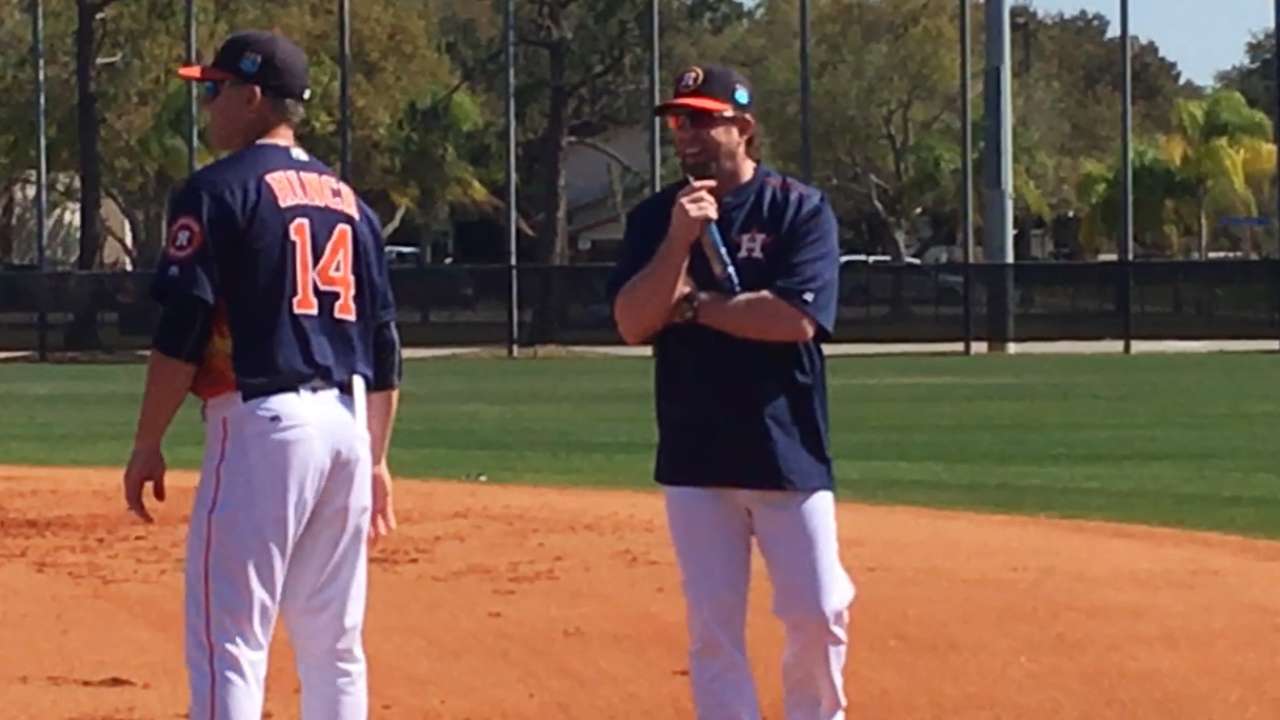 KISSIMMEE, Fla. -- Jeff Bagwell is the greatest first baseman in Astros history.
The Astros have what pretty much amounts to an open audition at first base this spring, which made the presence of Bagwell on the back fields on Friday to watch a pair of candidates a welcome sight to manager A.J. Hinch.
Bagwell, who's back in camp as a special instructor for the second year in a row, said he wanted to spend the next few days getting acquainted with everybody on the team. Jon Singleton, Tyler White, Matt Duffy and A.J. Reed are the top-four candidates to start at first base for the club this year.
"Obviously, that's a spot in the organization we need right now," Bagwell said. "It will be fun to see everybody."
Bagwell holds court with players pic.twitter.com/BVeJV94L4J

— Brian McTaggart (@brianmctaggart) March 4, 2016
Bagwell, who ranks first on the club's all-time charts with 449 homers and 1,529 RBIs, won a Gold Glove during his National League Most Valuable Player Award season in 1994, but probably could've won several more. He was a heady player who always threw to the right base and was difficult to bunt against.
"I think the first thing is you've just got to catch the baseball, which sounds very stupid, but it's true," Bagwell said. "There's nothing worse than a first baseman dropping the ball. Other than that, you've got to be athletic in bunt plays and take care of your infielders, whether that means picking balls out of the dirt or just moving around and having communication with our second baseman to find out where they are. Just little things that can go a long way to being a great first baseman."
Bagwell came up as a third baseman through the Red Sox organization and made a quick transition to first base after being traded to the Astros.
"You have to put the work in, but these kids will," Bagwell said.
After falling just short of reaching the Hall of Fame by garnering 71.6 percent of the vote in January in his sixth year on the ballot, Bagwell admitted getting elected is a "big deal."
"I downplay it, but it is a big deal when it's the single-highest achievement that you can get personally, not team-wise, but personally," Bagwell said. "It'll be fun."
Brian McTaggart is a reporter for MLB.com and writes an MLBlog, Tag's Lines. Follow @brianmctaggart on Twitter and listen to his podcast. This story was not subject to the approval of Major League Baseball or its clubs.