Molitor readying Santana for super-utility role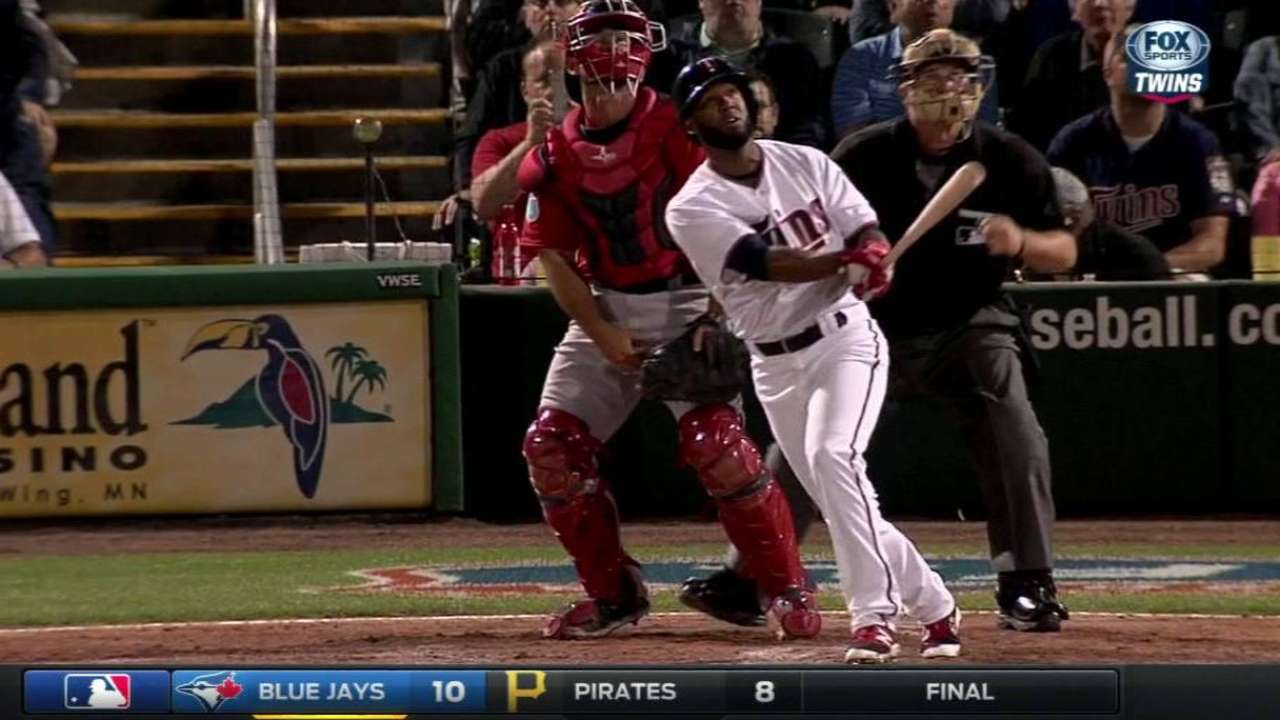 BRADENTON, Fla. -- The Twins are projecting that Byron Buxton, the team's No. 1 prospect, will be their Opening Day center fielder. With his five-tool talent and high baseball IQ, Buxton boasts a skill set rarely seen on a baseball field.
But the 22-year-old Buxton remains a work in progress. That is why the Twins value the presence of a player on their roster who provides quality depth at numerous positions: Danny Santana.
"I told [Santana] early on it's going be a busy camp for him, trying to polish what he knows and learn what he doesn't," Twins manager Paul Molitor said of the versatile Santana, who started 65 games at shortstop last year while also appearing in five games in center field.
"We've made it clear to him that we're trying to see where Byron is at," Molitor added. "We're not holding back any secrets with Danny as far as that's concerned. If that happens, great, and if it doesn't, Danny will be a guy that we would consider to look at, so I'm trying to balance exposing him to a lot of positions here in spring and still get him a chance to do some center-field work."
Getting the 25-year-old Santana further accustomed to center field is a high priority for Molitor this spring.
"We need to see it. He didn't get as much play out there [in center field] last year or the year before. It wasn't a tremendous amount of games, it's still relatively new for him compared to shortstop," said Molitor, who plans to start Santana in center field against Tampa Bay on Sunday.
Despite the uncertainty surrounding Santana's primary role this year, he'll likely see action all over the diamond, according to Molitor.
"Early in camp I told him he's going to play a lot," Molitor said. "He's going to have a lot of work to do on the days he's not playing, as well as when he is. We had him at third base for fundamentals a couple of times so he could get familiar with positioning, bunt defenses and the other things that go on over there.
"If Buxton makes the team, then Danny's avenue is going to be one of variety -- being one of those guys who has to play around."
And while Santana may not receive a regular assignment this season, his role as a utility player is hardly etched in stone.
"This doesn't mean that he won't become an everyday player at some position, but it's a different spring for him than last year, when we had him projected as our starting shortstop," Molitor said.
"We'll just see how he responds to this. He's got skills that can make him one of our better offensive players if he continues to try to figure some things out as far as plate discipline and recognition, and trying to have his game match to his skill set."
Michael Kolligian is a contributor to MLB.com. This story was not subject to the approval of Major League Baseball or its clubs.