Dodgers tab Lee to start in Anderson's spot
Beachy, Bolsinger remain front-runners to join rotation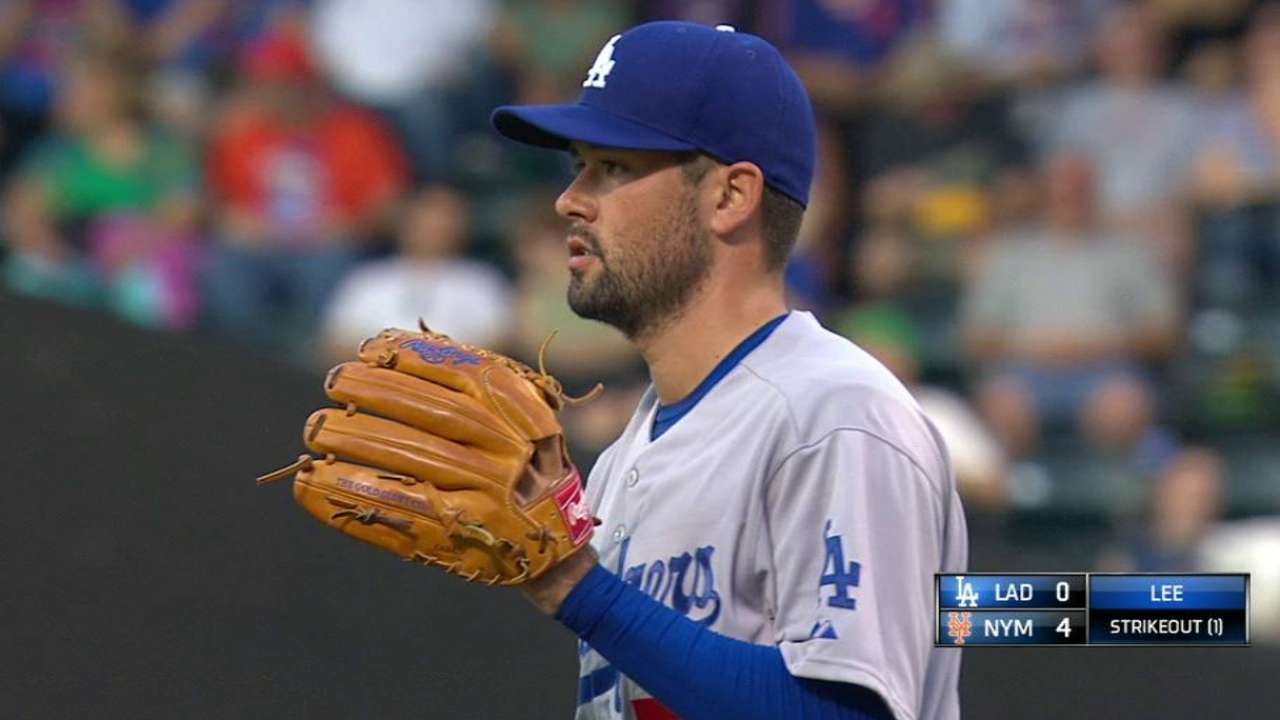 PHOENIX -- The disabling injury to Brett Anderson this week means heightened interest every time a Dodgers pitcher now takes a mound.
On Friday alone, phenom Julio Urias tested a slight groin tweak with a full bullpen session, No. 2 starter Scott Kazmir allowed two runs on six hits in his club debut -- a 3-3 tie with the D-backs -- Jose De Leon skipped fielding drills with a slightly sore right ankle, Mike Bolsinger delivered two scoreless innings in his first outing as a contender to replace Anderson in the rotation and Brandon Beachy's bullpen session was studied closely by coaches Rick Honeycutt and Greg Maddux.
Before the day's work began, manager Dave Roberts named Zach Lee to start Sunday in place of Anderson, whose surgery to repair the same lower back disk that was operated on in 2014 went well, according to Roberts.
Lee's selection is mostly one of convenience, as Sunday was already his scheduled day to pitch, along with Ross Stripling (two years removed from Tommy John surgery) and Chase De Jong. Lee made one regular-season start for the Dodgers last year, when late communication resulted in him pitching in New York one day after a full bullpen session.
• Spring Training: Tickets | Schedule | More
The Dodgers consider Beachy and Bolsinger the early front-runners to replace Anderson in the rotation, but with an entire spring slate remaining, there is time for a full competition that could include Lee, Stripling, De Leon and Chris Anderson, among others.
And of course, there will be the temptation to rush the 19-year-old Urias, who was given two extra days off before throwing a complete bullpen session Friday. Urias felt the discomfort after throwing live batting practice Monday. The medical department is eager to see how he feels Saturday after Friday's workout.
The club is considering changing course again with new Cuban arrival Yaisel Sierra and making him a starter after saying he'd be a reliever, although he is two weeks behind the rest of the staff in training. Joe Blanton and Carlos Frias are still considered multi-inning relievers.
Kazmir, who struck out two and induced two double-play grounders, said his delivery was a tick off, resulting in shaky fastball command. His velocity, which jumped to 93-94 mph last year, topped at 91 mph.
Bolsinger, fighting off a migraine headache, threw two scoreless innings which he said follows his mantra of putting himself in a good position for an opportunity such as this, after pitching well early last year and fading late.
"I came into Spring Training frustrated knowing that I'm not in the starting rotation, but I have the opportunity to show that I've improved from last year, from holding on runners to my fastball location," he said. "I'm a lot more comfortable this Spring.
"I definitely didn't want to be remembered as that guy and I was remembered for that, which really motivated me. I was very frustrated with how everything ended."
Roberts said Hyun-Jin Ryu still isn't ready to throw off a mound after experiencing discomfort in his surgically repaired left shoulder. Roberts said May is still possible for Ryu to return, but he also acknowledged the recovery hasn't been smooth.
By contrast, Brandon McCarthy continues steady progress from Tommy John surgery.
Ken Gurnick is a reporter for MLB.com. This story was not subject to the approval of Major League Baseball or its clubs.