Sano tested in right field during night game
Slugger working with Hunter on defensive transition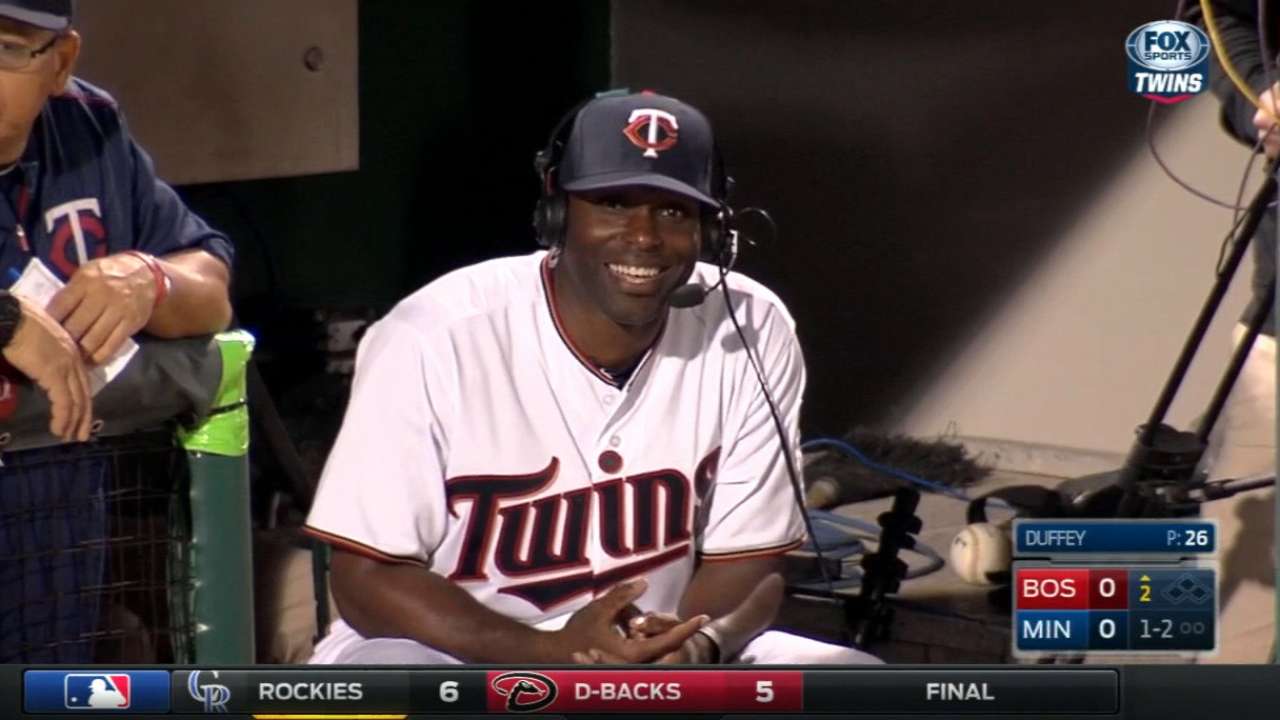 FORT MYERS, Fla. -- After an uneventful first day in right field in his Spring Training debut on Wednesday, Miguel Sano was tested for the first time in Thursday's 6-5 loss to the Red Sox at Hammond Stadium.
Sano, playing in his first night game in right, had two balls hit to him as part of a three-run fourth inning for Boston. The first was a ball hit in the gap by Travis Shaw, and Sano was able to track it down but bounced his throw to the cutoff man, allowing Shaw to reach second for a double. The second was an even tougher play, as Brennan Boesch hit a rocket to right, but it went over Sano's head as he tried to make a leaping catch.
Sano called it a learning experience, and said he feels like he's making progress. But he also added that he planned on going over both plays with guest instructor Torii Hunter on Friday, as they're going to stay back at the club's Spring Training complex to continue to work on Sano's footwork and routes.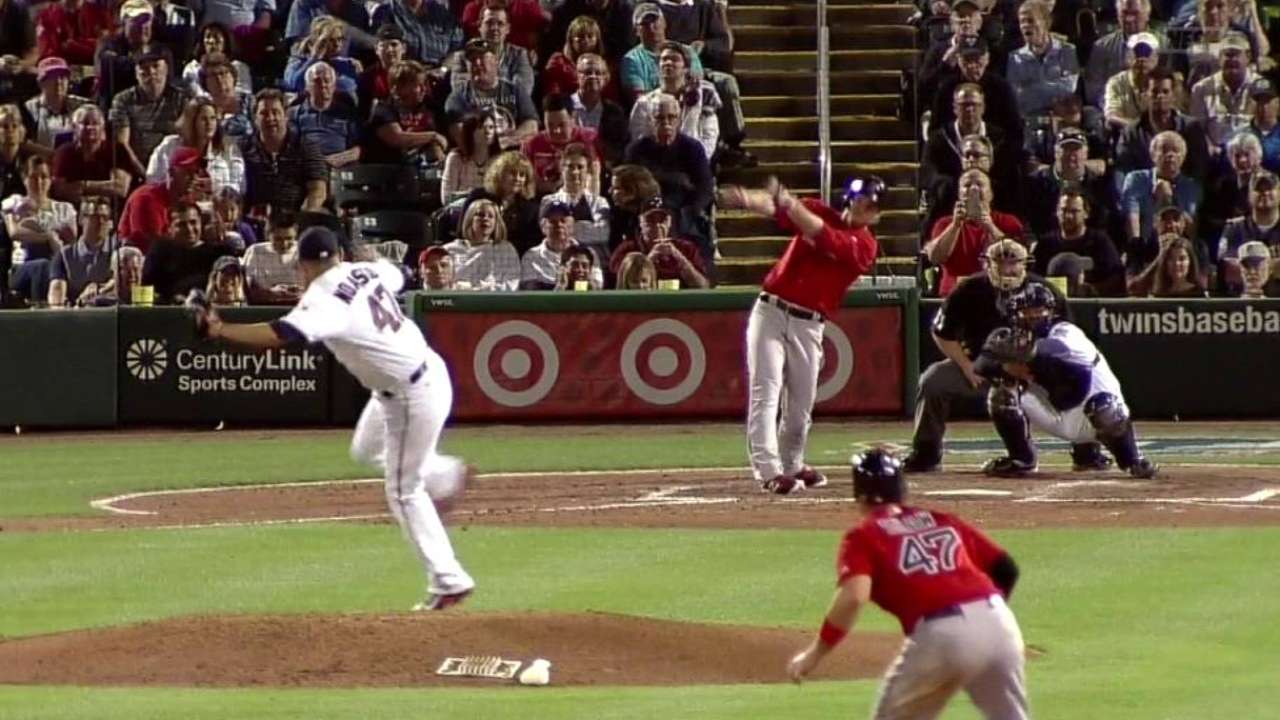 "I'm pretty happy playing my second time in the outfield," Sano said. "It was a really good experience. I need to keep working to prepare myself to get better. So tomorrow I'm going to be here early to work with Torii Hunter."
Twins manager Paul Molitor said he thought Sano did fine on the ball on the gap but that his first step was in the wrong direction on the liner from Boesch.
"Those are probably going to be his tougher plays when balls are scalded and they don't have a ton of air under them," Molitor said. "My thought was that his first step changed his route and he tried to recover. He showed athleticism as far as making an adjustment after that first step. Torii talks about how it's a split-second, but you have to read the ball, and if you commit one way you lose ground and you have to recover."
• Spring Training: Schedule | Tickets | Gear
Sano said he tried to get a read on the ball with his first step, but he couldn't quite adjust and couldn't make the play.
"That line drive was hit hard so my first step was in front so I wouldn't make a mistake on the ball," Sano said. "I did what I could do to catch the ball, but he hit it hard and I didn't have any chance to catch the ball."
Worth noting
• After going 0-for-3 with three strikeouts in his debut on Wednesday, Byung Ho Park went 1-for-3 with an RBI single Thursday. Molitor was happy to see Park looking relaxed after getting the first hit of the way.
"Good to see," Molitor said. "I talked to him today to make sure he's not feeling pressure to impress and that he's trusting his preparation. So I think he was more relaxed today."
• Twins second baseman Brian Dozier had 15 hits to right field in 2015, but went 3-for-3 with three hits to right, including two doubles. He said he's been working on using more of the plate with hitting coach Tom Brunansky.
"We've been working on it, but using the whole field isn't just hitting the ball to right field," Dozier said. "It's about training the path of your swing so you cover more of the plate. And me and Bruno have been working on that."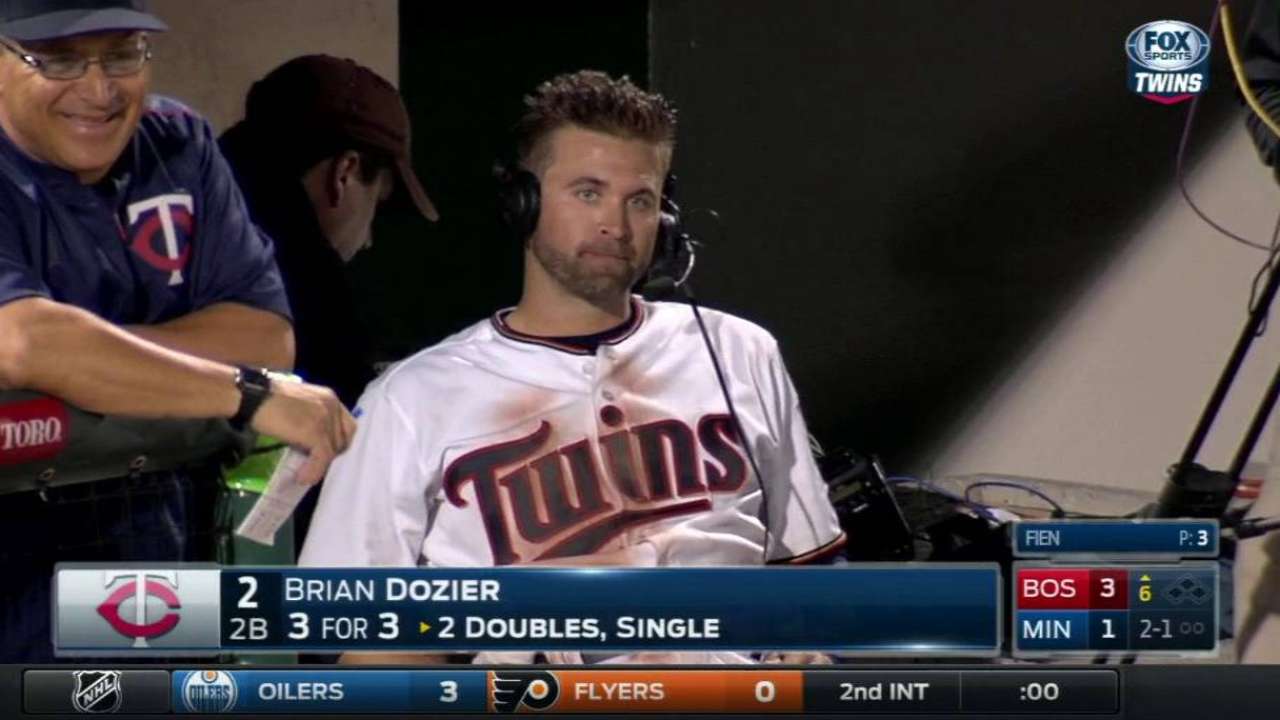 • The Twins got clearance from every National League team they play this spring to use a designated hitter in all games.
Rhett Bollinger is a reporter for MLB.com. Read his blog, Bollinger Beat, follow him on Twitter @RhettBollinger and listen to his podcast. This story was not subject to the approval of Major League Baseball or its clubs.