Breaking down the Rangers' 2016 Top 30 Prospects
Texas ranks No. 3 among all farm systems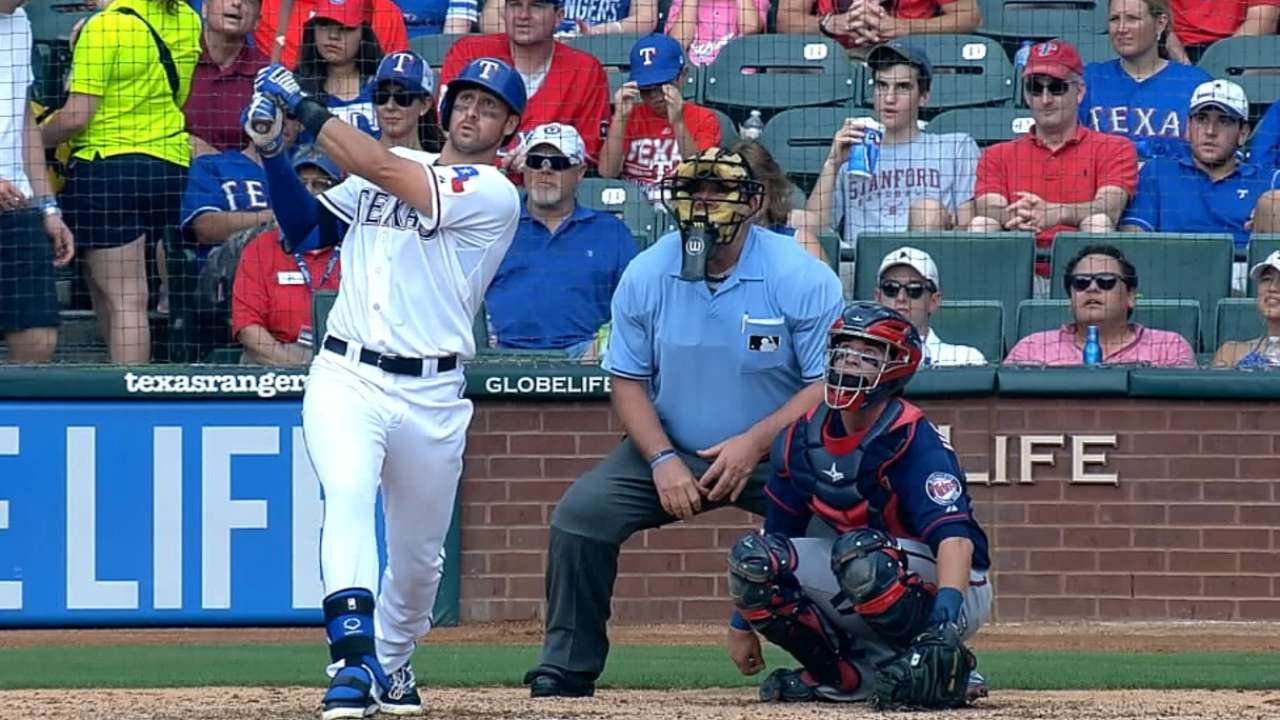 If the Rangers hadn't made the Cole Hamels trade with the Phillies last July, they would lead all organizations with eight Top 100 Prospects (their current five, plus Jake Thompson, Nick Williams and Jorge Alfaro) and might have the best farm system. They don't have any regrets about a deal that helped them win the American League West and primes them for contention again in 2016, and they still have the No. 3 system in MLBPipeline.com's farm rankings.
Texas has the game's best trio of position prospects in third baseman Joey Gallo and outfielders Lewis Brinson and Nomar Mazara, who could combine for 90 homers per season in Arlington in the not-too-distant future. Signed for $4.95 million out of the Dominican Republic in 2011, Mazara is but just one example of the Rangers' aggressive pursuit on the global market. The Rangers have 12 international prospects on their Top 30 list, tying the Nationals for the most in any organization, and many of them are high-ceiling types like outfielders Jairo Beras and Leody Taveras and shortstop Yeyson Yrizarri.
Texas has pitching help on the way, too, headlined by its last two first-round picks in right-handers Dillon Tate and Luis Ortiz. If Michael Matuella can stay healthy after Tommy John surgery cost him a chance to go No. 1 overall in the 2015 Draft, he could be a frontline starter as well.
• Rangers' 2016 Top 30 Prospects list
Biggest jump/fall
Here are the players whose ranks changed the most from the 2015 preseason list to the 2016 preseason list.
Jump: Beras, OF (2015: 25 | 2016: 6)
Fall: Ti'Quan Forbes, 3B (2015: 20 | 2016: 30)
Best tools
Players are graded on a 20-80 scouting scale for future tools -- 20-30 is well below average, 40 is below average, 50 is average, 60 is above average and 70-80 is well above average.
Top 30 Prospects lists
Division
Teams/Release date
NL East
ATL, MIA, NYM, PHI, WAS
AL East
BAL, BOS, NYY, TB, TOR
NL Central
CHC, CIN, MIL, PIT, STL
AL Central
CLE, CWS, DET, KC, MIN
NL West
ARI, COL, LAD, SD, SF
AL West
HOU, LAA, OAK, SEA, TEX
Hit: Mazara (55)
Power: Gallo (80)
Run: Eric Jenkins (65)
Arm: Gallo (70)
Defense: Michael DeLeon (60)
Fastball: Connor Sadzeck (80)
Curveball: Matuella (60)
Slider: Tate (65)
Changeup: Yohander Mendez (60)
Control: Ariel Jurado (60)
MLB's Top 10 farm systems
How they were built
Draft: 17
International: 12
Trade: 1
Breakdown by ETA
2016: 5
2017: 7
2018: 13
2019: 4
2020: 1
Breakdown by position
C: 1
1B: 1
2B: 3
3B: 2
SS: 3
OF: 7
RHP: 10
LHP: 3
Jim Callis is a reporter for MLB.com. Follow @jimcallisMLB on Twitter. This story was not subject to the approval of Major League Baseball or its clubs.