New Giants CF Span part of vanishing breed
Veteran outfielder makes club debut, says six seasons in Minors made him 'hungry'
SCOTTSDALE, Ariz. -- Thursday was no ordinary afternoon for Giants center fielder Denard Span. He spent it wearing a Major League uniform, which was enough to make the afternoon special.
Span is part of that seemingly disappearing breed of ballplayers that was thoroughly steeped in the Minor Leagues before advancing to the Majors. He played six seasons in the Twins' farm system, repeating Double-A and Triple-A, before making his Major League debut in 2008.
• Spring: Tickets | Ballpark | 40-man roster | NRIs
Those 572 games that Span played in the Minors help him appreciate the Majors all the more.
"I never take anything for granted," said Span, who made his Giants debut in their 8-7 Cactus League loss Thursday to a Milwaukee split squad. San Francisco's projected everyday center fielder and leadoff hitter served as the designated hitter and went 0-for-2.
Span made another pointed remark about his extended stay in the Minors.
"It made me hungry as well," he said.
That attitude partly fueled the Giants' motivation to remove him from the free-agent market by signing him to a three-year, $31 million deal during the offseason.
Fewer players nowadays receive as much big league preparation time as Span did. Consider three other Giants: first baseman Brandon Belt, third baseman Matt Duffy and shortstop Brandon Crawford played 196, 248 and 305 games in the Minors, respectively. This doesn't necessarily mean that they're significantly better ballplayers than Span. Factors such as need at a particular position or whether a club is struggling or succeeding can influence the timing of a promotion.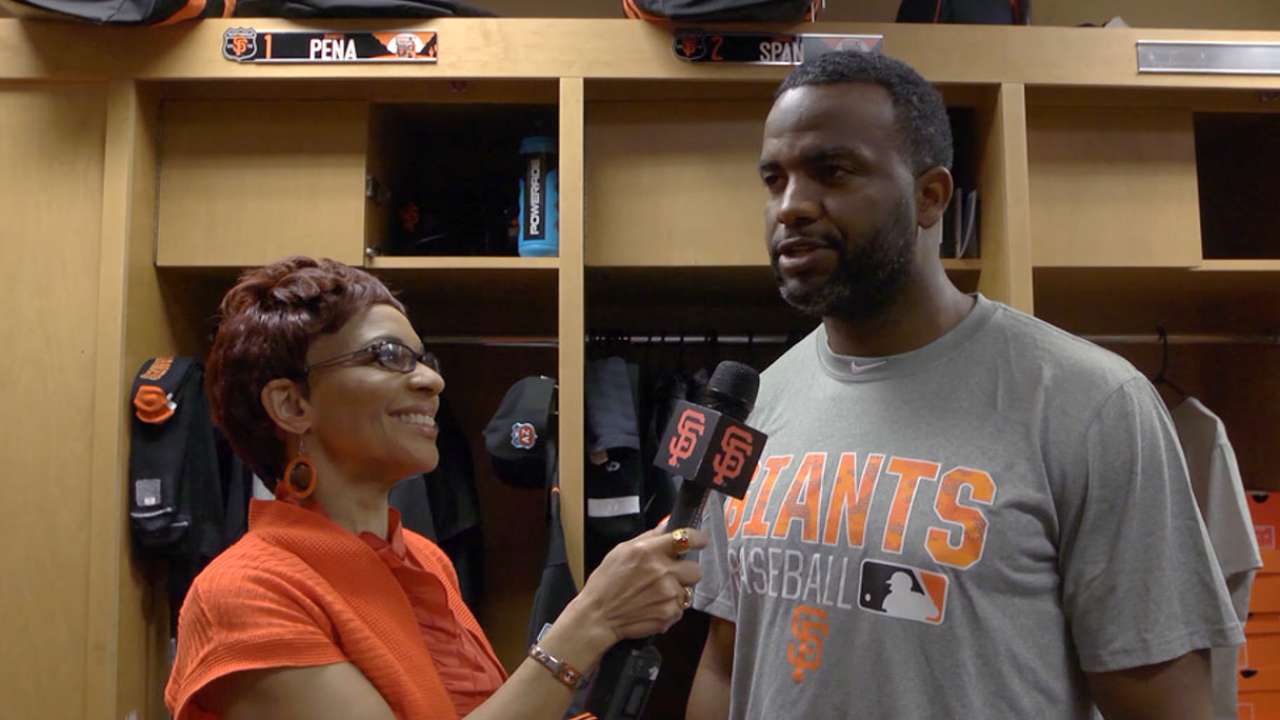 Giants general manager Bobby Evans said that "there's no surefire way" to follow a set formula for a callup, though he added, "You'd like to get as many games, at-bats, innings and success as you can."
Span, 32, admitted that he needed extra time to develop in the Minors, since the Twins drafted him out of high school (Catholic High in Tampa, Fla.).
"It probably took me at least three years before I got in a solid routine," he said.
Span had the good fortune of coming under the influence of the Twins, who under general manager Terry Ryan and former farm director Jim Rantz established a reputation for their superior player-development acumen. Span admitted that he felt impatient when a player, inside or outside Minnesota's organization whom he considered not as skilled as he was, received a Major League look before he did.
But Span, a three-sport star in high school, never committed himself to baseball full-time until he turned pro. He came to realize that he needed time to refine his ability.
"In hindsight, looking back at it now, once I got to the big leagues, I stayed there," Span said. "I feel like I got all my seasoning, all of my mistakes, per se, out of the way in the Minor Leagues. ... I wouldn't say I saw everything in the Minor Leagues, but I saw a lot."
Span saw and learned enough to know how to deal with a slump. He gained enough wisdom to realize that swinging at sliders veering outside the strike zone would shorten his career. Players who are rushed to the Majors often lack these attributes.
Span, who has accumulated close to eight years of big league service time, appears destined to become at least a 10-year veteran. Those days in the Minors haven't shortened his years in the Majors. Former Giants shortstop Rich Aurilia, who logged 468 games in the Minors and spent all or part of 15 years in the Majors, identified with Span.
"That path worked for me," said Aurilia, who's in camp as a special instructor. "It obviously worked for him. And I hope it pays dividends for this team."
Chris Haft is a reporter for MLB.com. Read his blog, Haft-Baked Ideas, follow him on Twitter at @sfgiantsbeat and listen to his podcast. This story was not subject to the approval of Major League Baseball or its clubs.