'Change' is good for Anderson, Davies
Brewers righties competing for spot in rotation mainly due to signature pitch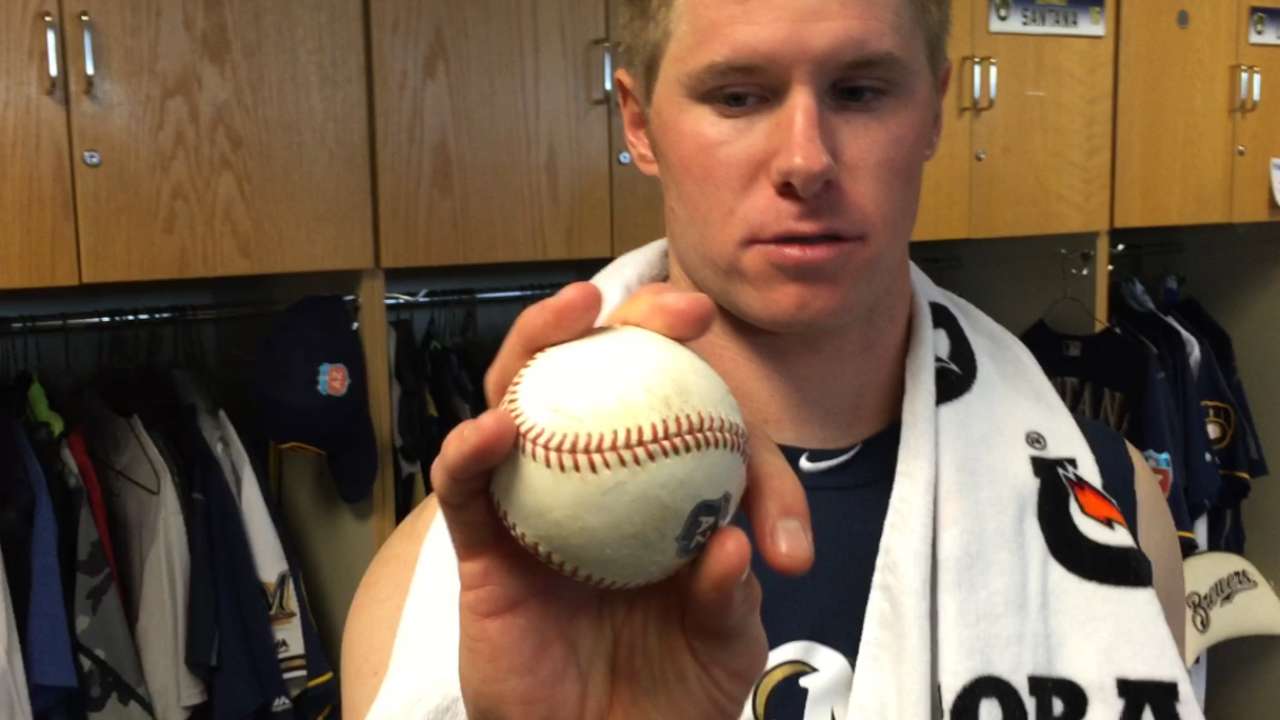 PHOENIX -- They took the mound in split-squad games on opposite ends of the Valley on Thursday, bearing the same signature pitch. Brewers right-handers Chase Anderson and Zach Davies have made it this far because they have honed the changeup.
Anderson learned his early, because he was already feeling strain from throwing curveballs before his young arm was ready. Davies' came later, in high school, thanks to a forward-looking coach.
• Spring: Tickets | Ballpark | 40-man roster | NRIs
"A good right-handed changeup is such a good pitch," said Brewers catcher Jonathan Lucroy, who teamed with Anderson for two scoreless innings of a 2-1 win against the Cubs at Maryvale Baseball Park. "Whenever I watch a pitcher, I watch his hand angle and his arm speed. When he throws a changeup and those are the same as his fastball, as a hitter, you're ... "
You're in trouble.
"Catching guys like that is so much fun for me," Lucroy said. "You know they're going to go after hitters. You know they're going to throw strikes. You know they're going to locate. It's easy as a catcher to catch games like that."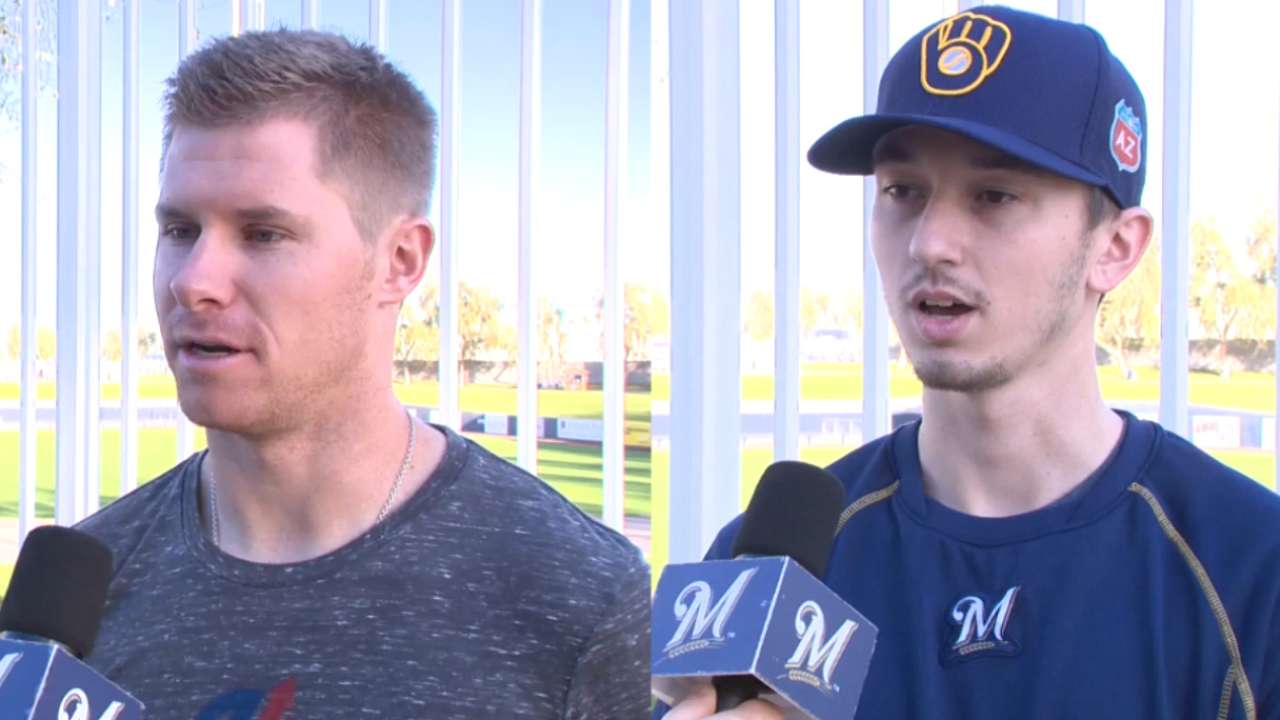 Both Anderson and Davies have a similar "circle change" grip. They form a circle with their thumb and index finger on the side of the baseball, with three other fingers perpendicular to the seams. When executed with proper arm speed and touch, it looks just like a four-seam fastball out of the hand.
But the difference is dramatic -- about 10 mph for each Anderson and Davies. According to data from FanGraphs.com, Anderson's average fastball velocity during his two Major League seasons is 91.3 mph, versus 81.5 mph on changeups. Davies' fastballs last September with the Brewers were 88.8 mph, versus 78.4 mph for changeups.
"When I think about it, I just think about throwing a fastball," Anderson said. "Sometimes, if I'm looking to get some weak contact or really trying to strike somebody out, I'll pronate even more with the wrist and elbow to get more downward movement. But mostly it's arm speed and the grip doing most of the work."
"It's a huge 'feel' pitch," Davies said, "so you have to get used to it early in camp."
Anderson credited a coach, Josh Bobbitt, who is still in charge at Rider (Texas) High School, for helping to perfect the pitch. Anderson had started throwing curveballs at a very young age -- as early as 9 years old -- and was feeling strain on his elbow. The changeup gave him an offering that caused less stress.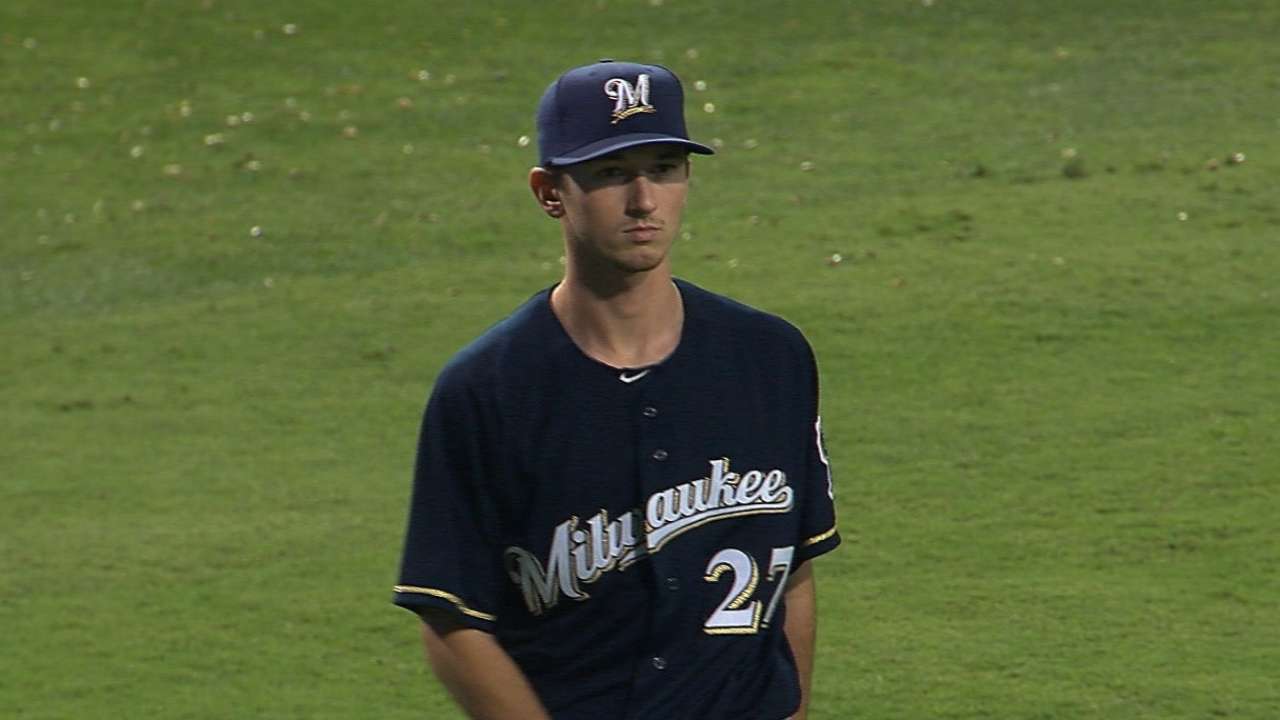 Davies, acquired from the Orioles last July in a trade for Gerardo Parra, picked up the pitch during his junior year at Mesquite High School in Gilbert, Ariz.
"I had a pitching coach who told me, 'Hey, that's something you should utilize even more,'" said Davies, who is the Brewers' No. 19 prospect according to MLBPipeline.com. "I kept rolling with it. He would give me a few tweaks I could use, I would figure out some things of my own. It evolved from there."
Davies remains in contact with that coach, Shane Gift.
The pitch was raw at first, but Davies made it a focus during his senior year and saw exponential results, partly because high school hitters are not used to seeing good changeups.
"It felt like my pitch," he said.
With Francisco Rodriguez pitching for the Tigers, having been traded early in the offseason, Anderson and Davies own the best changeups in Brewers camp. They both might not make it to the Opening Day roster; Anderson's arrival in January bumped Davies' from the Brewers' projected rotation.
Davies was 3-2 with a 3.71 ERA in six promising starts for Milwaukee last September. He opened Cactus League play with a perfect first inning in an 8-7 win over the Giants in Scottsdale, Ariz.
"I'm really confident coming in," Davies said. "But I've also seen all the moves happen. If the roster spot isn't there, then I'll hope I get a chance during the year. Finishing up last year here and having a good September was really good for me."
Of the Anderson acquisition, Davies said, "More competition. It makes you bring out your best from the get-go."
Adam McCalvy is a reporter for MLB.com. Follow him on Twitter @AdamMcCalvy, like him on Facebook and listen to his podcast. This story was not subject to the approval of Major League Baseball or its clubs.