MLB.com Columnist
Barry M. Bloom
Peavy healthy again, and 'it's beautiful'
Giants right-hander learns from last season's disabling back trouble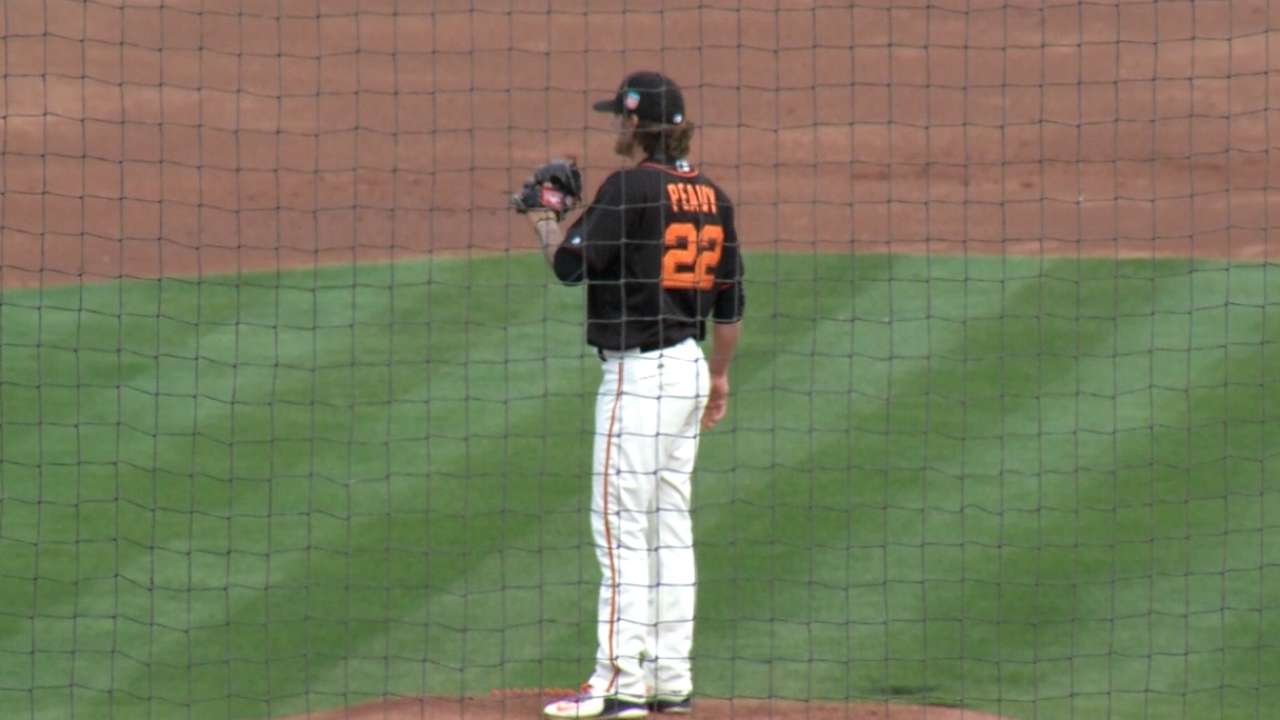 SCOTTSDALE, Ariz. -- Jake Peavy has returned to the Giants this spring much healthier and happier compared to a year ago, but the results were pretty much the same.
In his first Cactus League start on Thursday against a split squad of Brewers at Scottsdale Stadium, the right-hander faced 14 batters, nine of them reaching base. Every ball was hit hard as the Brewers scored six runs on nine hits.
Spring Training: Tickets | Ballpark | 40-man roster | NRIs
On the bright side, Peavy whiffed two Brewers. He simply shrugged if off.
"I'm not embarrassed or disgusted," Peavy said only minutes after coming off the field with two out in the second inning of a game the Giants eventually lost, 8-7. "There's no reason to be. It's just part of it. It's Spring Training. It's not like we scouted their lineup or anything."
A year ago, Peavy was 1-4 with a 9.49 ERA in six Spring Training starts. Giants coaches complained early on that his velocity was down. Peavy tried to ramp it up and pitch through it, hurting his back in the process.
This is different, manager Bruce Bochy said after the game.
"I'm looking at his delivery and everything, and it's better than last year," Bochy said. "He just couldn't find the strike zone today. He's been throwing the ball good since he's been here. There's just no comparison now to where he was last year."
When last season opened, Peavy was so banged up that Bochy decided to push his start during the first series back a few days to the Padres' home opener at Petco Park. Despite the ongoing back issues, Peavy talked Bochy into letting him make his first appearance there since the Padres traded him to the White Sox in 2013.
Bochy, Peavy's manager for his first five years playing in San Diego, has always given Peavy a longer leash than he gives other players.
"That's Jake," Bochy said. "He's a warrior and he can tell you he can pitch."
It didn't work out. Peavy was clobbered for four runs on four hits in four innings. He made one more start before recurring back spasms earned him a lengthy stay on the disabled list. A subsequent MRI revealed inflammation in both the back and left hip. Peavy didn't pitch for San Francisco again until July 3.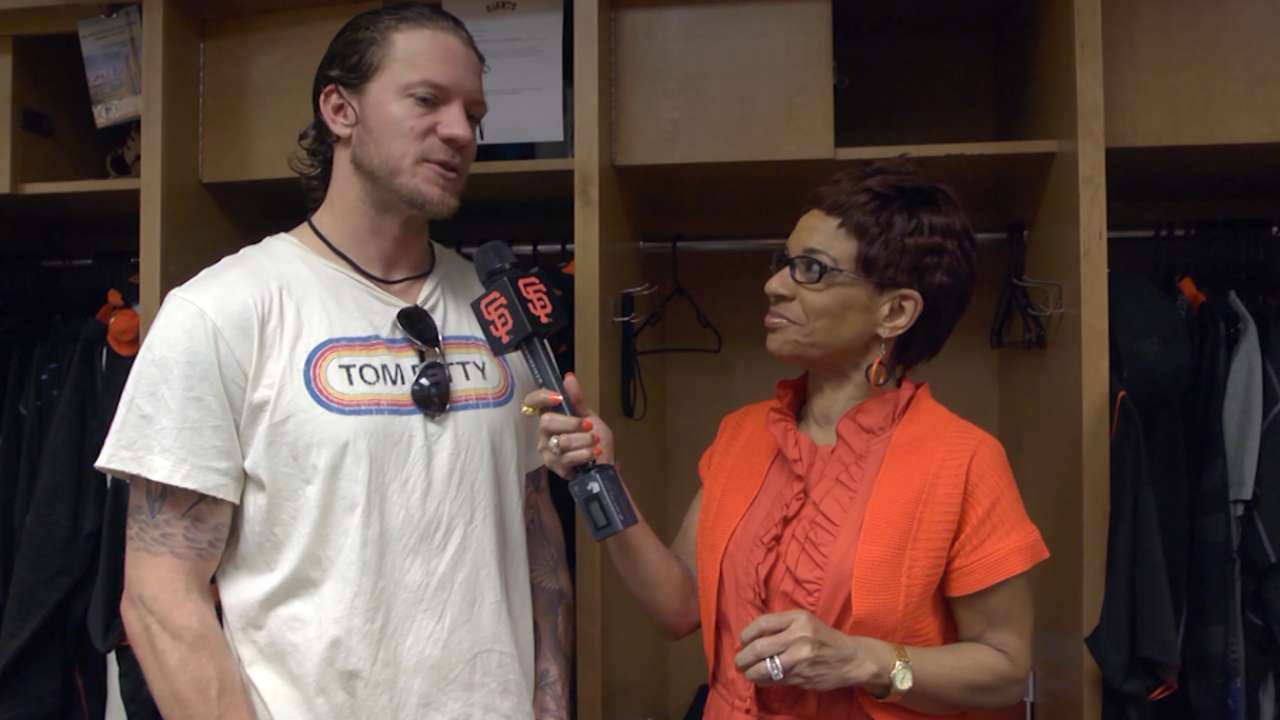 Lesson learned, said Peavy, who, in 2010 when he was with the White Sox, had experimental reconstructive surgery on his right shoulder. His body has been so mangled during his 14-year career that he may be 34 years old chronologically, but is really about 44 physically.
But now "there's no comparison to the way I felt last year, absolutely," Peavy said. "I'm quite a bit stronger all over and feel refreshed. We're full bore. The arm strength is going to come. I didn't do anything different in this offseason as I would do any other offseason. If you plan on playing a whole season you've got to be smart about things. I'm not going to look in April the way I do now. It's just too early."
Last year, Peavy didn't look right in March and it took until July for him to resemble his old self. The Giants were 11-4 in his final 15 starts as Peavy logged a 1.96 ERA from Sept. 1 to season's end, winning his final five decisions.
Still, Peavy made 19 starts last season as opposed to 32 in 2014 for the Red Sox and Giants. That's hardly what the Giants needed. Peavy won the World Series with the Red Sox in 2013, and after he was obtained from Boston on July 26, 2014, he was an integral part of San Francisco's run to winning the World Series.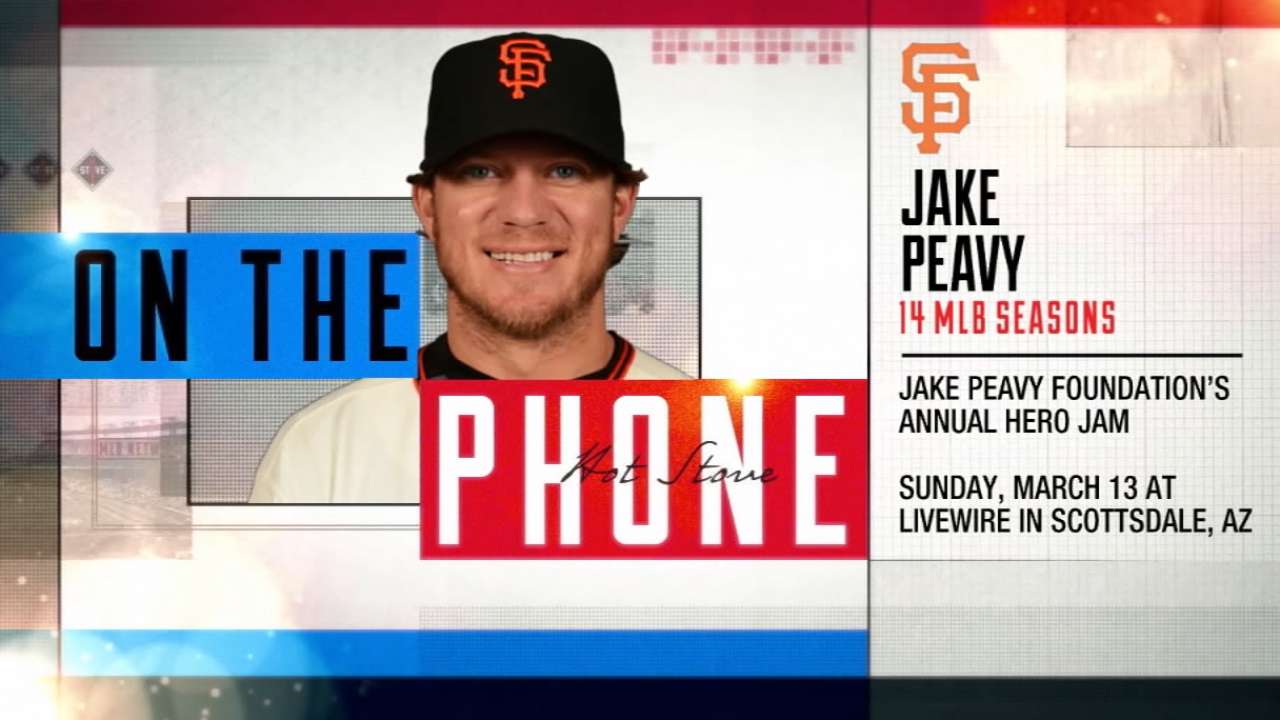 The Giants won all six of Peavy's 2014 starts down the stretch, with Peavy earning victories in four of them. That's why when Peavy went to free agency after the Giants defeated the Royals in Game 7, they signed him to a two-year deal worth $24 million, $15 million of it paid out this season.
In the end, there was a downside to all that success and celebration.
"People didn't realize that in 2014 and '13, I pitched all the way to November," Peavy said. "And in those years I had a very short winter. I don't throw off the mound before I get here. If you're on the Major League club, you build toward where you're going. You want to see results and all, but last year, when I started to push, my body didn't respond very well."
And then it got worse.
"I've always tried to bull through these things," Peavy said. "That wasn't the play last year. I've learned from that. But this year, the health, the back, it's beautiful so far. I just have to go out and do better on the mound."
Barry M. Bloom is a national reporter for MLB.com and writes an MLBlog, Boomskie on Baseball. Follow @boomskie on Twitter. This story was not subject to the approval of Major League Baseball or its clubs.