MLB.com Columnist
Anthony Castrovince
Will Dodgers find rotation strength in numbers?
Club's depth may not stretch as far as hoped if injuries continue to mount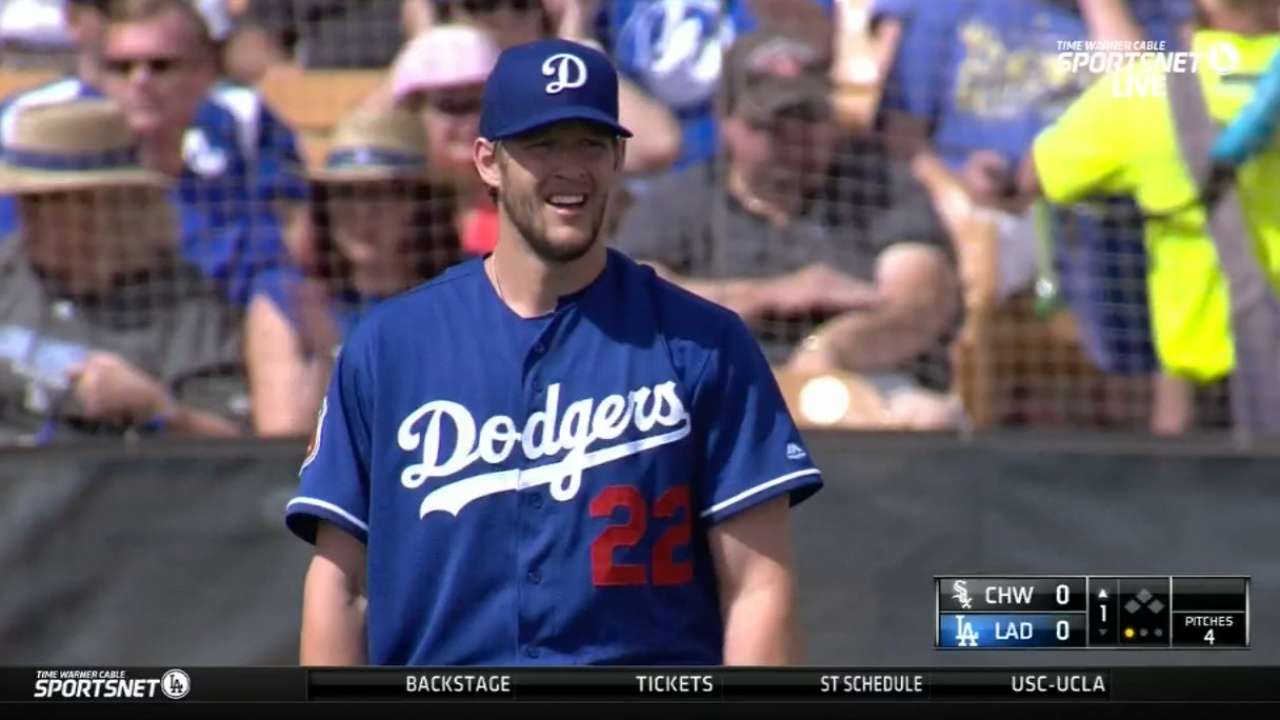 GLENDALE, Ariz. -- Several members of the Dodgers' expansive front office, including president of baseball operations Andrew Friedman, were strolling into Camelback Ranch right as a gentleman wearing No. 22 was getting ready to deliver the first pitch of the Cactus League season Thursday afternoon. And that sight of Clayton Kershaw on the hill had to provide some semblance of solace at a time when the Dodgers' rotation experiment, at large, has gone askew.
Thursday marked the debut of the Dodgers' traveling band, Clayton & The Question Marks. While this team has assembled an absurd amount of rotation depth in the form of rehabbing arms, mid-to-back-end types and high-profile prospects, nobody knows if the deep-pocketed team that let Zack Greinke walk has provided its three-time National League Cy Young Award winner with a suitable supporting cast.
"We'll find out," Kershaw said.
• Anderson undergoes second back surgery
On Wednesday night, the Dodgers learned that the talented-but-fragile Brett Anderson, who finally proved his health in a solid 2015 season and earned and accepted a $15.8 million qualifying offer, would require a second surgical procedure to address a back problem that everyone -- Anderson included -- had assumed was minor earlier in the day.
Now, on the one hand, to expect Anderson, who has just one 100-inning season to his name since 2010, to make it through '16 without any medical hiccups was pushing the limits of reality.
• Kershaw throws 2 scoreless innings in Cactus League opener
But to lose Anderson to this specific injury, given that doctors had said there was only a 10 percent chance of recurrence of the same bulging disk that necessitated surgery in 2014, is probably more bad luck than bad planning.
Still, there's no denying the Dodgers, in letting the likes of Greinke and David Price and Cole Hamels travel elsewhere in the past eight months, have gambled on the merits of quantity over established quality. It didn't work at the tail end of 2015, and now, with Greinke gone, '16 is already posing some interesting and unexpected challenges, too.
As senior vice president of baseball operations Josh Byrnes said, "Plan A doesn't happen too often."
It's not just the Anderson bummer. It's also Hyun-Jin Ryu, who had major shoulder surgery last May, taking a long break between bullpen sessions. Where once there was some sliver of optimism that Ryu might be ready as soon as Opening Day, now the left-hander is saying May, and the Dodgers aren't even publicly committing to that timetable.
"It's hard to really say what a realistic timetable is for his first game until he's actually in a game," general manager Farhan Zaidi said. "We just have to build him up to that point."
There's also Frankie Montas, the well-regarded young right-hander acquired from the White Sox in a three-way offseason swap. He experienced rib discomfort during his throwing program in January and had to have surgery in early February. Montas will miss two to four months.
And let's not forget that concerns about Kenta Maeda's elbow condition were what allowed the Dodgers to get him on such a cheap contract in the first place.
The Dodgers are just one game into their Cactus season, and they already know they're going to have four starting pitchers -- Anderson, Ryu, Montas and Tommy John recipient Brandon McCarthy -- on the Opening Day disabled list.
They've got depth, sure, but they better hope against hope that they can get through the next 32 exhibitions -- to say nothing of the Big 162 -- unscathed.
Though Kershaw himself said he's not feeling any more pressure to be, well, Kershaw-like, he did admit that you're stretching the limits of reasonability when you're wishing on multiple guys to pitch above their level.
"Any time you have injuries, you have to have one more guy almost pitch above expectations," Kershaw said. "It's one thing playing to the expectations that you have individually, but when guys are constantly having to step up and step up, it's tough. You know, we'll see."
We'll see, first off, how the Dodgers fill Anderson's spot.
This would seem to cement Alex Wood's standing behind Kershaw, Scott Kazmir and Maeda in the starting five. In addition to Wood, first-year manager Dave Roberts specifically mentioned Brandon Beachy and Mike Bolsinger as candidates. He said the Dodgers are still deliberating whether to go with Carlos Frias as a reliever or stretch him out as a starter. Bolsinger had a surprisingly solid run of effectiveness with his mid-to-high-80s fastball last season, but the Dodgers might ultimately prefer Beachy's weaponry, despite his own expansive injury history.
Then there are the kids. The 19-year-old Julio Urias and the 23-year-old Jose De Leon -- two of the Dodgers' top prospects -- are the most highly touted among them, but, well, they're still just kids. Still, better to have them as options than otherwise, and with several veterans rehabbing for midseason or the second half, don't be shocked if the Dodgers get aggressive with them.
"Their best opportunity might be earlier rather than later," Zaidi said. "So we have some flexibility with where we fire those bullets, even with the guys we're going to be careful with [innings-wise]."
Zaidi added that the Dodgers are not jumping to the phone lines to try to swing a trade for another established starter. It's too early in the spring for such conversation anyway.
"The early part of the spring, in particular, is a time when teams are taking stock of what they have," Zaidi said, "and not necessarily looking outward to trade from surplus."
This is true, because March/April is notoriously a minefield littered with pitching problems. When guys start throwing their first pitches in anger in several months, things happen. And they are happening at Camelback Ranch.
The industry consensus going into the spring was that the Dodgers had as much pure pitching depth as anybody in the game. Already, that depth is being tested. It makes you wonder, on the eve of Greinke making his D-backs debut and with Hamels just up the road with the Rangers in Surprise, if the Dodgers wish they had done more in the bankable properties department.
But of course, pitching is a delicate commodity no matter the name. The Dodgers just have to hope that their assembly line of arms can churn out an assembly line of outs.
Anthony Castrovince is a reporter for MLB.com. Read his columns and follow him on Twitter at @Castrovince. This story was not subject to the approval of Major League Baseball or its clubs.