MLB.com Columnist
Tracy Ringolsby
Angels give big bats a helping hand
Halos set out to give Trout, Pujols more run-producing opportunities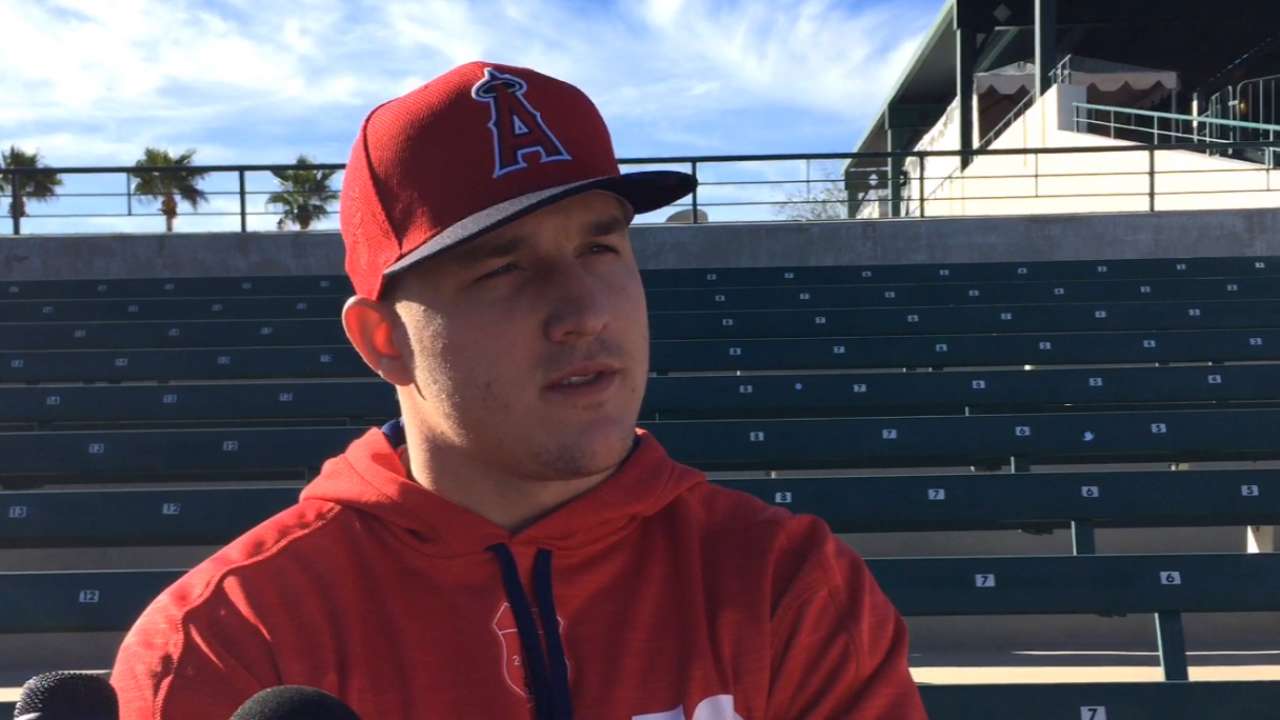 TEMPE, Ariz. -- With Mike Trout and Albert Pujols, the Angels have two of the best run producers in baseball.
The challenge is creating enough situations for Trout and Pujols to produce runs. Manager Mike Scioscia gets it.
"Mike is a scary guy," said Scioscia. "You want to set the table for him. You want to create as many chances as you can for him."
Scioscia bounced Trout between the Nos. 2 and 3 slots in the batting order last season. Not that it made much difference. In 82 games hitting second, he produced 77 runs. In 77 games hitting third, Trout produced 76 runs.
It wasn't unlike Whitey Herzog in the late 1970s, occasionally hitting George Brett first and Hal McRae second. With the DH in the American League, he would then have Freddie Patek, who had the basestealing ability you wanted at the top of the lineup but was a bit of a free swinger, hitting ninth in what Herzog called his double leadoff role.
Herzog, however, also had Al Cowens, John Mayberry and Amos Otis to hit third, fourth and fifth behind Brett and McRae, which was a pretty dangerous array of bats.
Not many teams have that kind of depth. The Angels certainly don't.
That's why Scioscia seems intent on settling on a lineup punch of Trout and Pujols at No. 3 and 4. And that's why he wants to find someone this spring who can consistently get on base from the No. 2 slot, and someone who can produce runs to hit fifth.
Good as they are, Trout and Pujols can't do it all themselves.
Oh, they can try. Last year, alone, Trout had a 1.201 OPS with runners in scoring position, the best in baseball. Freddie Freeman of the Braves was No. 2 in the Majors at 1.157, and Miguel Cabrera of the Tigers was No. 2 in the AL at 1.147.
Trout's .352 average with runners in scoring position was third best in the AL behind Cabrera of the Tigers (.365) and Josh Donaldson of the Blue Jays (.353).
Trout, however, didn't have anything close to the opportunities to drive in runs that Cabrera and Donaldson did.
There were 129 players with more plate appearances with a runner in scoring position last year than Trout's 126, which was tied for 130th in the Majors. The fact that he tied for 24th in the big leagues with 90 RBIs might not be eye-popping, but what is eye-opening is Trout only had 88 at-bats with a runner in scoring position, which tied him for 200th -- that's right, 200th -- in the Majors.
Don't blame Trout. He started 159 of 162 games for the Angels. It was an area of concern for the Halos overall. They were 20th with 661 runs scored, and ranked 30th in at-bats with runners in scoring position with 1,127. That's 273 fewer at-bats than the D-backs, who led the Majors, and 253 fewer than the A's, who led the AL.
Get the picture? To take advantage of run-producing bats, there need to be runners on base to produce.
One thing new general manager Billy Eppler focused on during the offseason was trying to find players better suited to hit at the top of the order. The Angels picked up third baseman Yunel Escobar and his career .350 on-base percentage from the Nationals with the hope he can hit leadoff. And that's why they brought in the potential left-field platoon of left-handed-hitting Daniel Nava, who has a .358 career OBP, and right-handed-hitting Craig Gentry, whose OBP in the five years prior to last year's injury-marred season, was .349.
That's why this year Scioscia thinks Trout will be able to reside in the No. 3 spot, Pujols in the No. 4, and if all breaks right, Kole Calhoun, who hit 26 home runs last year, and C.J. Cron can line up behind Trout and Pujols to provide protection.
Now Trout might get a few more at-bats hitting second than third, but what Scioscia is looking for is getting him more at-bats with a runner in scoring position early in a game, rather than late, when opposing managers can manipulate a bullpen to get matchups they want.
"I want to try and get those chances earlier in the game, when the pitcher is facing the hitters for the second, third time," said Scioscia.
And this spring, Scioscia is looking for the pieces to the puzzle that will allow him to create that opportunity.
Tracy Ringolsby is a columnist for MLB.com. Read his blog, Write 'em Cowboy. This story was not subject to the approval of Major League Baseball or its clubs.