May trying to take advantage of Eaton's absence
Prospect expected to get early action in outfield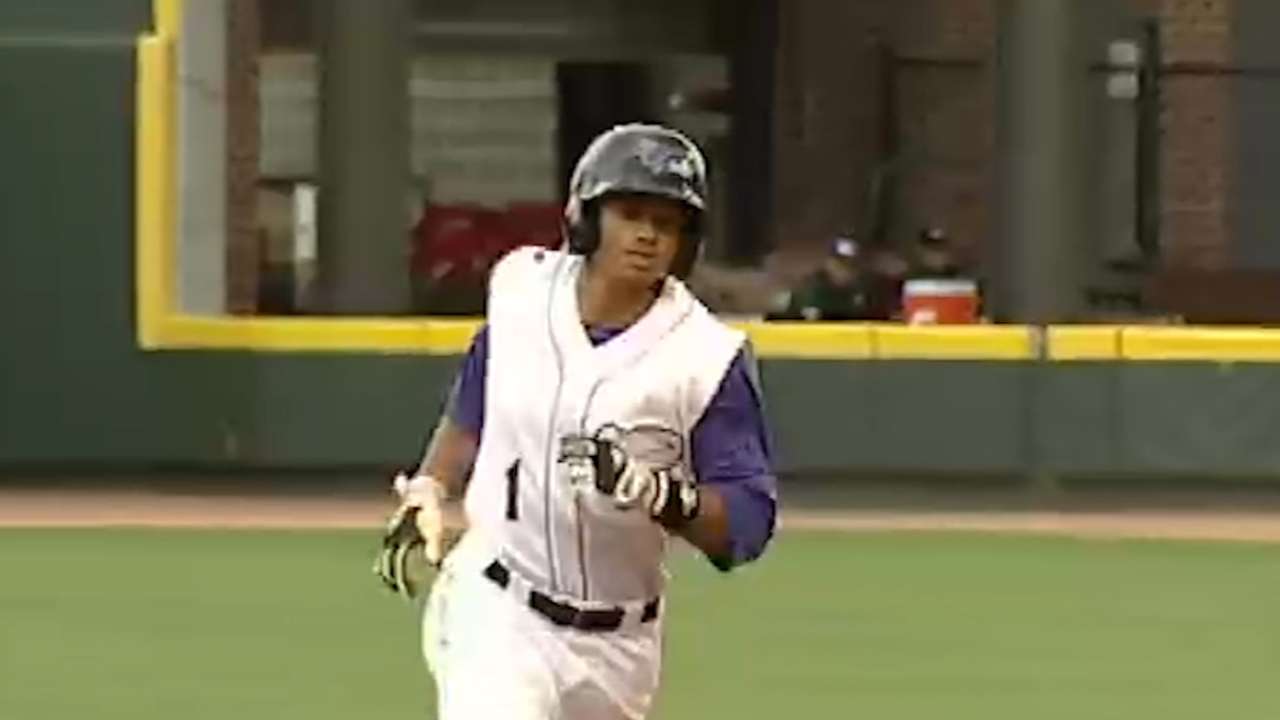 GLENDALE, Ariz. -- The first at-bat of Jacob May's first Major League camp had a chance to be against five-time All-Star and three-time National League Cy Young Award winner Clayton Kershaw in Thursday's 2016 Cactus League opener between the Dodgers and the White Sox.
No pressure there, kid.
"It's always a great experience to face someone of Kershaw's caliber," May said after a 6-1 White Sox loss. "With the success that he's had, he's a good measuring point.
"He's one of the best in the game. It's good to see where you stack up with guys like that, where you can improve, what you need to work on. You are obviously not going to dominate that guy. Big leaguers don't dominate him."
• Hahn aggressive in pursuit of offseason targets
May's anticipation and preparation went for naught, as Kershaw's work ended after Tyler Saladino flew out to deep left to end the second inning and leave the switch-hitter on deck. Instead, May faced Joe Blanton and lined out to shortstop to open the third.
With Adam Eaton working through his shoulder program following nerve decompression surgery in October, young players like May could get more chances over the next few weeks to show their ability in the field. Eaton, who started as the designated hitter Thursday, threw to bases during a morning workout and made 180 throws, which he said is a far higher total than normal workouts.
Eaton has yet to receive a return date from the White Sox, with plenty of time left in the Cactus League schedule. That absence again means greater opportunity for May and someone such as Adam Engel, the team's No. 7 and No. 4 prospects, respectively, according to MLBPipeline.com.
"I still have to go out there and perform," May said. "I'm just blessed and grateful for the opportunity to even be here. All I can do is play as hard as I can, and hopefully I play well and they are impressed."
J.B. Shuck has a firm grasp on the fourth outfield spot, and the White Sox know his capabilities in center. He will start in that spot Friday against the Indians. In their pursuit of one more move talked about by general manager Rick Hahn and executive vice president Ken Williams, the team could look for a controllable outfielder who has the ability to play center as greater insurance.
But there remains no worry about Eaton being ready for Opening Day. His defensive absence simply gives extra time to the organization's future.
"He can throw. It's just not what you would really want a guy to go out there and throw from center field," said White Sox manager Robin Ventura. "We're trying to protect that.
"At-bat wise, he feels fine. He's gotten a lot of at-bats, whether it's been in the cage taking swings or in the intrasquad game. He can get at-bats. His will have to come through the DH early on until we can get him in some games."
Scott Merkin is a reporter for MLB.com. Read his blog, Merk's Works, follow him on Twitter @scottmerkin, on Facebook and listen to his podcast. This story was not subject to the approval of Major League Baseball or its clubs.