Gonzalez impressed by bullpen performance
Quintet of relievers keeps Tigers' bats quiet after early outburst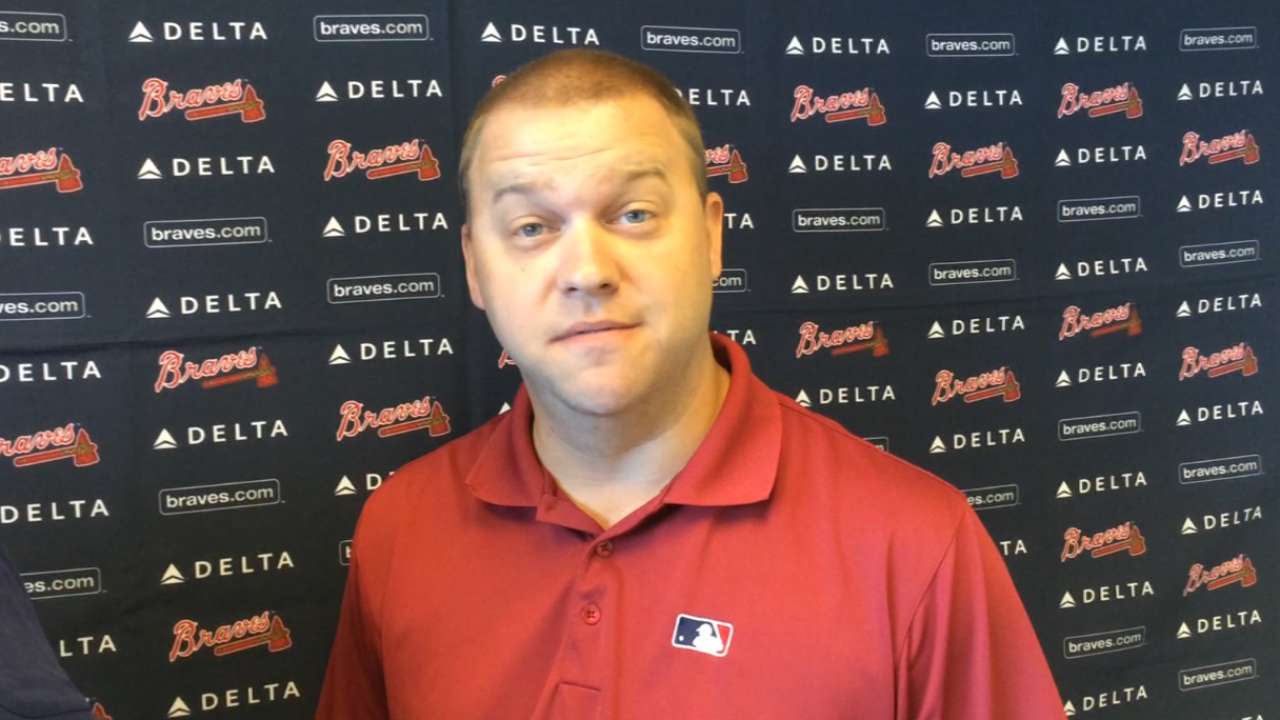 LAKE BUENA VISTA, Fla. -- When making a call to the bullpen last season, Braves manager Fredi Gonzalez must have felt like he was playing blackjack with a deck of cards that consisted solely of sevens and eights.
It's safe to say Gonzalez much prefers the hand he has been dealt this year. During Thursday's 8-2 loss to the Tigers, the Braves skipper got a glimpse of his enhanced depth while watching Chris Withrow, Alexi Ogando and a couple other seasoned veterans provide evidence that the Braves' bullpen can once again be successful at the Major League level.
• Spring Training: Schedule | Tickets | Complete info
"The back end of that game, there was some stuff coming out of that bullpen that was exciting," Gonzalez said.
After tallying eight runs and seven hits through the first four innings against Sean Newcomb and Chris Volstad, the Tigers recorded just two hits over the final five frames. One of those hits was generously awarded after right fielder Jeff Francoeur was unable to make a shin-high catch during the ninth inning.
The five relievers who held the Tigers scoreless after the fourth inning were Carlos Torres, Alex Torres, Withrow, Ogando and Ian Krol. Ogando and both relievers named Torres are in camp as non-roster invitees. But like Withrow and Krol, each of them has a realistic hope to grab a spot in Atlanta's bullpen.
Withrow appears to be the only member of this quintet who is assured of a bullpen spot, though health has been an issue for the former Dodgers reliever. He missed all of last season while recovering from Tommy John surgery and back surgery.
Withrow pitched around a walk in his scoreless inning on Thursday, his first time facing big league opponents since May 20, 2014. The hard-throwing right-hander has produced a 2.73 ERA over the 46 big league appearances. The Dodgers traded him to the Braves last May.
"It was a long year last year of doing everything I possibly could to get back out there," Withrow said. "I had some expected setbacks over the course of that time with my back and elbow. You just have to look past them and look at them as part of the process. You look forward to this day where you get back out there and you kind of test yourself."
Ogando has struggled over the past couple seasons, but between the former All-Star and David Carpenter, the Braves have two hard-throwing veteran relievers who could earn a roster spot with a strong camp.
Krol (with the Nationals) and Alex Torres (Mets) are a pair of left-handed relievers who have both had some previous experience in the National League East. That experience could make them more appealing than Rule 5 Draft selection Evan Rutckyj, another southpaw who will spend the next few weeks fighting for a roster spot.
Mark Bowman is a reporter for MLB.com. This story was not subject to the approval of Major League Baseball or its clubs.