Greinke set for anticipated spring debut
SCOTTSDALE, Ariz. -- So far he's thrown bullpens and batting-practice sessions, but Friday will be the first time the D-backs get to see their prize offseason acquisition, Zack Greinke, in a game setting.
The right-hander will make his spring debut against the A's at Salt River Fields at 1:10 p.m. MST.
The first outing of the spring is usually not a big deal, but when it's being made by a player who recently signed a six-year, $206.5 million contract? Well, that's a different story.
• Spring Training: Tickets | Schedule | More
"Anybody that's been in this game -- it doesn't matter if the game doesn't even matter -- there's going to be some nerves," D-backs manager Chip Hale said. "So I'm sure he'll have some nerves going out there and you're supposed to. But he's a pro and he knows how to handle it and he'll get his work in."
Greinke is set to be Arizona's Opening Day starter against the Rockies on April 4, and the D-backs want to take it slowly with him this spring, allowing him to go at whatever pace he feels is best.
Pitching coach Mike Butcher, who worked with Greinke with the Angels in 2012, has mapped out a plan with Greinke's input.
"I know Mike and Zack talked a lot [about] when to start and sort of the progression to get to the season," Hale said. "So we've worked with him on that. We've kind of pushed him back not a whole lot, but some."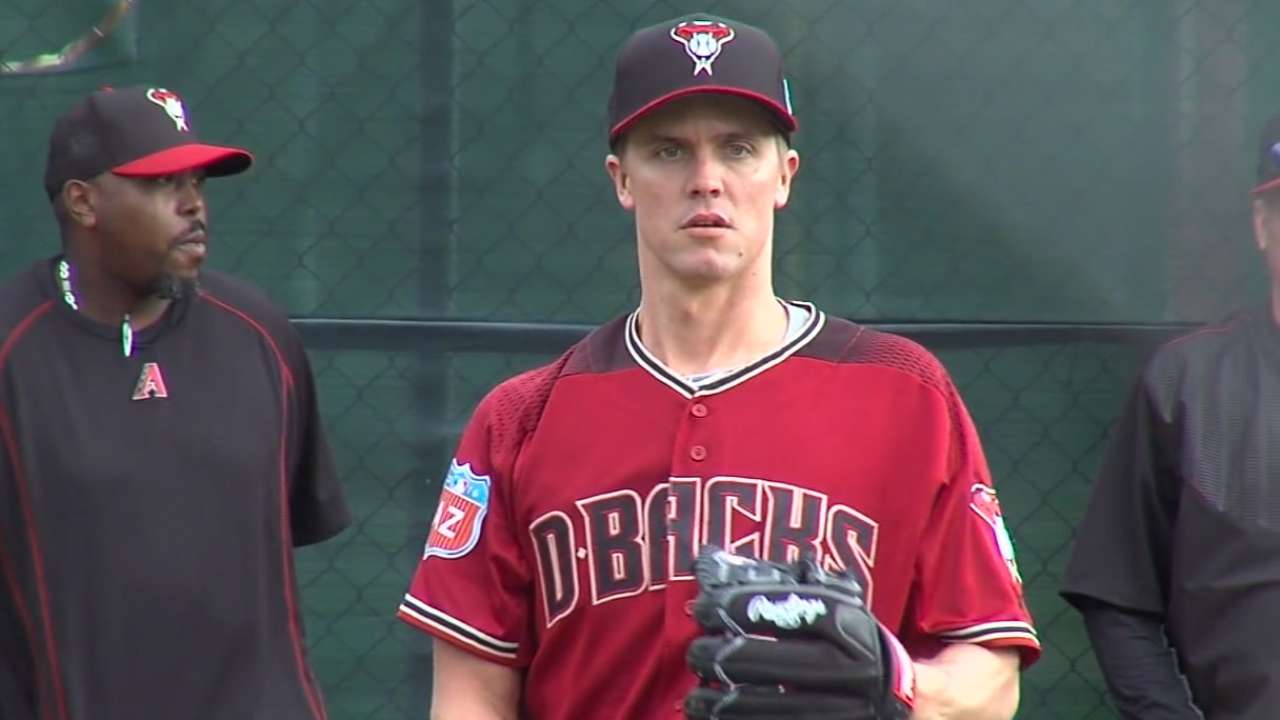 Over his career, Greinke has experienced some minor injuries during Spring Training, so that's been a factor.
"We've tried to take it easy on a lot of the things that have caused him problems," Hale said. "He's been fine, he's been good."
Everything Greinke has done this spring, from his bullpen sessions to batting practice, has drawn attention from both front-office personnel to media.
If it has impacted him in any way, it hasn't been apparent.
"Right now, it's just try to get ready for the season healthy and pitching pretty good," Greinke said. "Before, I used to work on all my pitches in Spring Training and try to develop some pitches. I kind of like my mix now, so I'm trying to get my pitches working how I want them and be healthy and strong. That's kind of the goal."
Friday is just another stop along that path.
Steve Gilbert is a reporter for MLB.com. Follow him on Twitter @SteveGilbertMLB. This story was not subject to the approval of Major League Baseball or its clubs.