Newcomb takes positives from rocky start
Lefty prospect looking ahead after first big league Spring Training game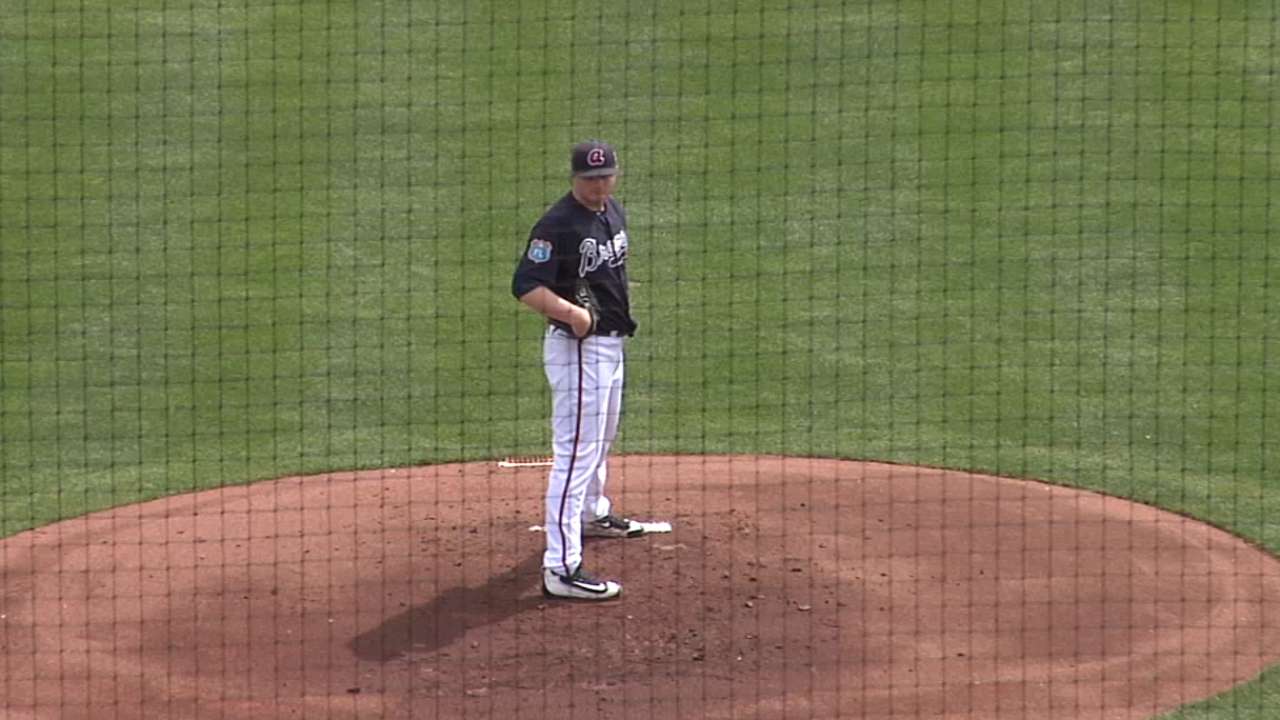 LAKE BUENA VISTA, Fla. -- Maybe it had something to do with the nerves a top prospect is expected to feel while pitching in a big league Spring Training game for the first time. Or maybe it was further indication that this highly touted pitching prospect must harness his command before he can be deemed Major League-ready.
Regardless of the reason, Sean Newcomb would like to quickly separate himself from the frustration he felt while making his Braves debut during Thursday afternoon's 8-2 loss against the Tigers at ESPN's Wide World of Sports Complex. The heralded southpaw surrendered a pair of hits and issued four walks during a one-plus-inning effort that included 31 pitches, just 11 of which were strikes.
• Spring Training: Schedule | Tickets | More info
"It's Spring Training and the first time out there," Newcomb said. "It wasn't supposed to go perfect, and it didn't. I'm not going take it too serious. I'm just going to come back and keep working tomorrow."
Newcomb was the jewel of the Andrelton Simmons trade with the Angels in November, and MLBPipeline.com ranks the 22-year-old southpaw as Atlanta's No. 2 prospect and baseball's 21st-best overall prospect.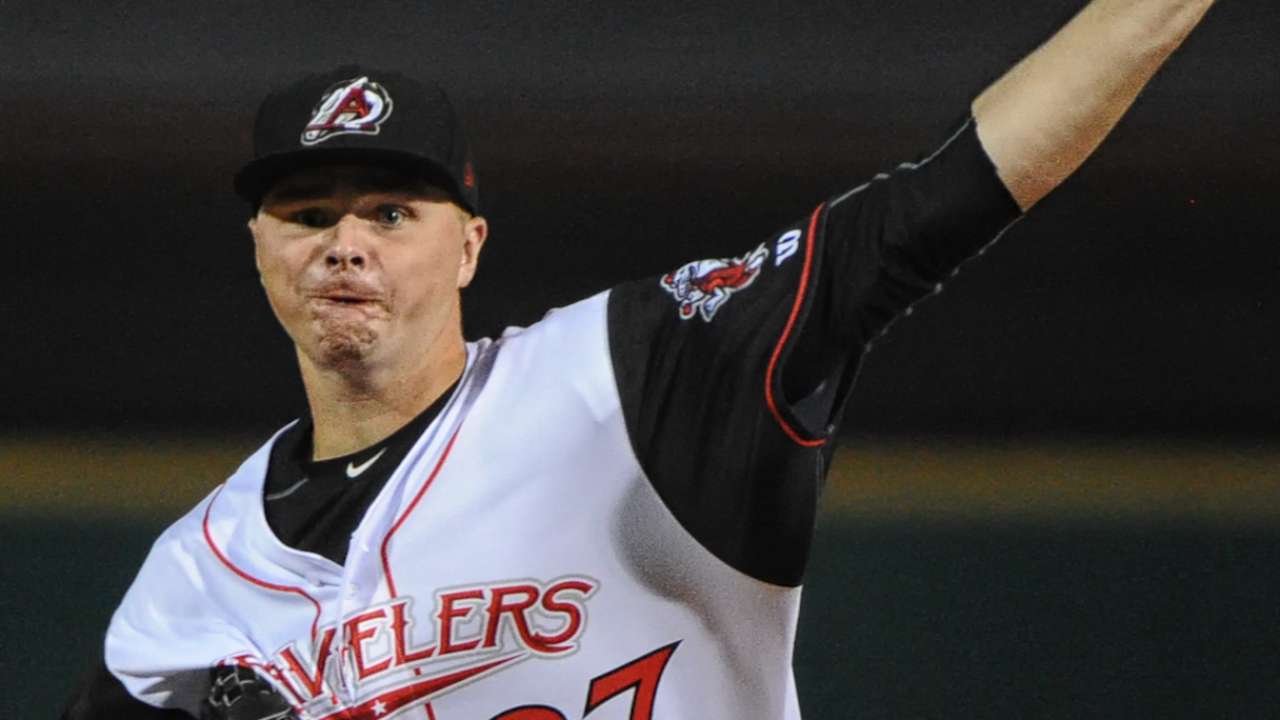 Still, even though Newcomb has tremendous promise and a high ceiling, he has made just seven starts above the Class A Advanced level. In other words, he had never faced a lineup that included the likes of Miguel Cabrera and Victor Martinez before Thursday.
"It was definitely different looking in and seeing [Cabrera], but that's what I'm going to have to be dealing with, so I've got to get used to it," Newcomb said. "It's just simple mechanical stuff that I've got to take care. Stuff that I can tune up as Spring Training goes on."
After finding the strike zone with each of his first three pitches, Newcomb issued a four-pitch walk to Cabrera. He then got ahead of Martinez, 0-2, before surrendering a single that accounted for the first of Detroit's two first-inning runs.
"I started off well," Newcomb said. "I've just got to be able to buckle down and figure out what I need to do to fix it. When stuff starts to happen, I've got to take a deep breath and just gather myself. It's definitely a learning experience."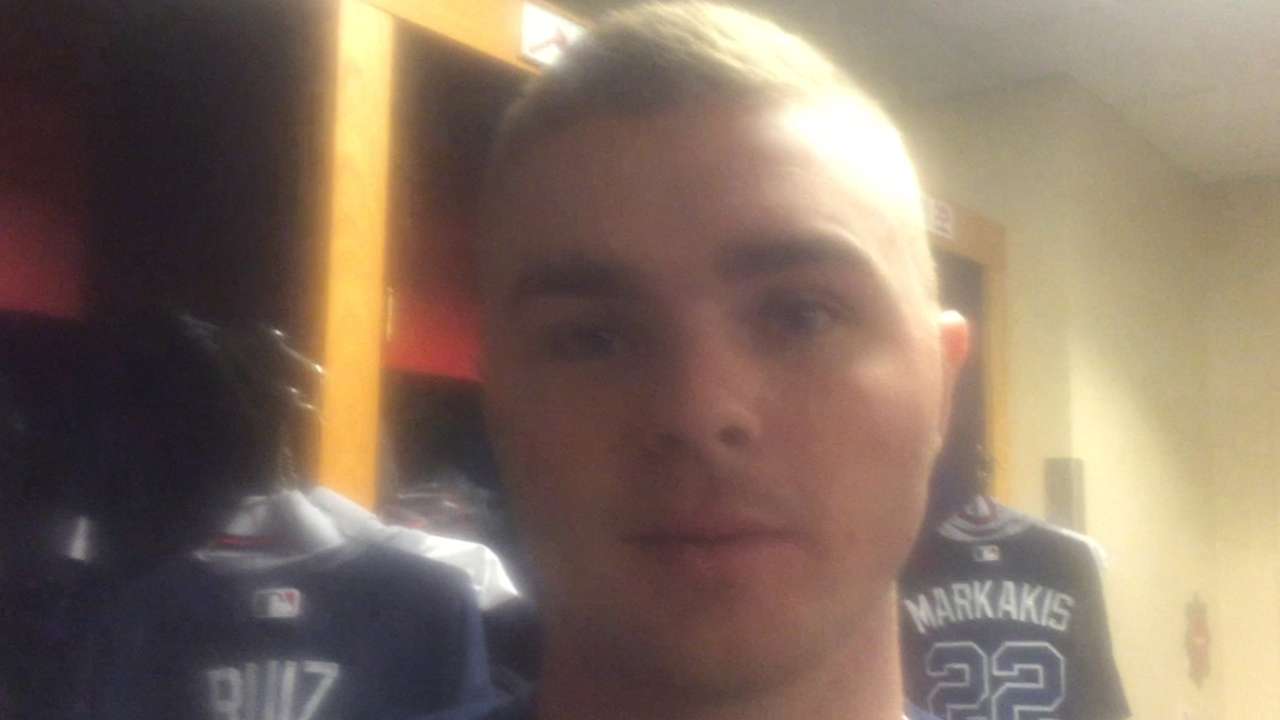 Newcomb will soak in what he can during his final days in big league camp and then begin focusing on what he needs to complete before beginning the season with Double-A Mississippi. There's a chance he could reach Atlanta by the end of this season. But before thinking of a possible call to the big leagues, the prospect must learn how to harness both his command and nerves.
"He was throwing the ball well," Braves first baseman Freddie Freeman said. "It was coming out firm. It's just one of those things where he might have been overthrowing a little bit. Once he gets the nerves down and calms down a little bit, I think we're all going to see what we've all been hearing about."
Mark Bowman is a reporter for MLB.com. This story was not subject to the approval of Major League Baseball or its clubs.