Reds smack 14 hits behind impressive pitchers
GOODYEAR, Ariz. -- Reds starter Anthony DeSclafani and Indians starter Danny Salazar made their first starts of the Cactus League season on Thursday, but it was an outing by left-hander Jonathan Sanchez that served as a greater milestone in Cincinnati's 9-1 win over Cleveland at Goodyear Ballpark.
Sanchez, who is in camp with the Reds on a non-roster Minor League deal, logged two shutout innings in his spring debut for Cincinnati. The 33-year-old southpaw has not pitched in the Majors since 2013, and it looked like his career might have been over before he opted to give it one more shot this year.
The hard-throwing Salazar -- a lock for a spot in the Tribe's talented rotation -- fanned five batters in his two-inning spring debut for the Indians. The starter struck out the final four hitters he faced, providing a solid ending to an outing that began a bit shaky. Salazar yielded three runs in the first inning, in which he walked two and allowed a pair of hits.
"You could tell he was a litle over-amped," Indians manager Terry Francona said of Salazar. "He was kind of scattering balls. It's kind of funny, because we were getting a little nervous because his pitch count was up in the first, but he got through it. And then he came out in the second, and his velocity was exactly the same, but he stayed in his delivery. Sometimes, that's Spring Training."
Left fielder Adam Duvall connected for a two-run single off Salazar and Brandon Phillips added a sacrifice fly for the Reds in the opening inning.
"I was rushing a little bit in the first inning," Salazar said. "I'm glad that I could make the adjustment in the second inning, staying back and driving all my pitches. When I went to the dugout, [pitching coach Mickey Callaway] just told me, 'You're trying to go too quick to home plate.' After that, I breathed a little bit and came back. I felt a little bit too excited in the first inning."
DeSclafani, who is a virtual lock for a spot in the Reds' rotation, spun two shutout innings, striking out one and walking none.
"I felt good," DeSclafani said. "It was the first outing of the year, so I'm not going to put too much judgment on it. Body felt good, mechanics felt good. [I've] just got to make some adjustments with the fastball, work on fastball command and just keep trying to progress."
Cleveland's first hit came in the fifth inning, when outfielder Joey Butler collected a single off Reds pitcher J.J. Hoover. Butler, of course, was the former Rays batter who broke up Indians starter Carlos Carrasco's no-hit bid with two outs in the ninth inning on July 1 last season. Against the Reds, Butler later scored on a sac fly from infield prospect Erik Gonzalez.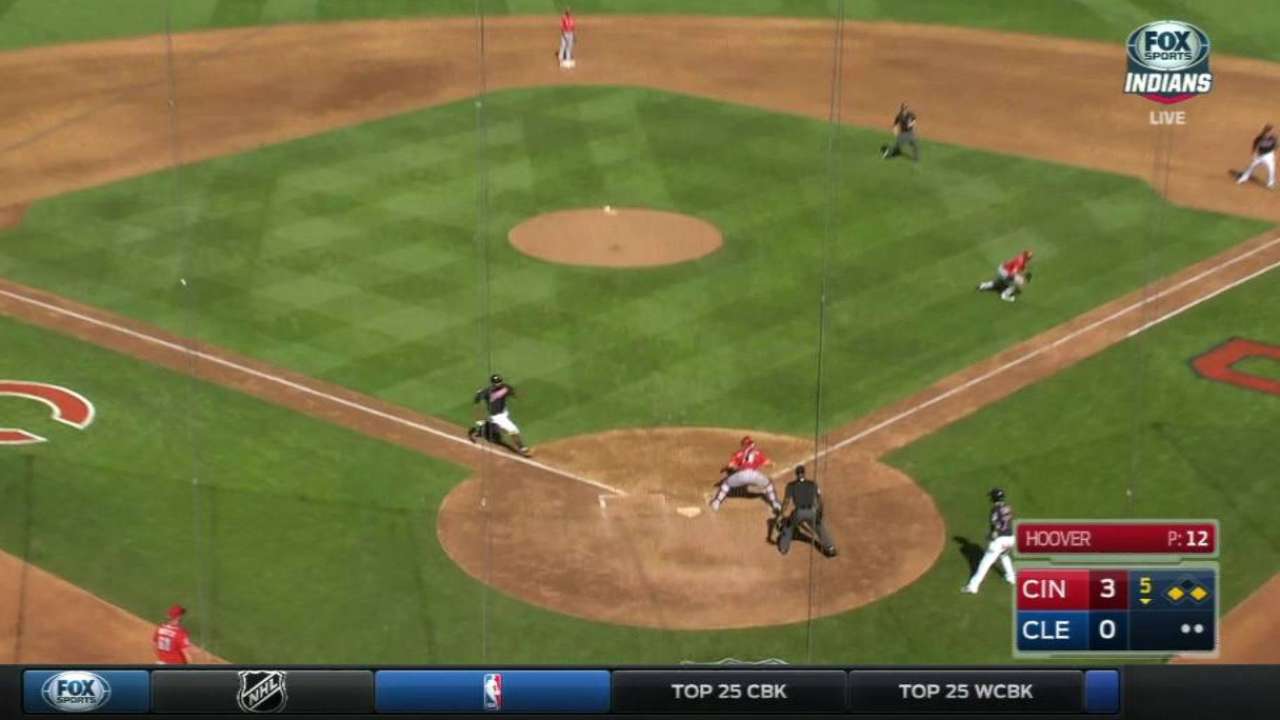 Indians setup man Bryan Shaw -- scheduled to work one inning -- was charged with five runs in only two-thirds of an inning in the sixth. Jesse Winker, Chad Wallach and Tyler Holt each came through with run-scoring hits off Shaw in the outburst for the Reds.
Juan Duran added a solo home run in the ninth for the Reds.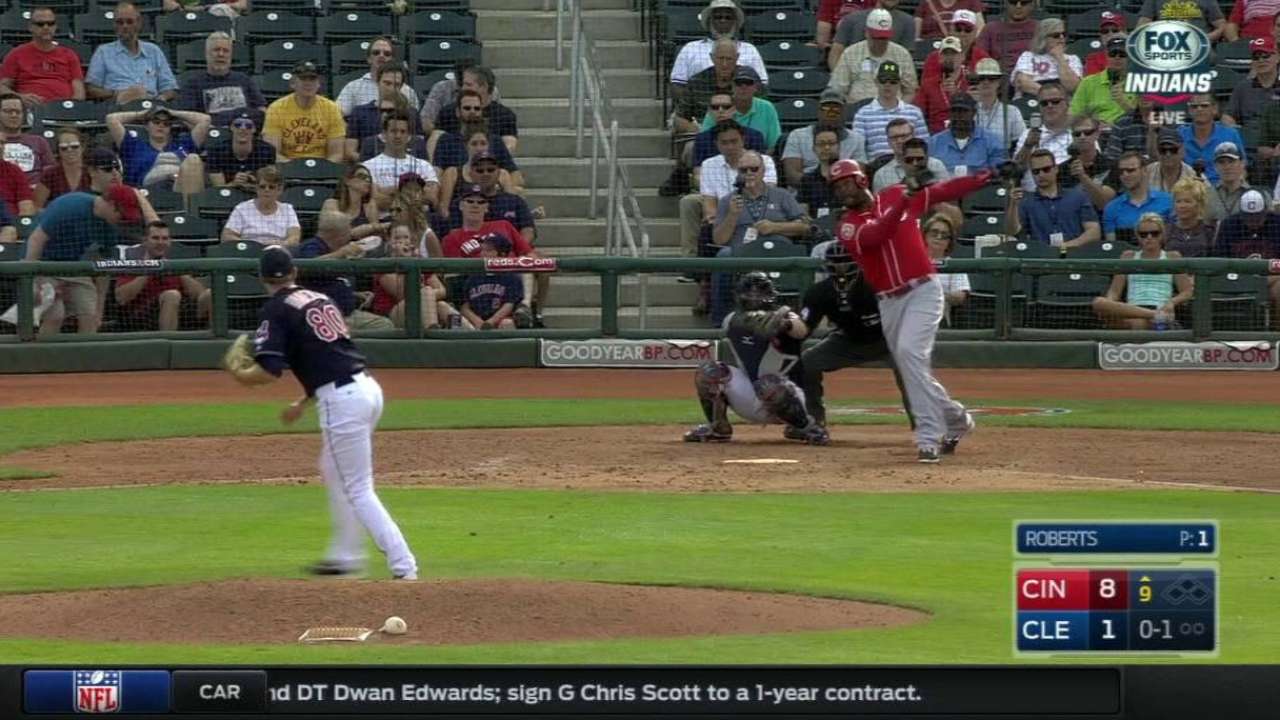 "The tone was set early with some good at-bats early off a good pitcher in Salazar," said Reds manager Bryan Price. "Brandon [Phillips] with the sacrifice fly and then Joey [Votto] going first to second set the tone and then [Adam] Duvall with that big two-out hit up the middle to drive in two runs."
Up next for Indians: The Tribe will head to Glendale, Ariz., on Friday for its first divisional battle of Spring Training. The Indians will face the rival White Sox at 3:05 p.m. ET with right-hander Trevor Bauer slated to start and log two innings for Cleveland. Tribe closer Cody Allen and pitching prospect Mike Clevinger are among the other pitchers penciled in to appear against Chicago.
Up next for the Reds: Michael Lorenzen, one of several pitchers competing for three vacancies in the starting rotation, will make his Cactus League debut against the Giants on Friday at 3:05 p.m. ET. Lorenzen made his Major League debut in 2015, and went 4-9 with a 5.40 ERA in 27 games, 21 starts.
Jordan Bastian is a reporter for MLB.com. Read his blog, Major League Bastian, follow him on Twitter @MLBastian and listen to his podcast. This story was not subject to the approval of Major League Baseball or its clubs.