Gennett's spring debut delayed by sore shoulder
Brewers 2B's setback means Rule 5 pick Walsh will see plenty of action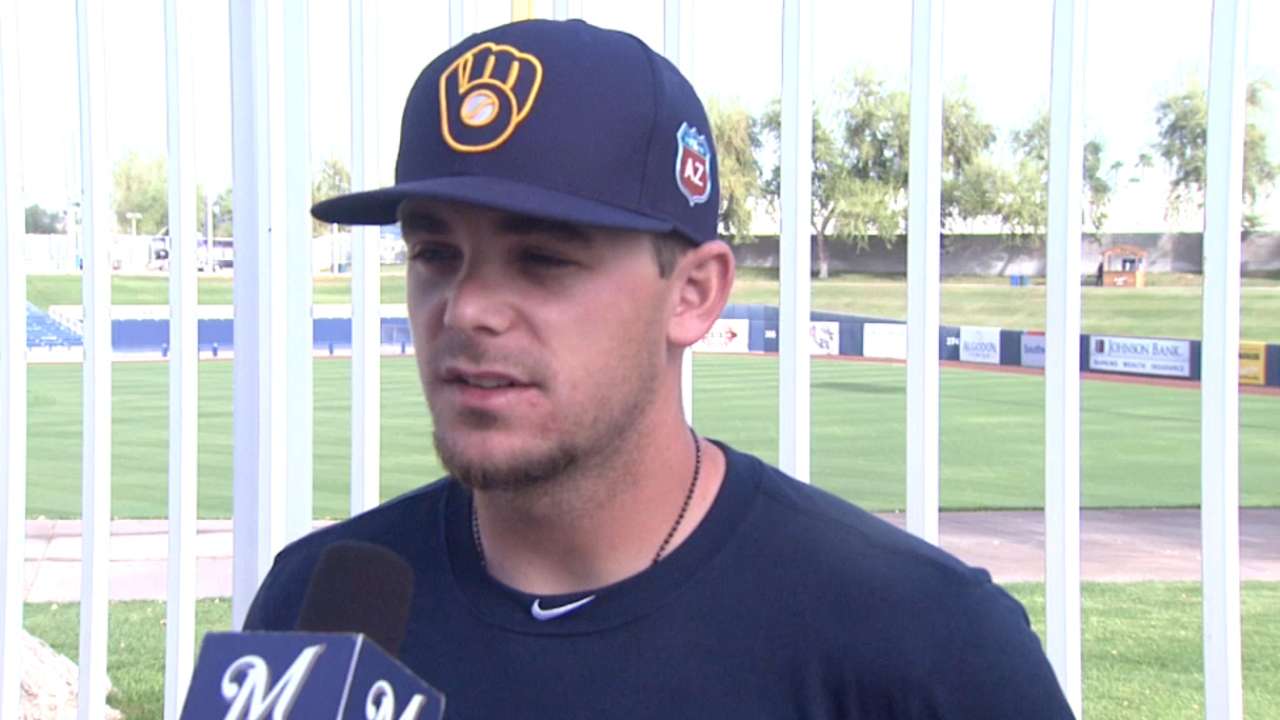 PHOENIX -- Brewers second baseman Scooter Gennett's spring debut will be delayed about a week by a sore throwing shoulder, manager Craig Counsell said Thursday.
Gennett has also been battling a respiratory illness in recent days.
• Spring: Tickets | Ballpark | 40-man roster | NRIs
"It was just gradual soreness," Gennett said of his shoulder. "I'm not excited about it. I'd rather be playing, obviously."
Said Counsell: "I think he's going to be a week away, probably. But we're treating it day to day, and with improvement, it could be faster."
With a full camp, the Brewers have plenty of other middle infielders to cover second base in Gennett's absence. One of them is Rule 5 Draft pick Colin Walsh, a newcomer the Brewers were eager to evaluate because they will have to keep him on the Opening Day roster or send him back to the A's. Walsh started Thursday's split-squad game against the Cubs.
"Colin Walsh is a guy we don't know as much about," Counsell said. "So we certainly want to see him in games quite a bit, and also getting him in the front of the games [against more established Major League pitchers] is good."
Walsh, who will also see time in camp at third base, is a switch-hitting on-base machine who walked 124 times in 134 games at Double-A Midland last season for a .447 on-base percentage.
"He's got an approach, and he's convicted with his approach, in talking with him," Counsell said. "His strength is pitch recognition, I think. He uses that to his advantage. What's interesting is he's jumping up a couple levels. How do we see that translating?"
Walsh is one of two players in big league camp from the Major League phase of the Rule 5 Draft. The other, right-hander Zack Jones, is making progress after missing a few days with a sore shoulder.
Adam McCalvy is a reporter for MLB.com. Follow him on Twitter @AdamMcCalvy, like him on Facebook and listen to his podcast. This story was not subject to the approval of Major League Baseball or its clubs.