Wash expects improved 'D' out of Giavotella
A's coach worked with Angels second baseman during offseason
TEMPE, Ariz. -- November came quickly, and by the time Johnny Giavotella met Ron Washington on the field for an entire offseason of defensive work, the rumors were already swirling. The Angels were said to be scouring the market for help at second base, and Giavotella was hurt by that. He thought he had a good year, felt he had finally established himself in the Major Leagues and began to lament how unfair it all seemed.
Washington -- the longtime Rangers manager, current A's third-base coach and noted fielding guru -- stopped him midsentence.
"Who [cares]?" Washington told him, with harsher words. "Do your thing. And when you go to camp, keep your job. I don't give a [darn] who they get."
And so, with that, their work began.
Spring Training: Schedule | Tickets | More info
From the start of November until the middle of February, Giavotella and Washington met three times a week at the Urban Youth Academy in New Orleans to work on defense, the one element that had always eluded Giavotella.
"We didn't miss, no matter what the weather was," Washington said from A's camp on Thursday morning. "I was so proud of him, the way he put it together and the way he was able to maintain it."
Giavotella could always hit -- his Minor League slash line is a solid .305/.378/.438 -- but carried obvious shortcomings defensively. And he knew it. Shortly after the 2014 season -- and before the Royals would trade him to the Angels for a journeyman Minor League reliever -- Giavotella met Washington at a banquet and sought his help.
"Listen, Wash, baseball means a lot to me," Giavotella recalled telling him. "I know that I'm capable of playing big league baseball offensively, but defense is the only thing holding me back."
Washington's response: "If you're ready to work, I'll work with you."
The two only trained for about a month that offseason, just before Giavotella went to Venezuela to play winter ball. The ensuing spring, Giavotella won a job as the Angels' starting second baseman and, outside of a five-week stint with fourth nerve palsy, never lost it.
He batted a respectable .272/.318/.375, but defense remained a hindrance. FanGraphs' overall defensive rating ranked Giavotella the second-worst second baseman in 2015, ahead of only the Mariners' Robinson Cano.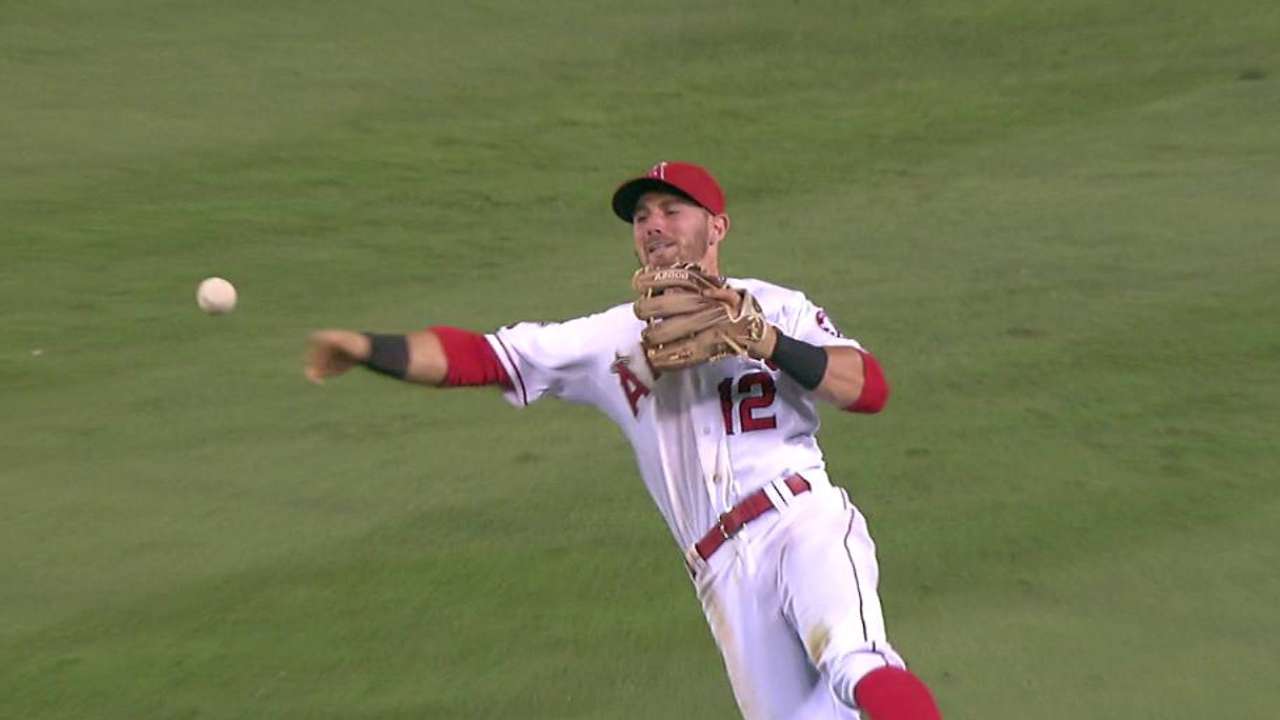 Washington believes Giavotella "wasn't getting the maintenance he should've gotten," meaning he wasn't policing himself diligently enough to apply concepts gained the prior winter.
This year, Washington said, "Things clicked a lot better." They spent more time together, learned more about each other.
"What happened from the beginning of the offseason to when we finished is he got know-how," Washington said. "In other words, he can police himself. When you work with someone, that's where you want to get him -- where they can police themselves."
Giavotella first struck Washington as someone with "hard hands," who was constantly "jabbing at the ball" with his glove and often fielded grounders "flat-footed."
"Now you won't see him flat-footed," Washington said. "Now he's got some rhythm going."
The two worked on everything together, their training centered on intense, non-stop, 45-minute drills aimed to incorporate as much technique as stamina. They covered receiving feeds from a shortstop, turning double plays, footwork around the bag, angles on slow rollers and the fundamentals behind "receiving" ground balls.
"Everything," Washington said. "Everything that you can cover during the course of a game, we covered."
Giavotella called Washington's instruction "priceless."
"I didn't realize how important it is to get to that last hop and use your feet to get you in the proper position to get that good hop," Giavotella said. "I would just kind of run right after the ball and hope I got a good hop, as opposed to reading the ground ball, letting my feet dictate where I'm going to catch the ball and adjust appropriately. I'd kind of get lazy and let the ball get up on me as opposed to going out and being aggressive and getting that last hop."
Washington quickly gravitated toward Giavotella, not just because of their New Orleans connection.
He loved his attitude.
"Kid's a gamer, man," Washington said. "He wants to whoop your [butt]. I like that. … We all have deficiencies, but he can play in my foxhole."
Angels manager Mike Scioscia declared second base "an open competition" on the first day of camp, but it's clear that Giavotella will be the guy, barring an unforeseen acquisition from the outside. He is out of options, is coming off a full season as the starter and none of the other competitors -- mainly Rey Navarro and Gregorio Petit -- seem to pose much of a threat.
The Angels' hope is that the spark Giavotella provides offensively can overcome any ways he might limit them on defense.
"I think I'm constantly making strides, I'm constantly working every day to get a little bit better," Giavotella said. "Those little adjustments go a long way."
Washington is steadfast in his belief that Giavotella "can be a very solid second baseman" this season.
"He'll make all the routine plays," Washington said, "and he's going to surprise you this year with some of the plays he's going to make that's outside of the routine."
Alden Gonzalez is a reporter for MLB.com. Follow him on Twitter @Alden_Gonzalez and Facebook , and listen to his podcast. This story was not subject to the approval of Major League Baseball or its clubs.