Grilli expects to be Opening Day closer
Veteran reliever says he is pain-free following ruptured left Achilles tendon injury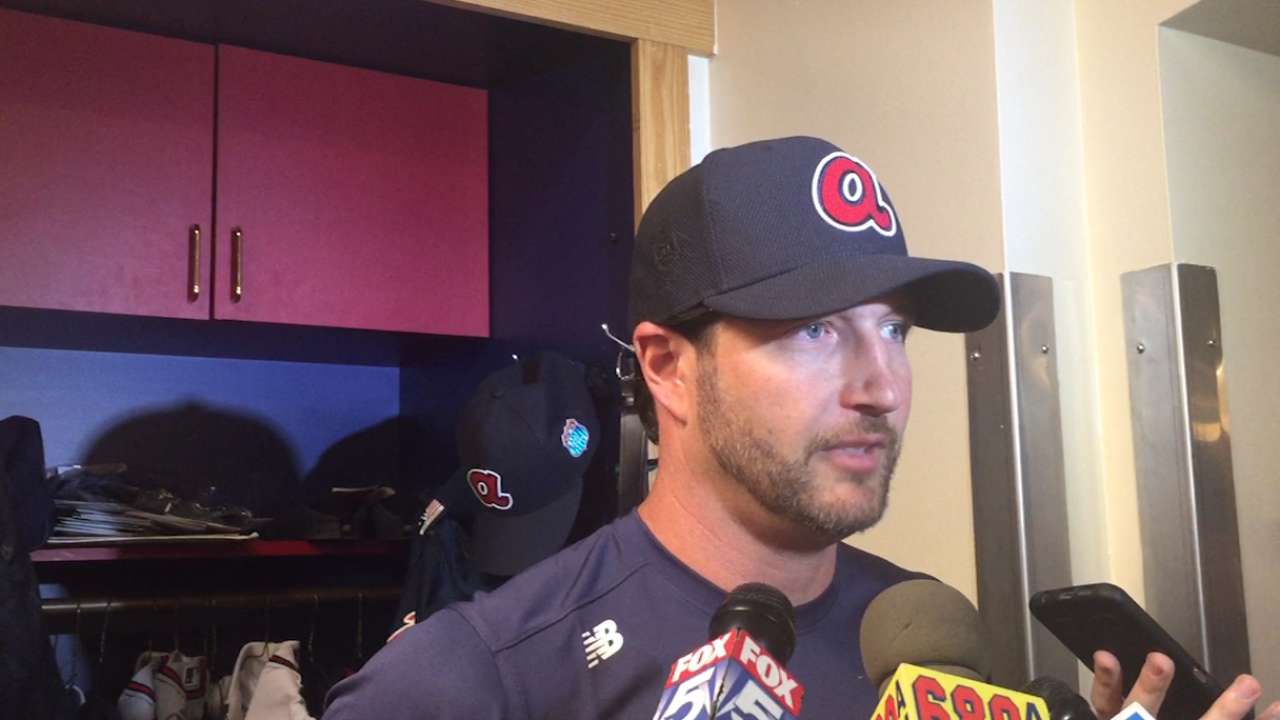 LAKE BUENA VISTA, Fla. -- Despite spending the first two weeks of Spring Training completing the final stages of a long recovery process, Jason Grilli has maintained an upbeat approach and believes he will be ready to serve as the Braves' closer on Opening Day.
"They're making sure I don't overdo it," Grilli said. "I want to, and that is the hardest part. I'm out here, and I want to do my normal thing, but I'm cautiously listening to what they are saying. All the veteran guys are saying, 'We all know what you can do.' I'd rather be confident to be ready for Opening Day than to look awesome in Spring Training."
• Spring Training: Schedule | Tickets | More info
With Opening Day still about a month away, the 39-year-old Grilli has plenty of time to prove that he is capable of returning from the ruptured left Achilles tendon that ended his 2015 season on July 11. He has spent the past couple of weeks throwing bullpen sessions, completing fielding drills and conditioning for the season.
The Braves have not targeted a date when Grilli might make his Grapefruit League season debut. The veteran closer is confident that he will have ample time to prepare for the regular season as long as he begins making appearances within the final two weeks of Spring Training.
"It doesn't hurt," Grilli said. "There's no pain, and there's no setback. It's just getting your arm and body ready to go with your new foot. But I feel great. I'm running and doing [fielding drills] and throwing my bullpens just fine. I don't need to 'RPM it up' now, when we've got 30-some [exhibition games], and I've only got to throw eight innings."
Odds and ends
• Projected Opening Day starting pitcher Julio Teheran will complete two innings in a Minor League intrasquad game at ESPN's Wide World of Sports Complex on Friday. Teheran will make his Grapefruit League debut on Wednesday against the Astros in Kissimmee, Fla.
• If Grilli is not ready, the Braves could give closing duties to Arodys Vizcaino, who will make his Grapefruit League season debut during Friday's game against the Phillies, which airs at 1:05 p.m. ET on MLB.TV. Vizcaino converted nine of 10 save opportunities after becoming Atlanta's closer in August.
• Lefty Andrew McKirahan was scheduled to undergo an MRI exam on Thursday afternoon. McKirahan exited Wednesday's game against the Orioles with left forearm discomfort. He made 27 appearances for Braves last year, but he has not been considered a likely candidate to open this season in Atlanta's bullpen.
Mark Bowman is a reporter for MLB.com. This story was not subject to the approval of Major League Baseball or its clubs.