Hahn aggressive in pursuit of offseason targets
White Sox GM remolded roster to be competitive in '16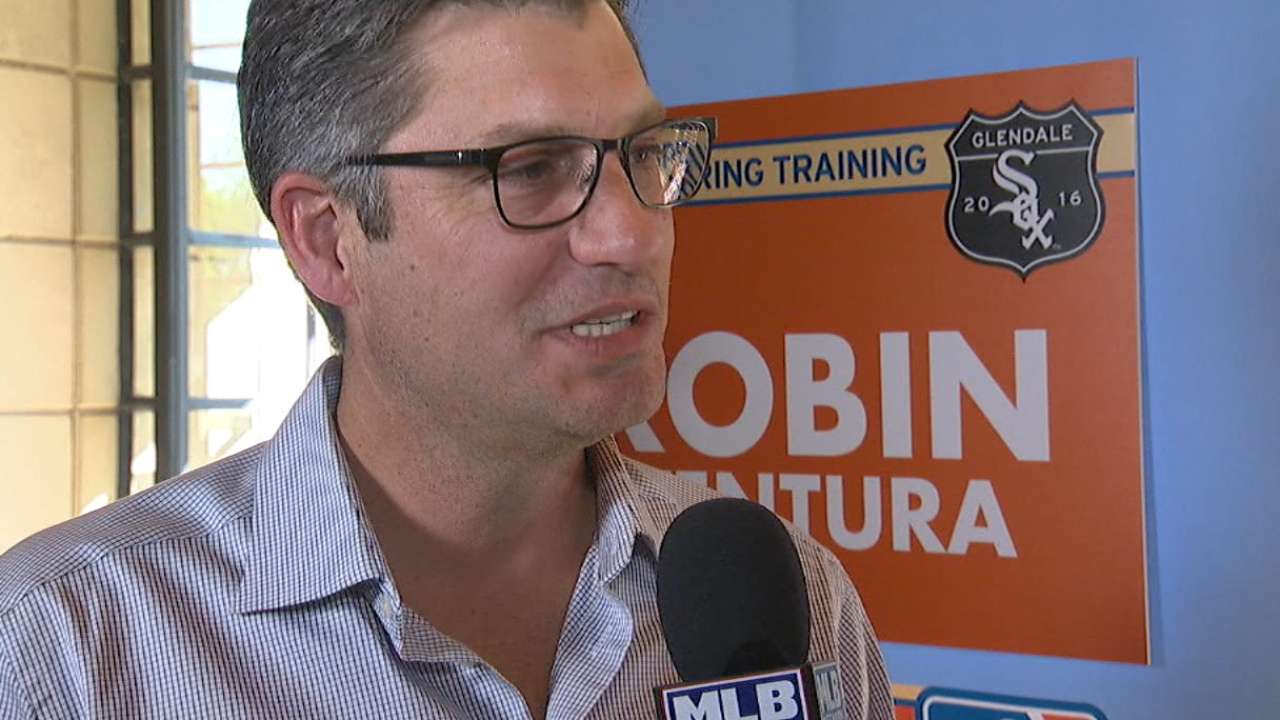 GLENDALE, Ariz. -- This offseason, the White Sox were rumored to be in on several top free agents, including outfielders Alex Gordon and Yoenis Cespedes, both of whom re-signed with the teams that got them to the World Series in October.
That, of course, means that -- for whatever reason -- neither was landed by White Sox general manager Rick Hahn, who worked diligently to improve his roster all winter with hopes of contending in 2016.
"I don't want to talk about guys who aren't in a White Sox uniform," said Hahn, sitting in his golf cart and watching a recent practice on the back fields of Camelback Ranch. "I don't think that's fair to them or the process. When we wind up with a player, we'll tell you how it worked out and how it evolved."
• Spring Training: Schedule | Tickets | Gear
Still, the White Sox wound up with plenty of players: an All-Star third baseman in Todd Frazier, a high-energy second baseman in Brett Lawrie, a veteran shortstop in Jimmy Rollins, a potential high-impact starting pitcher in the recently injured Mat Latos and two catchers considered upgrades on offense, Alex Avila and Dioner Navarro.
Target: Plan for '16
Winning remained the primary goal for the White Sox last August, especially with nobody laying claim to the American League's second Wild Card. But some in the front office began looking at players identified as early as Spring Training as potential future fits and assessing exactly where the club stood.
Where were the White Sox? They certainly were not in full rebuilding mode, even following a third straight losing season.
"You need to be honest in your assessment with where you are," Hahn said. "From our standpoint, while we are all disappointed by the fact that we underachieved as a group last year, we still felt that this was not the right time to flip the script and rebuild.
"We felt we had a quality core in place. It was essential that we added to that core and improve ourselves, especially from an offensive standpoint. We felt that was the more direct route to winning a championship, to add to what we have as opposed to subtract and focus on a target further down the road."
Target: Third Base
The pursuit of Frazier began for the White Sox during the '15 campaign.
"Coming off the [July 31 non-waiver] Trade Deadline, you have a sense from many of your conversations about who is potentially available in the coming months," Hahn said. "I had spent a fair amount of time pestering [Reds president of baseball operations] Walt Jocketty about Todd Frazier.
• Bloom: Old soul Frazier keeping White Sox young at heart
"They were clear that wasn't the time when they were going to move him, but it was worth revisiting in the offseason. Nuggets like that contribute to your thoughts as you enter the offseason."
The White Sox ultimately landed Frazier in a December deal involving three teams, with Trayce Thompson, Micah Johnson and Frankie Montas going to the Dodgers, who sent three prospects to the Reds. The White Sox added Lawrie from the A's at the Winter Meetings for two Minor Leaguers.
"Sitting in Nashville, there was a several hour window the day we acquired Lawrie that I actually thought we were getting them both the same day," Hahn said. "Even though the Frazier deal cratered late that morning or early that afternoon, we still went ahead and did Lawrie, not feeling confident in all candor that we were going to wind up with Todd.
"Our hope was if we weren't able to acquire Todd, then obviously Brett would have stayed at third. We felt that we were going to be stronger with the addition of both of them."
Hahn said the original Frazier deal was directly with the Reds, adding that deals often fall short of being finalized more often than people know.
"It's just the nature of the gig," Hahn said. "It's part of the reason why a lot of times there are rumors and you don't see us commenting one way or another. Nothing is done until it's complete."
Target: Free agents
While many Sox fans wanted the team to add another outfielder, don't lose sight of what the White Sox accomplished this offseason. The catching market settled quickly, Hahn said, and the club landed the two it targeted.
"In Alex and Dioner, we got guys who are not only going to help us improve offensively, but also are well-rounded receivers who have had success in the past," Hahn said. "We felt we got stronger in that spot."
The White Sox did stay in on Gordon and Cespedes as long as they could, right up until it became clear they were signing somewhere else.
• Rollins expected to make roster
"I probably irritated [White Sox chairman] Jerry [Reinsdorf] at multiple times this offseason in terms of pushing and trying to keep the focus on potentially stretching for things that were beyond our means," Hahn said. "He's as competitive as anybody, so when we had the opportunity to improve ourselves with Latos or recently with Rollins, we were able to make that stretch.
"I'm guessing somewhere on a few occasions this offseason, he was probably a little tired of hearing from me about stretches beyond our means," Hahn said.
"Look, we accomplished many of our goals. There is always more you can do. That's the way we are going about our business now."
Scott Merkin is a reporter for MLB.com. Read his blog, Merk's Works, follow him on Twitter @scottmerkin, on Facebook and listen to his podcast. This story was not subject to the approval of Major League Baseball or its clubs.