Rays offense shines in strong showing vs. O's
PORT CHARLOTTE, Fla. -- Miguel Gonzalez made his first start of the spring for the Orioles, and the results were not good. The right-hander allowed seven runs on eight hits in 1 1/3 innings as Tampa Bay beat Baltimore, 10-3.
Desmond Jennings had two RBI doubles, Corey Dickerson hit a two-run homer and Brandon Guyer drove in three to lead the Rays' charge.
"They didn't even let me breathe out there," Gonzalez said. "It was tough. They were swinging at that first pitch. The positive side is that I didn't walk anyone, and physically I feel fine. I'm ready to go.
"It was just a tough one to think about. Obviously, the results weren't there. The fastball was up. I'm happy with my fastball and split. Other than that, I'm feeling good."
Six Orioles relievers combined to allow three earned runs over 6 2/3 innings. Brad Brach, Jason Garcia and Hunter Harvey each contributed an inning of scoreless relief.
Orioles right fielder Jimmy Paredes had to leave the game in the second inning after diving for Logan Forsythe's bloop double. Paredes injured his left wrist on the play.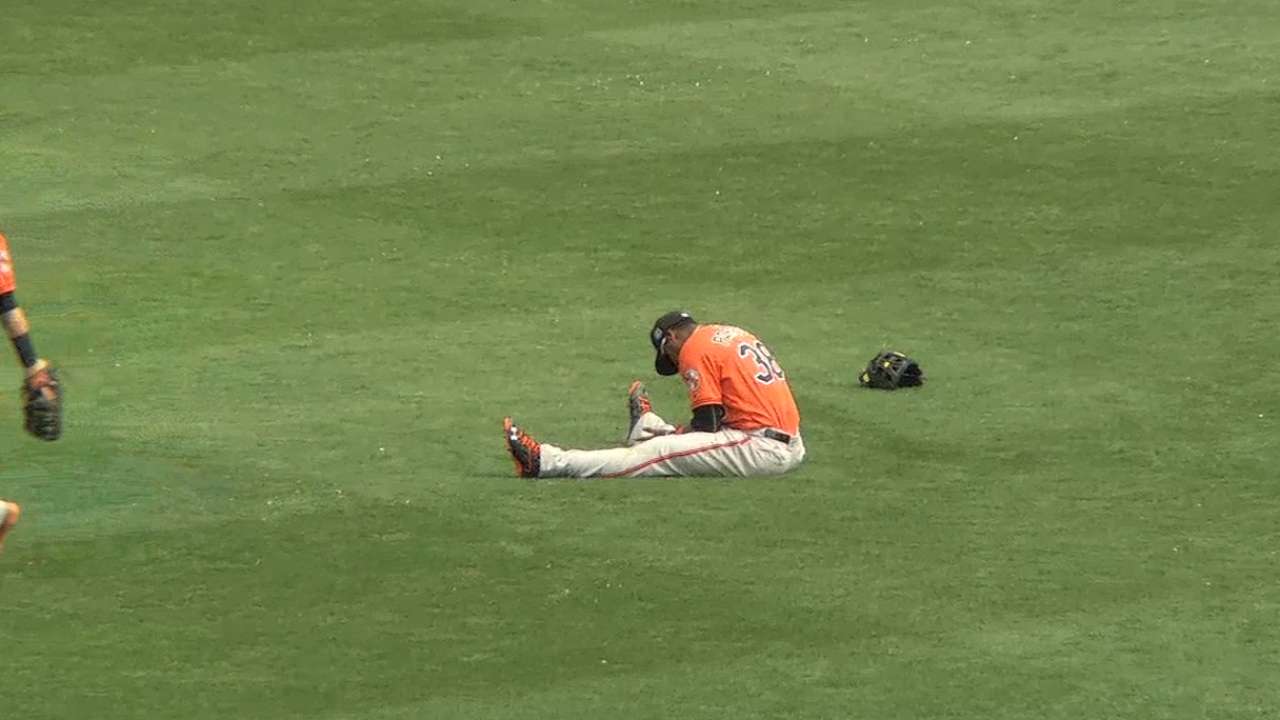 Erasmo Ramirez started for the Rays and pitched two scoreless frames in his first outing of the spring. The right-hander allowed one hit while striking out three of the seven batters he faced.
"Always, you want to go and execute and keep the ball down," Ramirez said. "You don't want to give up any base hits. ... Today I was working down, working that location and trying to keep it like that."
The Orioles put up two runs in the sixth inning on an error and a sacrifice fly, and Alfredo Marte drove in Xavier Avery on a single to center field.
Up next for the Orioles: The Orioles will travel to Dunedin, Fla., on Friday to face the Toronto Blue Jays. Vance Worley gets the start for Baltimore against Jays lefty J.A. Happ. First pitch is 1:05 p.m. ET.
Up next for the Rays: Chris Archer will make his first start of the spring on Friday when the Rays travel to Fort Myers, Fla., to play the Red Sox. Also slated to pitch are right-handers Kyle McPherson, Jhan Marinez, Adam Reifer, Jacob Faria, and Parker Markel and left-hander Adam Wilk. Kevin Kiermaier and Evan Longoria highlight the regulars going on the trip. Right-hander Joe Kelly will start for the Red Sox.
Bill Chastain is a reporter for MLB.com. This story was not subject to the approval of Major League Baseball or its clubs.