Cuban star Y. Gurriel seen in Miami
Yulieski Gurriel, one of the most celebrated players in the history of Cuban baseball, has been spotted in the United States.
On Wednesday night, several Spanish media outlets published reports placing the 31-year-old infielder at Miami International Airport. Gurriel's reason for traveling to the United States and his current whereabouts remain unknown. It's unclear if Gurriel's younger brother, Lourdes Gurriel Jr., accompanied him on the trip to Florida.
The Gurriel brothers have been training in secret since their mysterious disappearance from the Cuban team last month following the Caribbean Series. Speculation from baseball insiders has placed the brothers in the Dominican, Haiti or Panama. The brothers had gone unseen and underground -- a common strategy used by players who defect from Cuba -- until Yulieski was spotted at Miami's airport.
On Feb. 16, the brothers told MLB.com that they were working hard toward their Major League dream and hope to eventually sign with the same team.
"We want the fans to know we are fine and working toward our dream," Yulieski said in Spanish to MLB.com. "I know there are a lot of people who worried about us, but we are working hard and training every day to accomplish our dreams to play in the Major Leagues."
It's still uncertain where the brothers will establish residency outside of the United States and Cuba -- the first step to becoming free agents and being eligible to sign with a Major League team. Miami's El Nuevo Herald reported that Yulieski established residency in Panama during his years traveling with the national team, thus making his path to free agency easier than for Lourdes, 22, who would need to establish residency. However, the report has not been confirmed.
Yulieski Gurriel is considered to be Major League-ready and could possibly make it to the Majors this season. The infielder was an Olympian in 2004, and he has represented Cuba in all three World Baseball Classic tournaments. He's been part of Cuban championship teams at the Pan American Games, Central American Games, World Baseball Championships, International Cup and Caribbean Series.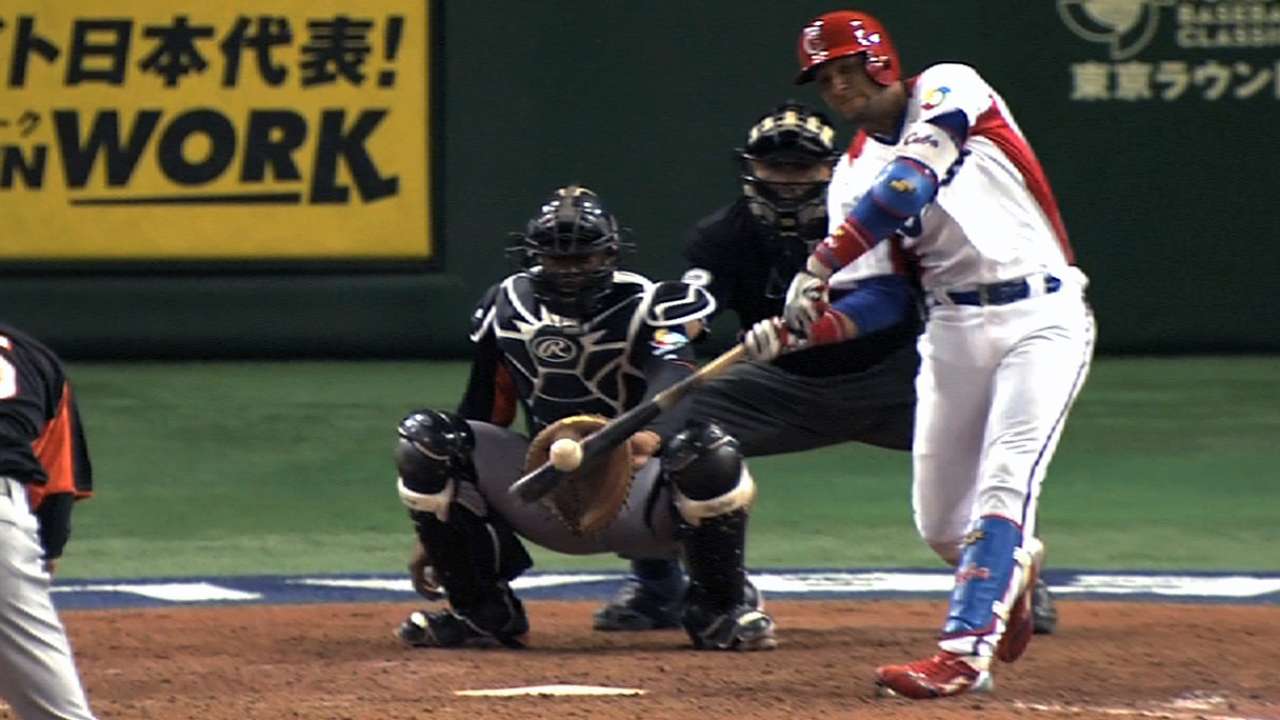 Gurriel Jr., was hitting .321 with eight home runs and 32 RBIs and a .924 OPS in 43 games for the Havana Industriales this season when he defected. A good runner with a strong glove, he could project to be a center fielder and can also play shortstop. Lourdes is comparable to Buddy Reed from the University of Florida, who is expected to be a top-15 pick in the upcoming MLB Draft. And while not as polished as his older brother, Gurriel Jr. has higher long-term upside and could ignite a bidding war.
It could takes months for the Gurriels to get proper clearance to sign with a Major League club, with the All-Star break serving as a realistic estimate. Yulieski is in position as soon as he is eligible to do so, but Lourdes' situation is more complex.
Cuban players who are at least 23 years old and have played in a Cuban professional league for five or more seasons are exempt from the international signing guidelines established by the Collective Bargaining Agreement, effectively making them Major League free agents once they are eligible to sign with a big league club. Cuban players who leave the island and go directly to the United States are subject to the signing guidelines of the MLB Draft.
Lourdes has played six seasons in Cuba and won't be 23 until October. He will not be subject to the guidelines if he signs after he turns 23, and therefore stands to have more leverage if he signs after his birthday, because teams would not have to use money from their international bonus pool to sign him.
There are a number of big-market teams who have exceeded their bonus pools by more than 15 percent in the past two years -- including the Red Sox and Yankees -- which means they are prohibited from signing any international amateurs for more than $300,000 in the next two signing periods. In other words, those teams would have no shot at Lourdes if he signs before his birthday, but they would not be restricted if he signs afterward.
Jesse Sanchez is a reporter for MLB.com. This story was not subject to the approval of Major League Baseball or its clubs.