MLB.com Columnist
Jonathan Mayo
High-ceiling Draft picks on display in Goodyear
Aiken in camp working way back from Tommy John, glad to be out of spotlight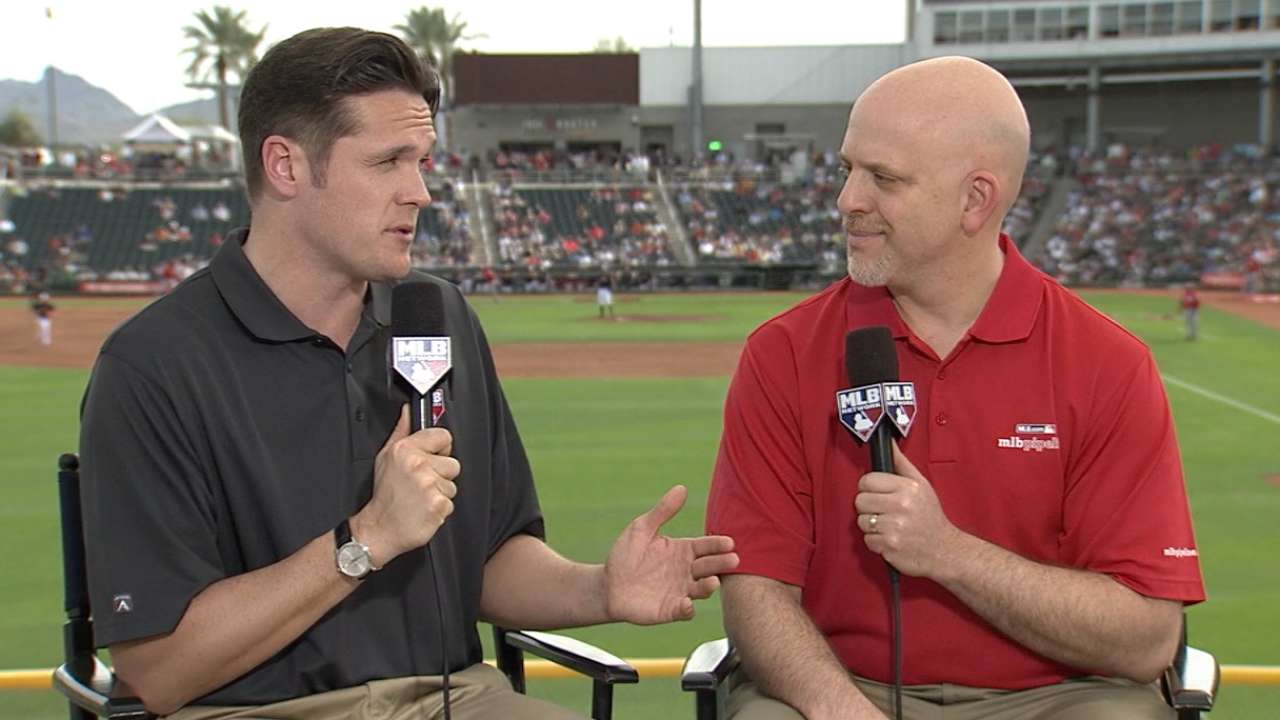 Every Spring Training, prospects get a chance to show what they can do as they prepare for the season ahead. Some are competing for jobs in big league camp, others are prepping for the season as they vie for spots at Minor League affiliates up and down a team's system. MLBPipeline.com will be visiting all 30 camps this spring. Today, we check in on the Cleveland Indians.
GOODYEAR, Ariz. -- For several years, the Indians seemed to be, for lack of a better word, conservative in terms of their Draft approach. There were many "safe" college players taken early. Some made it to the big leagues, some didn't, few made huge impacts.
There's been a shift of late, with Cleveland showing a willingness to take more chances on high-end talent. It started in 2011 with the selection of Francisco Lindor. The Tribe skipped a year in 2012 (Tyler Naquin) but returned to the high school ranks with Clint Frazier in 2013. While the Indians' first pick in 2014 was a college player, there's no doubt top prospect Bradley Zimmer has upside, and they also aggressively went after high-ceiling talent in Justus Sheffield and Bobby Bradley, both of whom are in the top five of Cleveland's Top 30 Prospects list. The Tribe went all in during the 2015 Draft, taking a trio of high-risk, high-reward young arms to help build one of the more up-and-coming systems in baseball.
"It's fun," Indians farm director Carter Hawkins said. "From the outside, it seems like it's a larger risk when you have a guy who is technically further away. From the inside, it's mitigating that risk for a player we feel has a chance to be an impact type guy. How do we mitigate that? By trying to get as much information on a player that we can [from our scouts].
• Five questions with prospect Justus Sheffield
"We have to make sure we go through the right steps to get them up to their fullest potential. It's fun for us to have guys like that in the system with talent oozing out of their ears, but it's understanding that we have to help them create that journey for themselves to make that talent come to fruition."
MLB Pipeline Spring Training reports
One player in Goodyear who has a long way to go on that journey is also the one who might exemplify the Indians' willingness to take Draft risks, 2015 first-round pick Brady Aiken. The left-hander, as is well known, is rehabbing from Tommy John surgery. He's in camp, working his way back and understandably happy to have the spotlight off of him for a while.
"The coolest thing about Brady right now is he's basically just one of the guys," Hawkins said. "We have a rehab group of 10-15 guys going through Tommy John progressions, shoulder progressions, lower extremeities progressions. He's just another guy in that group. Now he's a leader in that group in terms of the effort and intent he's putting in day to day. All that fanfare he didn't ask for has been put behind him. He's just focused on getting back on the mound."
Camp standouts
The Indians run offseason strength camps every year. In December and January, a number of young players come to Goodyear to work with the organization's strength and conditioning staff. Those that attend and buy into the program invariably put themselves in a good position to impress come Spring Training.
Adam Plutko and Will Roberts are both in big league camp as non-roster invitees. At age 24 and 25, respectively, they could have easily said they were good with their own personal routine. Instead, they got with the program and made some changes.
"Adam got significantly stronger, his lower half got stronger," Hawkins said about the organization's No. 15 prospect, who threw 166 innings and had a system-leading 2.39 ERA in his first full season of pro ball. "Will made some really good adjustments with his delivery. That's a risk to make a delivery adjustment later on in your career, but he put himself in a really good spot to compete and hopefully make some strides this year."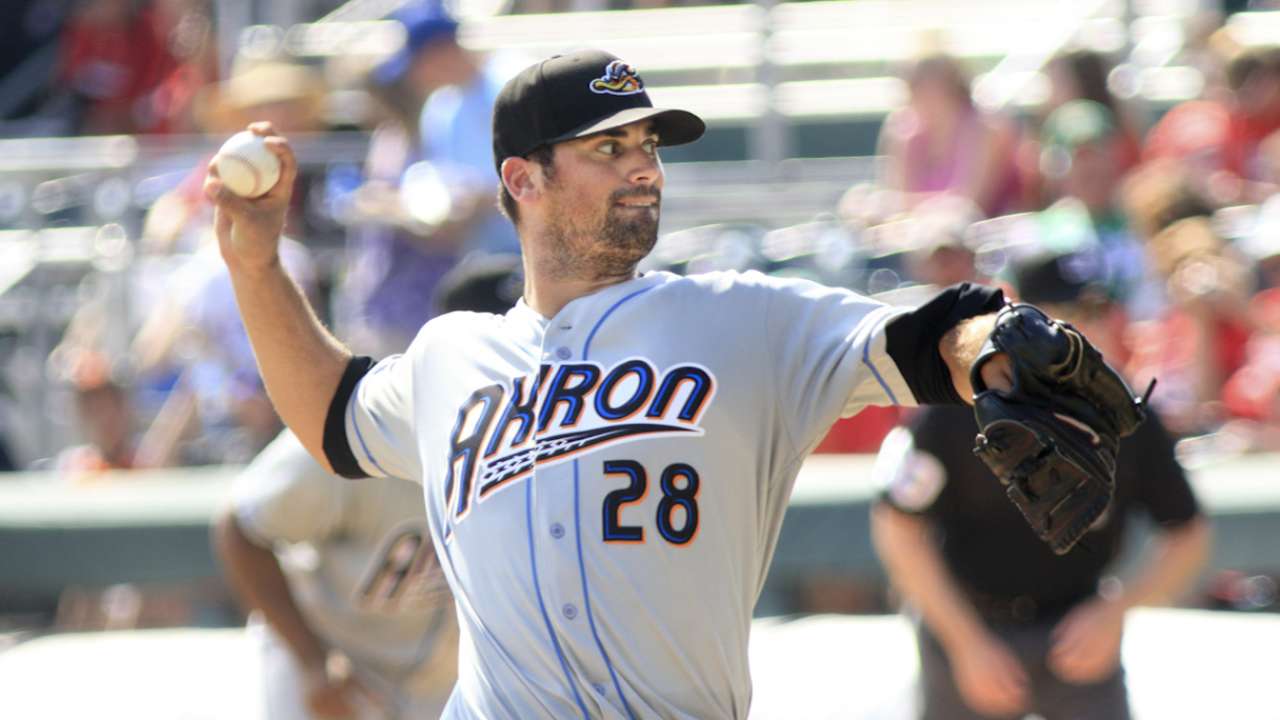 Plutko tossed a scoreless inning during the Indians' Cactus League opener on Tuesday and Roberts will get some work soon enough. But both had already made a strong impression before logging any official mound time.
"To see those guys dedicate themselves that much in the offseason at this point in their career, that's hard for them to do," Hawkins said. "It shows how committed they are to this process."
Breakout candidate
The Dallas Baptist University program had several hard throwers in its pitching staff, many of whom did well during the 2015 Draft. The man responsible for catching all of those arms was Danny Salters, the Indians' 13th-round pick. It didn't take long for Salters to show the Tribe that he learned a ton behind the plate during his college days.
"He just really understood pitching staffs right out of the gate," Hawkins said of Salters, who also threw out 54 percent of would-be basetstealers during his debut. "He came into our early camp and in our conditioning test, just beat everybody. He's a big, physical guy, he has some pop and some arm strength. He's the kind of guy you think can lead a pitching staff."
Other breakout candidates: Tyler Krieger, SS; Mike Papi, OF
Jonathan Mayo is a reporter for MLBPipeline.com. Follow @JonathanMayo on Twitter.
This story was not subject to the approval of Major League Baseball or its clubs.