Gutierrez optimistic after HR in spring debut
Veteran hopeful about staying healthy in 2016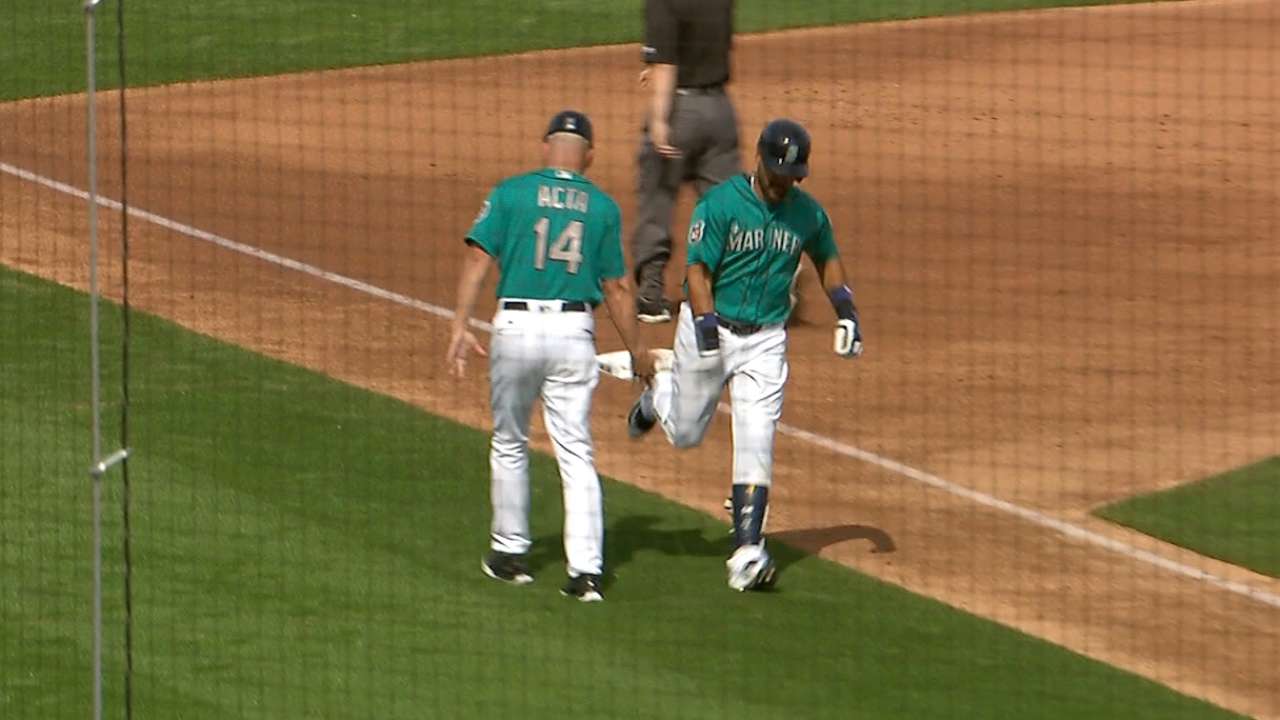 PEORIA, Ariz. -- How do you know that Franklin Gutierrez is feeling healthy and strong this spring? A deep home run off the center-field batter's eye at Peoria Stadium in the fourth inning of the Mariners' 7-0 win over the Padres in the Cactus League opener, for one.
But perhaps even more significantly, the 33-year-old veteran who has been hindered by health issues and the nerve disease Ankylosing Spondylitis for the past five seasons didn't rule it out when asked if he's feeling good enough to return to center field on a part-time basis this year.
"That's a good question," said the man who won a Gold Glove in 2010 playing center, but was limited to left field last year after not playing at all in 2014. "I don't know. It just depends on how my legs feel. But I don't take that possibility out of my mind. We'll see."
The Mariners would love it if Gutierrez could fill in at center as a right-handed complement to Leonys Martin when needed, but he hasn't been able to run well enough or stay healthy enough to handle that challenge since 2013.
General manager Jerry Dipoto floated the idea on a radio show earlier this week, but manager Scott Servais is playing it slow for now.
"I don't know," Servais said. "It certainly helps our team if he can do it and is comfortable doing it. But the more important thing is making sure Guti is in a good spot health-wise and that we can utilize him for the whole year. We face a lot of left-handed pitching."
Gutierrez played designated hitter Wednesday and took up where he left off last season, when he slugged 15 homers in just 171 at-bats after a midseason callup from Triple-A Tacoma.
"It's only the first game. You just try to make contact," Gutierrez said after winning a nine-pitch battle against Padres reliever Cory Mazzoni. "I think it was a good at-bat. He threw me breaking balls, fastballs, mixing all his pitches. I put a good swing on that pitch and it went out."
For Gutierrez, staying on the field consistently will always be a challenge due to his illness, which he's learned to control with medicine, diet and a stretching regimen.
"It's not a secret, what I have," he said. "I try to manage it the best way possible. They know how to put me in play and I think the best part right now is the communication we have. That's going to be very important for me the whole season."
Being with a team and training staff that understands his health history is a major reason he re-signed with the Mariners after becoming a free agent last winter.
"That's huge," he said. "This is my seventh year with the team and it's amazing when you have the opportunity year after year to play again. This is another year. I'm really glad to be here; really glad to be with my friends again and all the people that are here. I'm just trying to help my team any way possible and have fun."
Greg Johns is a reporter for MLB.com. Follow him on Twitter @GregJohnsMLB, read his Mariners Musings blog, and listen to his podcast. This story was not subject to the approval of Major League Baseball or its clubs.