Semien has ideal attitude to bounce back in '16
A's shortstop has worked hard to ensure improvement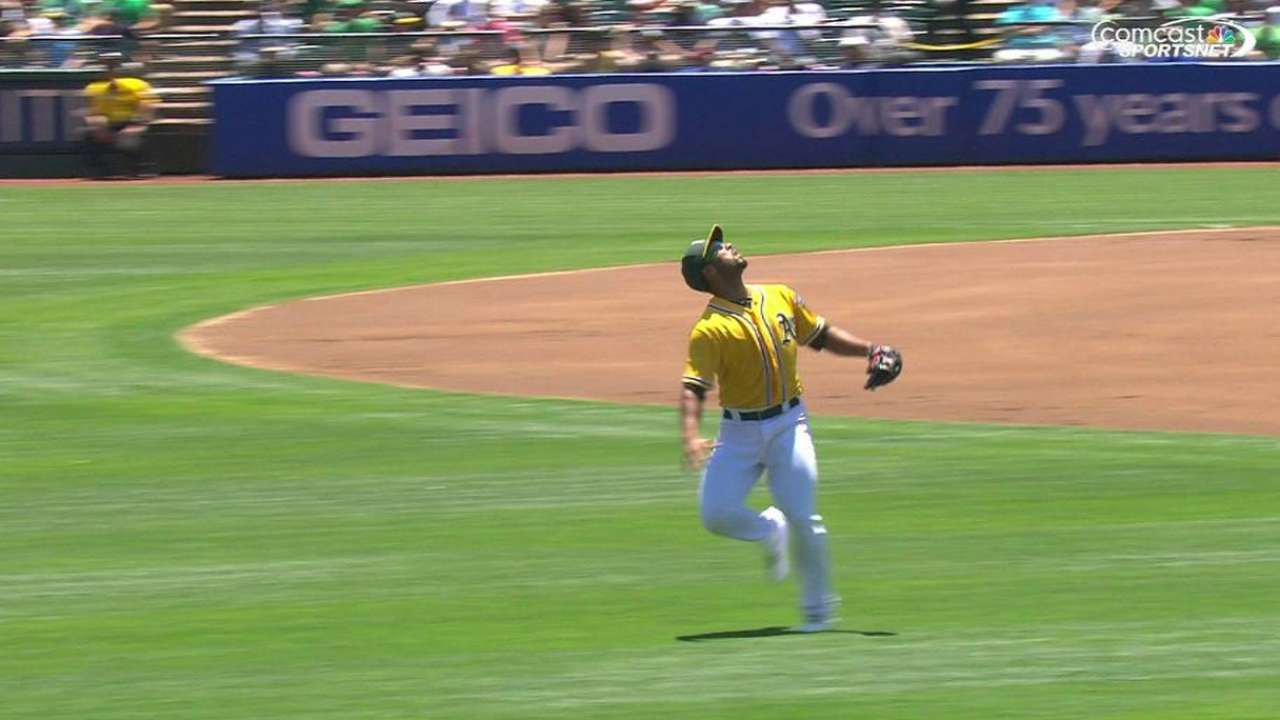 MESA, Ariz. -- The errors piled up at a record rate. Marcus Semien watched the losses mount, too. The shortstop's first year with the A's was full of frustrations, and yet he didn't want it to end.
After treading through a 94-loss season with the weight of an Oakland-record 35 errors on his shoulders, often under scrutiny from fans and media members, all Semien wanted was to keep playing. So he did.
• Spring Training: Tickets | Ballpark | 40-man roster | NRIs
"I knew exactly what I needed to continue to do," Semien said.
That meant repeating the drills that had been ingrained in his day-to-day routine since infield coach Ron Washington's arrival in mid-May. Semien mimicked these movements like clockwork this winter, even without Washington by his side.
"I found a way to get that work done, whether by myself or with a buddy," Semien said. "I made it work. That's the main thing I wanted to work on, building on the stuff we did and what I learned."
A Bay Area product who calls Oakland his year-round home, Semien frequented his high school field during this time and also worked out at Berkeley with fellow Cal alum and A's teammate Mark Canha. His best friend since age 7, Matt Flemer, another former Bear who now pitches in the Rockies' organization, often played the role of Washington, throwing Semien one-hop ground balls from a short distance, approximately five feet.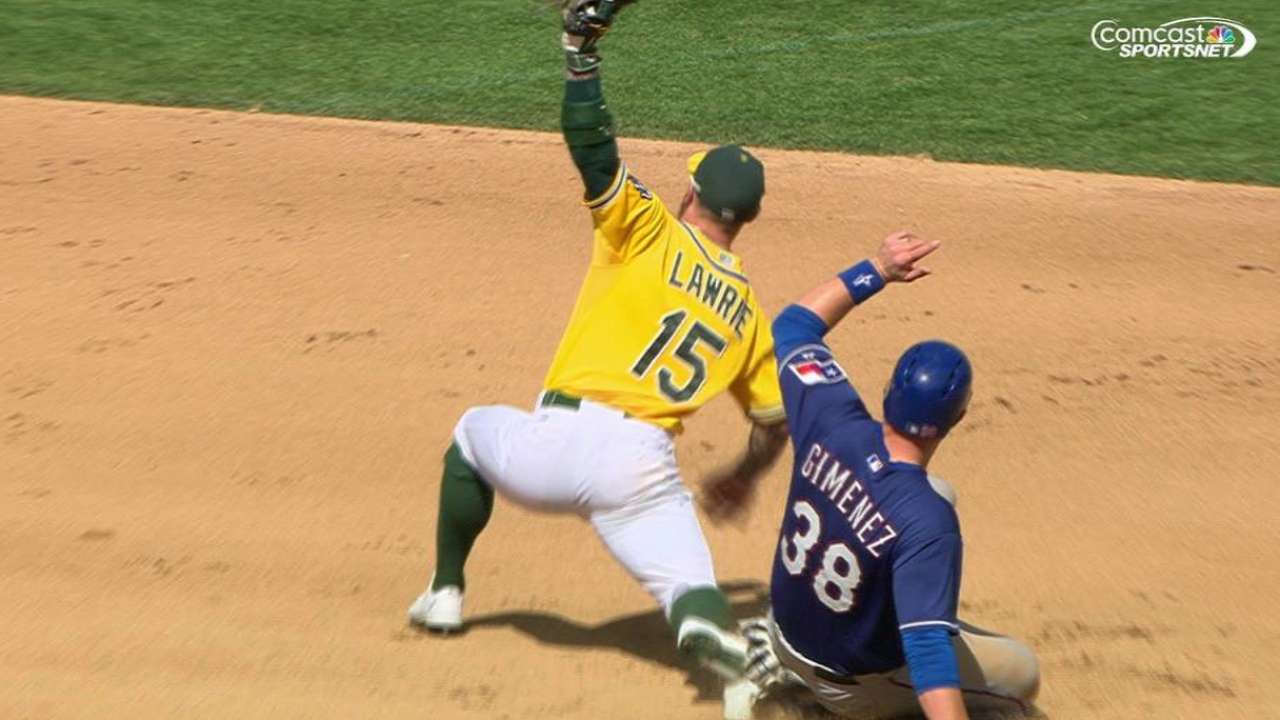 Semien would field them first with a small glove, then a flat, circular pad "that would help you catch the ball the right way," he said, before working his way back to the shortstop position. Only then would he resume these drills with a normal glove and execute throws across the diamond.
This is the same scene that played out every day more than four hours before game time during the regular season.
"Nobody really knows this, but I tried to give Marcus a day off from time to time," Washington said. "He didn't want it. And you know what? I didn't want it either."
"I knew I wasn't going to learn that stuff in one week," Semien said. "It takes months and months of repetition.
"We worked on everything. I hold my glove different now. The way I catch the ball is different. I'm not funneling the ball into my body, but making sure I catch the ball out front. When I hold my glove, my hand is spread wide, so I have a bigger surface area in my glove. My stride is longer when I'm throwing, my arm speed is quicker when I'm throwing, I'm staying in my legs when I'm throwing.
"That's a lot I just threw out at you, but that's just an example."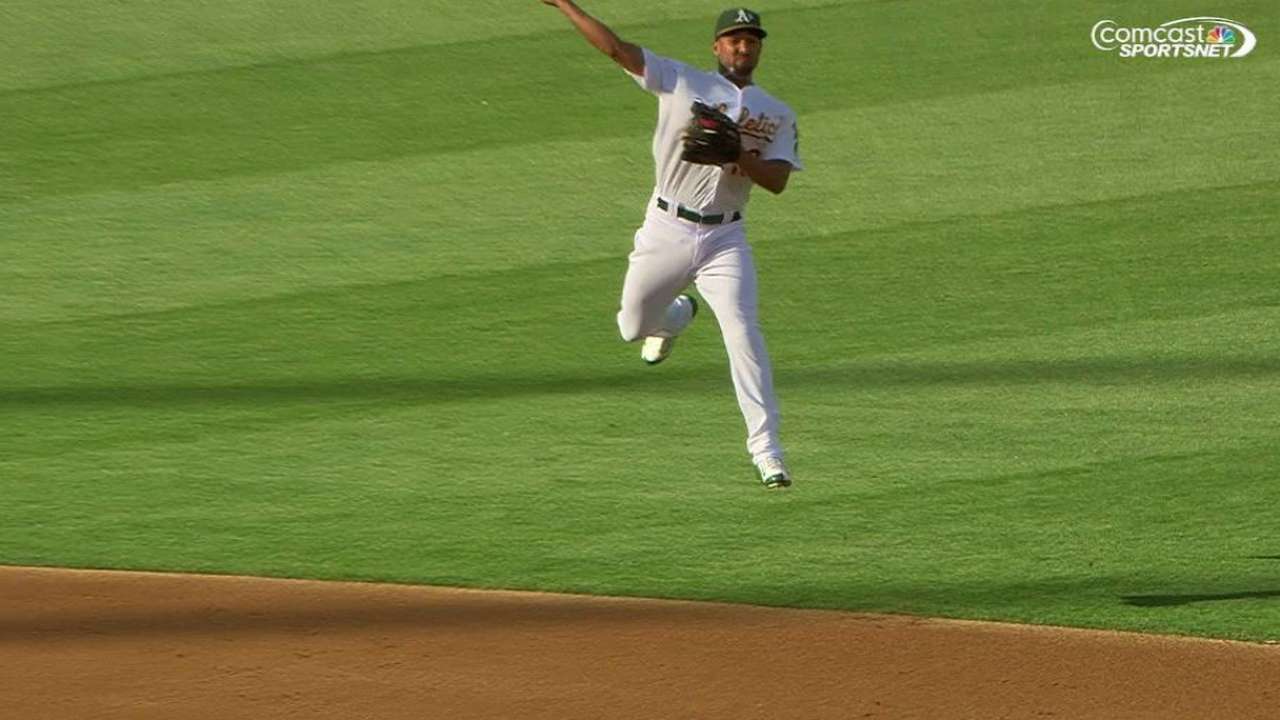 Despite the many hours of overtime work, the then-24-year-old Semien still managed to appear in a team-high 155 games, hitting .257 with 15 home runs and 45 RBIs. His focus never wavered, and neither did the A's commitment to him as their everyday shortstop. He made just seven errors after the All-Star break following a harrowing first half that saw him commit six in his first 15 games and another 10 in an 11-game stretch that preceded Washington's return to the organization.
"There's a reason you stick with guys, and it's easier to stick with guys who work as hard as he does and don't complain about things and don't make excuses. And on top of that, he has quite a bit of talent," A's manager Bob Melvin said. "There isn't a guy that I've been around in all my years who not only works as hard as he does, is accountable, is realistic, and absolutely a non-complainer.
"I don't remember seeing anyone at the big league level have to go through what he did physically and mentally last year."
Said Canha: "To handle it the way he did, it's just super impressive, mature. I say all the time, Marcus is a winner. He's just a winner and has the best attitude you could possibly have as a competitor. He understands what it takes for him to be the best."
Semien maintains he "wouldn't be able to function if I let all the outside stuff get to me," citing a great support system of family and friends who helped him through this period. He also started reading a lot this offseason, devouring Malcolm Gladwell's "Outliers" and "The Champion's Mind" by Jim Afremow.
"Anything I can take from books like that to get that winning attitude and to come back strong from a tough season, because it means so much to me," Semien said. "I want to win so bad, and no one wants to go through what we went through last year. It's not fair to us or the fans.
"I was frustrated with myself because I wasn't performing how I know I can, and that's hard when you're at this level because there are a lot more eyes on you, especially with a new team. That was tough. I never doubted myself, though. I knew the numbers were bad. I'm the one out there doing it. But I knew that what I was learning was going to help me in the future."
This mindset made him Washington's ideal student.
"He's a special kid," Washington said. "There are more failures than there are successes, and if you have trouble believing in your abilities, then it can run you crazy. Well, he didn't have any trouble believing in his ability because he's so mentally tough.
"I always told Marcus, I'm never concerned about errors. People make errors. It's how you recover, like anything else. He's going to be a good player. Why? That attitude. He's committed and doesn't lack effort. You don't know how many people told me when I got here, Marcus can't do this, Marcus can't be a shortstop, Marcus can't do that. In the end, now they're all licking their wounds."
Jane Lee is a reporter for MLB.com Read her blog, Major Lee-ague, and follow her on Twitter @JaneMLB. This story was not subject to the approval of Major League Baseball or its clubs.