MLB.com Columnist
Jonathan Mayo
Breaking down the Twins' 2016 Top 30 Prospects
Minnesota boasts 5th-ranked system, 6 youngsters among Top 100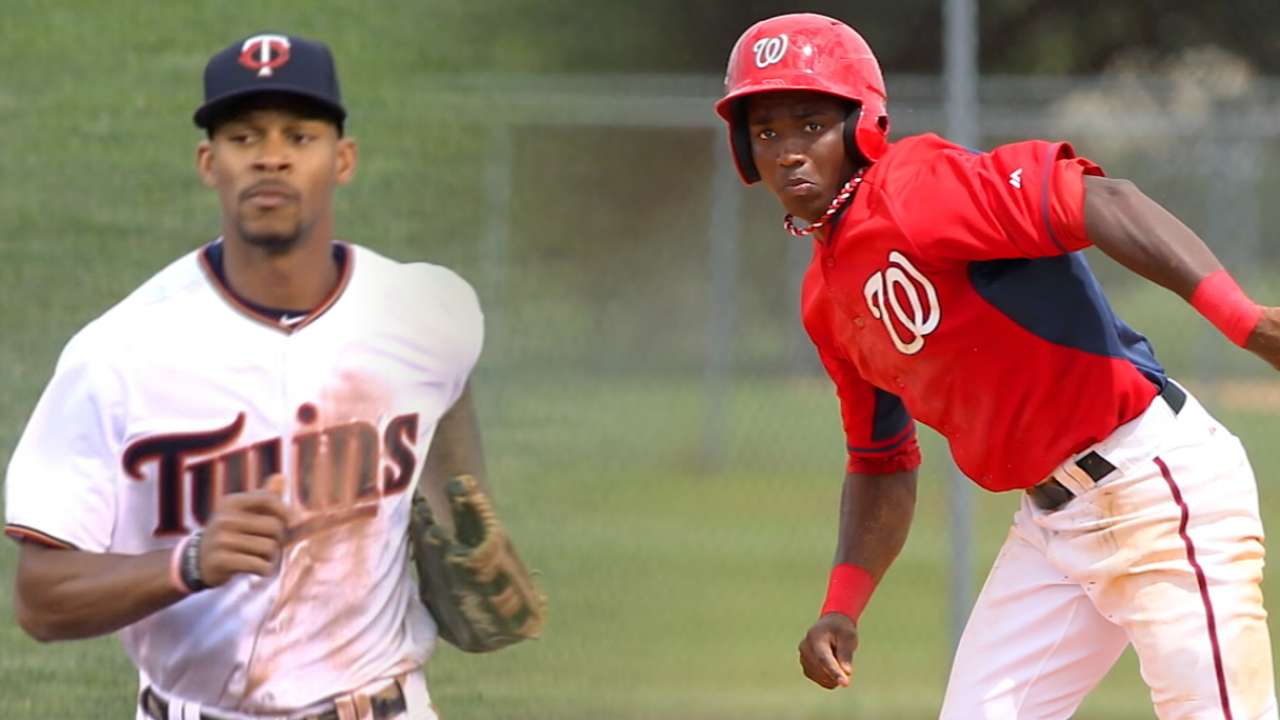 It may seem strange for a prospect to have a farewell tour, but that's almost what's going on with Byron Buxton these days -- at least in the prospecting world.
The Twins' No. 1 prospect since midseason 2013, a multi-tooled center fielder, lost his crown as No. 1 on the overall on the Top 100 list to Corey Seager this preseason. But he still has the best overall collection of tools and highest ceiling of any prospect on any list. Not for much longer. Buxton needs just two at-bats to graduate out of prospect status.
Of course, a team doesn't make the Top 10 organization rankings -- in this case No. 5 -- because of just one prospect. The Twins have five other names on the Top 100, with both Jose Berrios and Max Kepler likely to make big contributions in Minnesota this year. And there's depth and talent up and down the system, with many knocking on the door and a few other high-ceiling young players just getting started.
It's always a good sign for an organization when it's tough to leave names off of a Top 30 list, as was the case with the Twins. Even when Buxton does graduate, the Twins prospect list is still in very strong hands, which bodes well for a team that must develop homegrown players to compete in the American League Central.
Biggest jump/fall
Here are the players whose ranks changed the most from the 2015 preseason list to the 2016 preseason list.
Jump: Engelb Vielma (2015: NR | 2016: 17)
Fall: Amaurys Minier (2015: 23 | 2016: NR)
Top 30 Prospects lists
Division
Teams/Release date
NL East
ATL, MIA, NYM, PHI, WAS
AL East
BAL, BOS, NYY, TB, TOR
NL Central
CHC, CIN, MIL, PIT, STL
AL Central
CLE, CWS, DET, KC, MIN
NL West
ARI, COL, LAD, SD, SF
AL West
HOU, LAA, OAK, SEA, TEX
Best tools
Players are graded on a 20-80 scouting scale for future tools -- 20-30 is well below average, 40 is below average, 50 is average, 60 is above average and 70-80 is well above average.
MLB's Top 10 farm systems
Hit: Byron Buxton (65)
Power: Adam Brett Walker II (60)
Run: Buxton (80)
Arm: Buxton (80)
Defense: Buxton (70)
Fastball: J.T. Chargois (80)
Curveball: Alex Meyer (65)
Slider: Tyler Jay (65)
Changeup: Jose Berrios (55)
Control: Jose Berrios (55)
How they were built
Draft: 18
International: 10
Trade: 2
Breakdown by ETA
2016: 10
2017: 6
2018: 8
2019: 5
2020: 1
Breakdown by position
C: 1
3B: 2
SS: 5
OF: 6
RHP: 9
LHP: 7
Jonathan Mayo is a reporter for MLBPipeline.com. Follow @JonathanMayo on Twitter. This story was not subject to the approval of Major League Baseball or its clubs.