Working the angles, Mahle gives hitters fits
Lefty prospect adds submarine delivery to three-quarter arm slot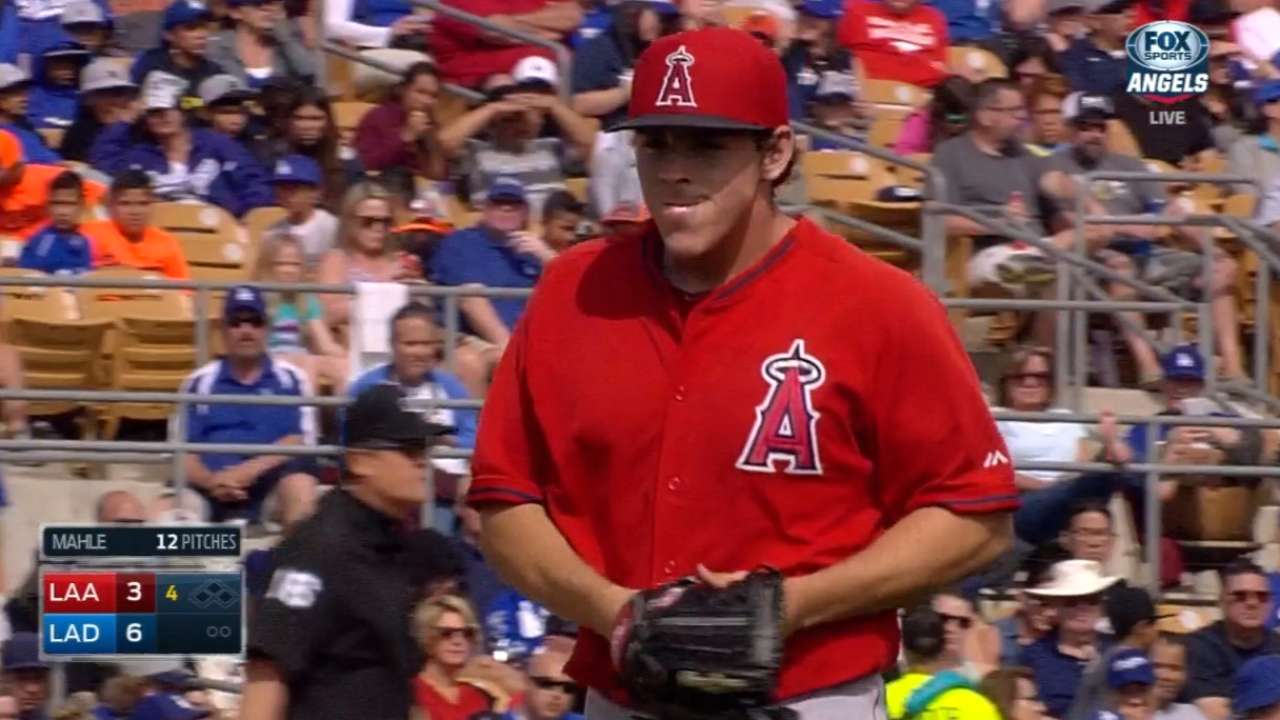 SCOTTSDALE, Ariz. -- Left-handed Angels reliever Greg Mahle faced off against left-handed Giants hitter Joe Panik with two outs in the fifth inning at Scottsdale Stadium on Wednesday. The first two pitches came from a three-quarter arm slot, the next two were delivered submarine style and the last two came from three-quarters once again. All were strikes, ultimately inducing an inning-ending flyout.
Mahle, ranked 12th in the Angels' system by MLBPipeline.com, could conceivably help the Major League team this year. He's 22 years old, is slated to begin the season in Triple-A and profiles as the left-on-left specialist this Angels bullpen has basically spent the last four years searching for.
Throwing from two arm slots should help.
"It's just so natural to me," said Mahle, who finished 2015 with a 3.26 ERA, a 1.28 WHIP and a 4.79 strikeout-to-walk ratio at Class A Advanced and Double-A. "It's not too difficult."
• Spring Training: Schedule | Tickets | Information
Mahle doubled as a first baseman throughout his time at UC Santa Barbara and often threw sidearm when tossing a baseball around the infield. His natural arm slot when he pitches has always been three-quarters. But at least once an outing, Mahle experimented with throwing a submarine-style fastball.
Hitters hardly ever swung, but the Angels loved the concept. They drafted Mahle in the 15th round of the 2014 Draft and had him focus on pitching from two arm slots as soon as he entered their system. Now he throws four pitches from three-quarters and two others, a fastball and a slider, from down below.
Same-side hitters posted a .732 OPS against him in the Minors last year, which was actually better than the .714 OPS righties hit off him. But the Angels believe that can improve.
"It's just something to think about, you know?" Mahle said. "Especially for a lefty. Nobody likes hitting a sidearm lefty. It's something in the back of their mind."
Alden Gonzalez is a reporter for MLB.com. Follow him on Twitter @Alden_Gonzalez and Facebook , and listen to his podcast. This story was not subject to the approval of Major League Baseball or its clubs.