Braves get first look at Swanson, Albies together
Prospects both have come up as shortstops, but latter stars at second this day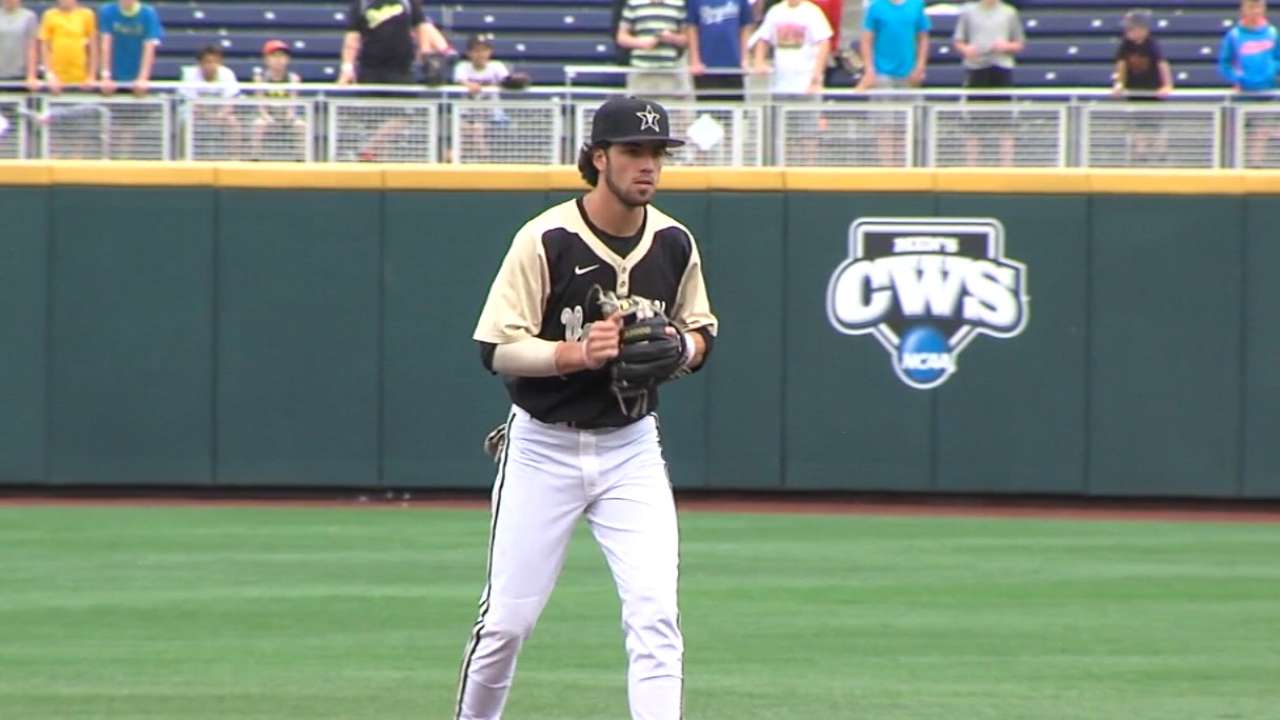 SARASOTA, Fla. -- The Braves showcased their middle infield of the future on Wednesday in their 11-4 win over the Orioles, with Dansby Swanson and Ozzie Albies starting at shortstop and second base, respectively.
Swanson, appearing in his first big league Spring Training game and batting eighth, went 0-for-5. The top Braves prospect popped out to first with the bases loaded in the first inning, grounded to the pitcher with men on second and third in the third, grounded to third leading off the fifth, struck out swinging to end the sixth and grounded to second to end the eighth.
• Spring Training: Tickets | Schedule | 40-man roster
Albies, who followed Swanson in the order, fared much better on the day. The third-ranked Atlanta prospect drove in a pair of runs with a bases-loaded single to center in the seven-run first inning, homered to center to lead off the seventh and singled to shortstop to lead off the ninth as part of a 3-for-5 day that included three RBIs and three runs scored.
Defensively, Swanson handled his two chances effectively -- throwing out Manny Machado on a slow roller to end the fourth inning and nailing Chris Davis on a two-hopper to close out the fifth -- while Albies, after moving to shortstop in the sixth, made a smooth pivot on a throw from Reid Brignac to complete an inning-ending double play in the seventh, and threw out Francisco Pena to end the eighth.
Swanson, 22, was selected first overall by the D-backs in the 2015 Draft and then acquired in the December blockbuster that sent Shelby Miller to Arizona. The 19-year-old Albies has hit .328 with 11 triples and 51 stolen bases in 155 games across two Minor League seasons.
While the Braves plan to assign them to separate Minors affiliates this year so they can both play shortstop, Swanson and Albies will be in a middle-infield rotation throughout Spring Training, according to Braves manager Fredi Gonzalez.
"We'll flip-flop them back and forth," said the skipper, who has yet to determine which player's skillset is better-suited for the all-important shortstop role.
"Watching ground balls in three days, I've seen enough to know that I have no idea," Gonzalez said.
"At the end of the summer, our Minor League people will decide who's better, but I've got a feeling that they might come back and say, 'We don't know.'
"I don't think you can go wrong either way."
Michael Kolligian is a contributor to MLB.com. This story was not subject to the approval of Major League Baseball or its clubs.