Brewers open Cactus play with split-squad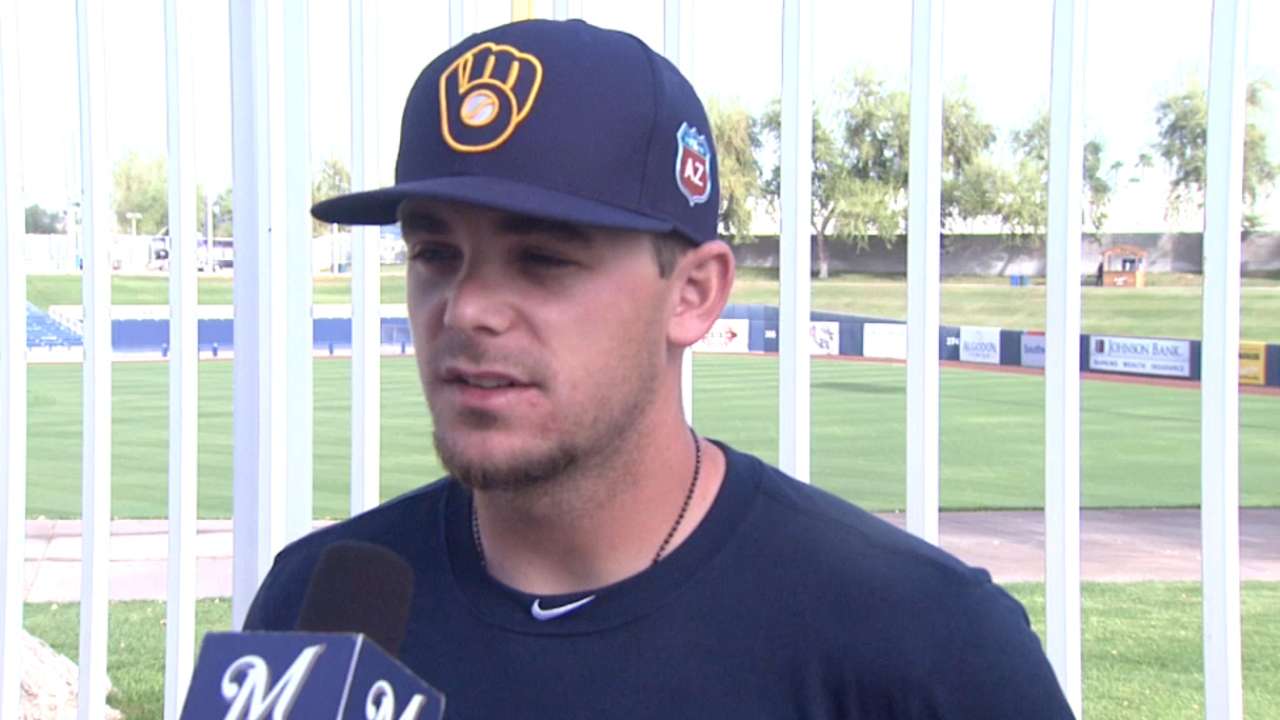 PHOENIX -- So much for easing into Spring Training. The Brewers open Cactus League play on Thursday with split-squad games at Maryvale Baseball Park against the Cubs and on the road against the Giants. For manager Craig Counsell, it's an all-hands-on-deck kind of day.
"There's going to be players playing nine innings," Counsell said.
Nine innings on Day 1?
"It is a baseball game," Counsell said.
• Spring Training: Tickets | Ballpark | 40-man roster | NRIs
Counsell will manage the Maryvale game against the Cubs, with Chase Anderson scheduled to start in his unofficial Brewers debut against a Chicago lineup featuring Kyle Schwarber, Kris Bryant, Anthony Rizzo, Jorge Soler, Miguel Montero and Javier Baez.
Triple-A Colorado Springs skipper Rick Sweet will manage the game in Scottsdale, Ariz., against the Giants, with Zach Davies slated to start.
Bob Uecker will call the Scottsdale game with Jeff Levering on the Brewers Radio Network. They have many new names to learn.
"I know from a player's perspective, you're looking for at-bats," Counsell said. "If you're an extra player looking to make the team, you're looking for at-bats."
Counsell has mostly held off so far on making evaluations, preferring to allow players, especially those new to the organization, an opportunity to "get their legs under them."
With Cactus League play, that begins to change. The Brewers are particularly competitive in center field, where at least nine players in camp are vying for starting duties in what figures to be Milwaukee's most intriguing camp battle.
The Brewers must also set a bench and a bullpen. There's significant competition in each area.
"We'll get the game looks to form impressions, certainly," Counsell said. "But with [nearly] 60 players here, you don't feel like you've even seen every player enough. We're still getting fresh eyes on everybody here, I think. We're all excited to start that. The players are excited to start that."
Arcia, Middlebrook go deep vs. UWM
Orlando Arcia and Will Middlebrooks homered in the Brewers' 11-2 win over the University of Wisconsin-Milwaukee on Wednesday at Maryvale Baseball Park, where there were no long faces in the visitors' dugout.
"It's probably the most exciting game of the year," said UWM infielder Eric Solberg, who had two hits including a two-run single.
It marked the second straight year that the Brewers hosted Wisconsin's only Division 1 baseball program in a Spring Training exhibition. The Panthers' head coach is Scott Doffek, who grew up in suburban Milwaukee made it as high as Triple-A during a professional career with the Dodgers.
He and Brewers manager Craig Counsell go way back.
"When I was playing professionally, me and him were coming up together and working out in the offseason together," Doffek said. "Today, I'm managing against him and he's managing a Major League club.
"The Brewers hired the right guy. He's a perfect fit for what they need. He'll do an outstanding job."
Last year, UWM managed one hit in an 8-0 loss. On Wednesday, the Panthers tallied eight hits, and led the game, 2-1, after Solberg's run-scoring hit off Brewers right-hander Hiram Burgos. As he stood at first base next to the Brewers' Chris Carter, Solberg took a long look at the scoreboard.
"I was like, 'Yep, we're beating the Brewers!'" Solberg said.
Last call
• Reliever Jeremy Jeffress still has not resumed throwing since straining his right hamstring during a baserunning drill, but Counsell reiterated Wednesday that, "I have zero concern about it." An established reliever, Counsell said, needs minimal time to prepare for Opening Day.
• Rule 5 Draft pick Zack Jones, a right-hander competing for a bullpen spot, resumed throwing Tuesday and was scheduled for another flat-ground session on Wednesday. He'd been sidelined by a sore shoulder.
• The Brewers will employ the designated hitter during the first week or two of the Cactus League, even in National League ballparks.
Adam McCalvy is a reporter for MLB.com. Follow him on Twitter @AdamMcCalvy, like him on Facebook and listen to his podcast. This story was not subject to the approval of Major League Baseball or its clubs.