Dickey glad to be working with Thole
'That's a good formula,' knuckleballer says of partnering with longtime batterymate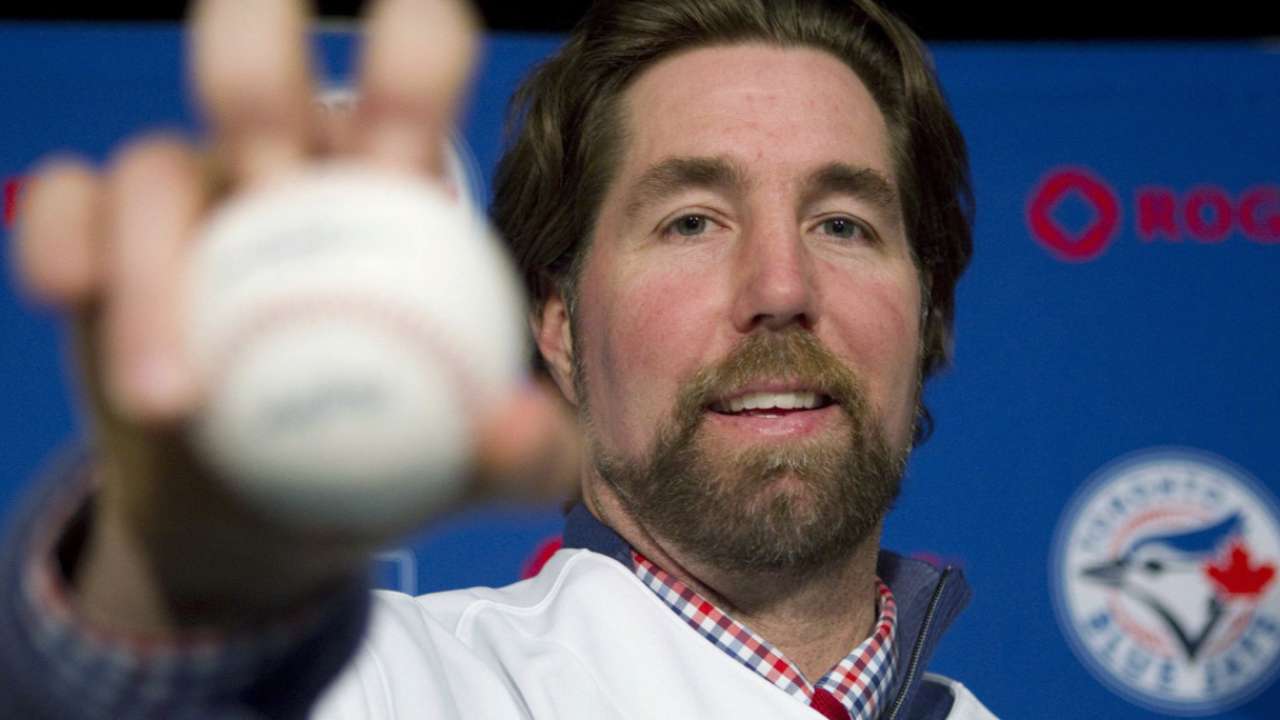 DUNEDIN, Fla. -- Each spring with the Blue Jays, R.A. Dickey has been forced to spend a lot of his time teaching a catcher how to properly handle his knuckleball. This year, he doesn't have to worry about any of that.
Toronto has made the decision to partner Dickey with his longtime batterymate Josh Thole from the outset of camp. In years past, the two worked with each other for long stretches during the regular season, but every spring there was a new face trying to learn the pitch.
• Spring Training: Schedule | Tickets | More info
In 2013, it was J.P. Arencibia. The following year, it was Erik Kratz. And then last season, Russell Martin gave it a shot. Martin handled it better than either of the previous two, but Thole is the best of the bunch, and he and Dickey appear set to work exclusively with each other this year.
"I feel like Josh has been unfairly criticized in a lot of ways, but for me, it's very comfortable to have a guy back there that I have a lot of rapport with and a good chemistry with, who knows me," said Dickey, who allowed one run over two innings in a start against the Phillies in Wednesday afternoon's 4-4 tie. "Like today, I struck out a guy on an 81 mph fastball in. I didn't have to shake to it, he knew what I wanted. There's a real connection there for us.
"That's not to say [Humberto] Quintero or Russ [Martin] can't do it, but it's hard to replace the amount of reps that we have together. I don't remember many people getting all over Doug Mirabelli when he was with the Boston Red Sox when they were winning world championships, and he was the personal catcher of Tim Wakefield. That was just kind of the way it is."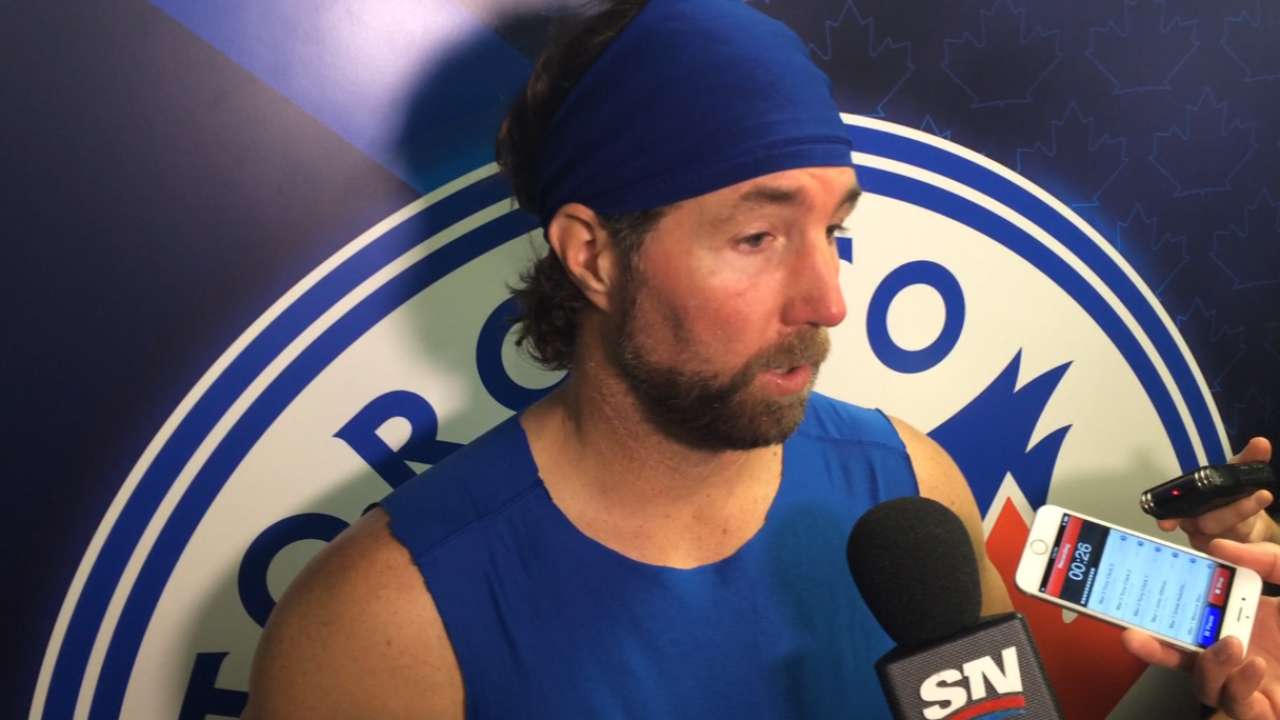 Dickey appeared to be referencing the criticism that Thole often receives for his offense. Thole is a career .249 hitter with a .319 on-base percentage and is coming off a year in which he had a .204/.250/.245 slash line in a very small sample size of 49 at-bats.
The lack of time at the big league level mostly stemmed from the fact that Toronto was locked in behind the plate with Martin and backup Dioner Navarro, who has since left for the White Sox via free agency. For a long time, it seemed like the Blue Jays went out of their way to test out alternative options besides Thole, but this season, there's no question the two will work with each other a lot.
"I don't necessarily have a personal catcher, I don't feel like," said Dickey, who went 11-11 with a 3.91 ERA in 33 starts last year. "Josh caught a lot of my starts, but so did Russ last year, and every year that I've been a Blue Jay, Josh has not been the predominant catcher.
"This may be the year that he is, and that's a good formula. I think when you look at my walk rates with him behind the plate, they're significantly different simply because he understands the art of catching that in the strike zone to give the umpire the best possible look. That's hard to quantify for the average fan, and he does an incredible job doing that."
Gregor Chisholm is a reporter for MLB.com. Follow him on Twitter @gregorMLB and Facebook, and listen to his podcast. This story was not subject to the approval of Major League Baseball or its clubs.