MLB.com Columnist
Hal Bodley
Dusty is back, and baseball is better off for it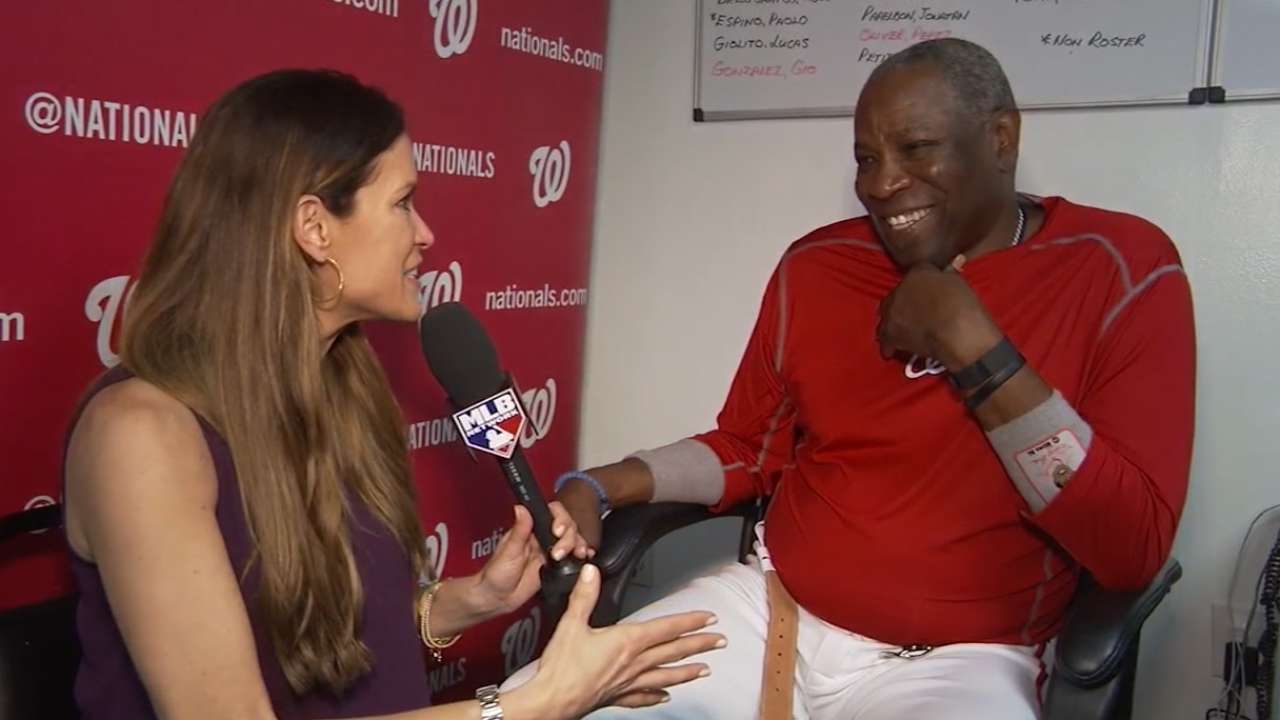 PORT CHARLOTTE, Fla. -- The bus snaked through Central Florida, passing by Orlando and Lakeland and Sarasota, south on crowded I-75, before pulling into the sprawling Charlotte Sports Park.
For Dusty Baker, the end of this grueling three-hour-plus, 216-mile journey Wednesday morning was truly a beginning for what is probably the final chapter in his storied career as a baseball manager.
It was the Washington Nationals vs. the Tampa Bay Rays, a meaningless Grapefruit League opener, but a special day for Johnnie B. Baker Jr.
• Spring Training: Tickets | Ballpark | 40-man roster | NRIs
"I guess it is kind of special, but now that I'm here, it's as if I haven't been away," Baker mused, sitting in the Nationals' dugout on the delightful afternoon.
Looking out onto the lush green field, he added: "Truthfully, I don't know if it feels that special or if this is where I belong. Maybe God wanted me to take this break, not something I wanted, but maybe it was best for me."
Scott Sizemore, a non-roster infielder for Washington, made things easy on Baker, blasting a three-run homer off highly touted Rays pitching prospect Blake Snell in a 6-2 victory.
Regardless, Dusty is back and baseball is better for it.
"Just seeing Dusty in the other dugout is awesome," said Rays second-year manager Kevin Cash. "I have tremendous respect for what he's accomplished in this game. He's an inspiration for all of us."
• Baker making a positive impact on Nationals
After being dismissed by the Cincinnati Reds in 2013, Baker was out of uniform the past two seasons and wondered if he'd ever get another chance to practice the trade that's earned him three Manager of the Year Awards. Even more important to him is the fact he's the most successful African-American skipper in Major League Baseball history.
Putting it bluntly, MLB has a huge void when Dusty isn't in the dugout.
Baker has had two years to reflect, and he did some of that during the long bus trip Wednesday morning from the Nats' Spring Training camp in Viera.
"I saw parts of Florida I've never seen before," he said. "We came through Lakeland, my dad's old hometown. I've only been there twice in my life, so I kind of felt the spirit of my dad, going through there. And we came by Sarasota [where the Reds trained during the first two years (2008-09) of his six-year tenure with them]. It was like going through your life, certain parts of it."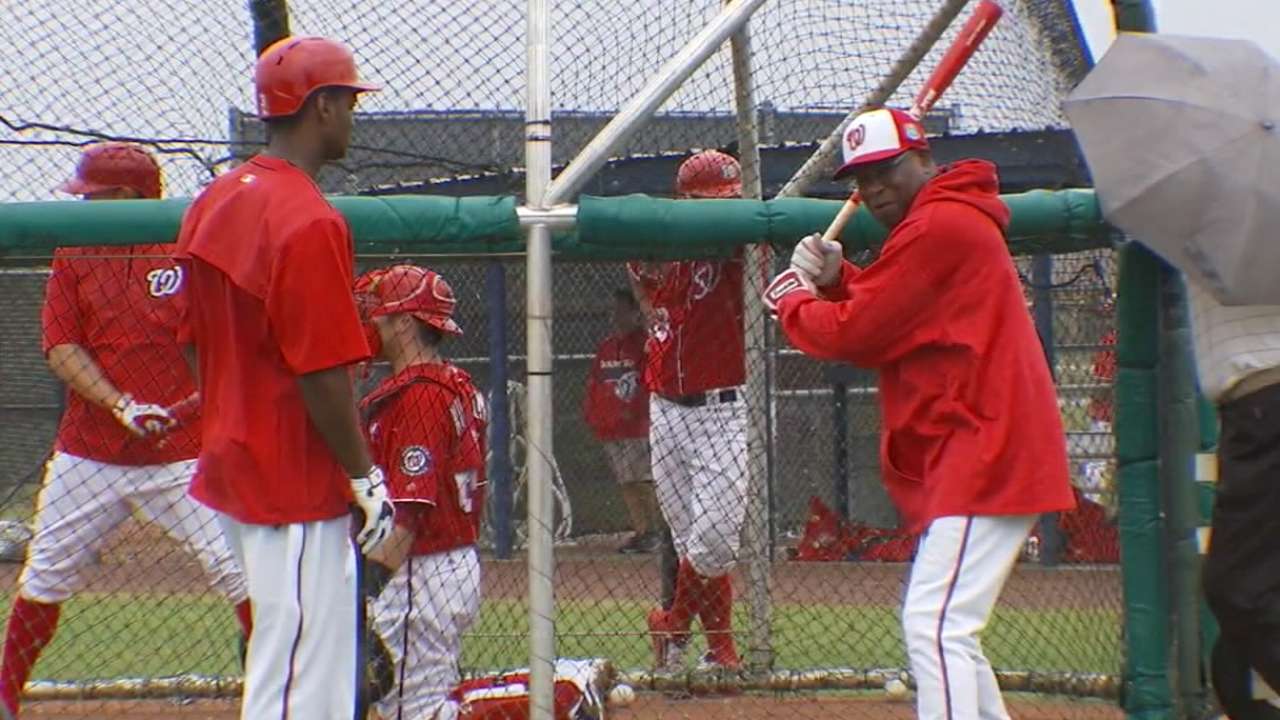 During his two years away, Dusty wondered if he'd manage again. He says there's a difference between being dismissed and retiring.
When negotiations with Bud Black didn't work out, the Nationals came calling and Baker couldn't have been happier.
"I know I belong here," he said. "I was trying not to miss it, but deep down I did. I truly did miss it. Yes, I missed the game, but life goes on. I'm closer to death than I am to birth. So therefore you have to live your life, which is what I tried to do."
Baker is taking over a Washington team that was one of MLB's biggest disappointments in 2015. The Nats were loaded with talent, but they couldn't live up to their preseason expectations. Neither Max Scherzer, who pitched two no-hitters, or unanimous National League MVP Award winner Bryce Harper could turn the tide. Matt Williams, the previous year's NL Manager of the Year Award winner, was dismissed after the season, opening the door for Baker.
Dusty, with his 20 years of managerial experience, should be a stabilizer for the Nationals, who once again are considered one of the NL's premier teams.
• Baker meets with Torre, Leyland on new rules
During his two years away, Baker said, "I did a lot of things I hadn't done in life that I was looking forward to.
"The first year, I was trying to get everything back together -- physical tests to make sure I was going to live for a long, long time. My daughter got married, I spent a lot of time with my son, started a couple of businesses, spent time in Canada [and] on the American Indian Reservation in Montana. I watched a lot of Giants and A's games on TV from my home in Granite Bay, Calif."
Baker recovered from prostate cancer in 2001, has suffered from an irregular heart beat, sleep apnea, a stroke in 2012 and had cateracts removed from his left eye in February. He's been given a clean bill of health and looks much younger than his years.
As Baker, arms hanging over the dugout railing, watched the Nats defeat the Rays, he was enjoying the moment, but at the same time, he was realizing how baseball has changed during his two years away.
The biggest change?
"Probably how complicated we've made the game. Period," Baker said without hesitation. "Not only analytics, but the the terminology of hitting, pitching. We tend to analyze every swing, every pitch. I'm not sure they understand it all."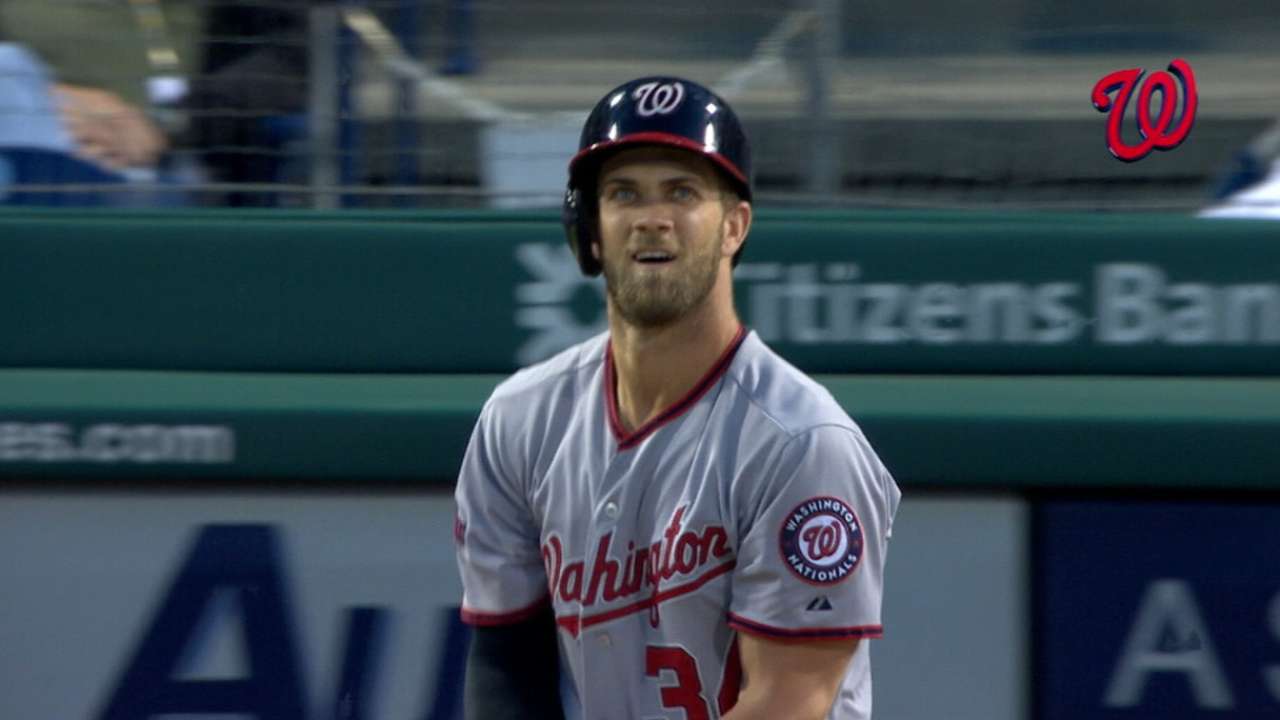 Virtually every Major League team is deeply involved with the extensive use of analytics. Many of the franchises have complete departments with computer-savvy folks spewing out numbers, trends and detailed information on every player and almost every pitch.
Baker is not against this -- "I do believe in analytics. ... I just had a different name for it. If you've ever seen my cheat sheet, it had matchups, lefty vs. righty, righty vs. lefty, you name it. I just believe it should be a combination of things.
"There comes a point in time when they have to get more into concentration and determination, and the heart of the player. A lot of the [analytics] things are after the fact. I'm trying to get the guys prepared before the fact."
And then there's the argument about chemistry in the clubhouse, how the players get along with each other.
"I've heard people say that that doesn't count, it doesn't matter," Dusty said, chewing on sunflower seeds. "If you've ever been on a team, you know it matters a lot. It's very, very important. This game is still played by people with feelings, fears and aspirations. The one thing that hasn't changed is: He who crosses home plate the most wins."
And while on his soapbox, Baker said there are scores of elderly baseball people with extensive experience whose knowledge isn't being tapped.
"Even after this job, I've got something to offer somebody," he said, using musicians as an analogy. "They don't just discard their older guys -- Mick Jagger goes and plays with James Brown, Bonnie Raitt was playing with John Lee Hooker. I always said why not get a grand counsel of [baseball] minds to help the young and make the game a better place?
"Instead, it seems like baseball is discarding these guys. You'd be surprised how many of these old dudes are still watching baseball every day and have something to say if they're asked. They're not going to volunteer."
Baker oozes with the experience and knowledge he speaks of.
Baseball is still deeply in him. Baker's teams have finished first or second 12 times in his 20 years as a manager and won at least 90 games in a season eight times. He's been able to do most of the items on his bucket list, but one remains:
"To win a championship," Dusty said, and there was determination in his eyes.
Hal Bodley, dean of American baseball writers, is the senior correspondent for MLB.com. Follow him @halbodley on Twitter. This story was not subject to the approval of Major League Baseball or its clubs.