Matzek aims to overcome shaky spring debut
Anderson says his timing was good in Rockies' loss to D-backs
SCOTTSDALE, Ariz. -- Left-hander Tyler Matzek's first game in a Rockies uniform since last May was rough -- allowing three runs, including a Welington Castillo homer, two walks and a wild pitch without an out in a 6-3 loss to the D-backs in the Cactus League opener on Wednesday.
Matzek, who began last season in the rotation, but pitched his way out by May and had to deal with diagnosed performance anxiety, went to watch video after leaving the game in search of positives. For example, he thought he had Castillo off balance, but the D-backs' catcher hit it enough.
• Gray set on earning spot in Rockies rotation
"I was just looking for something good," Matzek said. "I wanted to see some of those pitches that got hit. I thought I threw some pitches, just not enough of them."
• Spring Training: Tickets | Schedule | More
Matzek was 2-1 with a 4.09 ERA in five starts last season, but the 19 walks and three hit batsmen in 22 innings were alarming. The Rockies sent him to the Minors, where he spent some time working with coaches without appearing in games, and Matzek even took a complete break from baseball. He finished with solid relief work at Triple-A Albuquerque. He admitted nervousness on Wednesday.
"The first-time jitters were out there, and I brought that to the mound," Matzek said. "I made some good pitches there -- I made some bad ones, but I made some good ones. I should've thrown more of the good ones."
The Rockies are looking at Matzek, 25, as just another fellow who struggled in his first Spring Training game.
"I was nervous," said Nolan Arenado, who went 1-for-2 with an RBI double. "I guarantee he was nervous. I don't know who wasn't nervous the first day. I wouldn't put too much into it. There's a lot of work to be done.
"I wouldn't want him to wear himself out too much. I know if I'd gone 0-fer, I'd have been in there looking at video."
Rockies manager Walt Weiss said, "The guys who haven't been out there in a while, it may take some time to get settled in. But we're hoping it gets better."
Worth noting
• Rockies left-handed pitcher Tyler Anderson - a first-round pick in the 2011 Draft -- discussed what went right and what didn't on Wednesday with equal appreciation. Anderson threw a clean inning followed by a three-run second frame, during which Kyle Jensen hit a two-run homer, marking Anderson's first action outside of instructional ball in 18 months.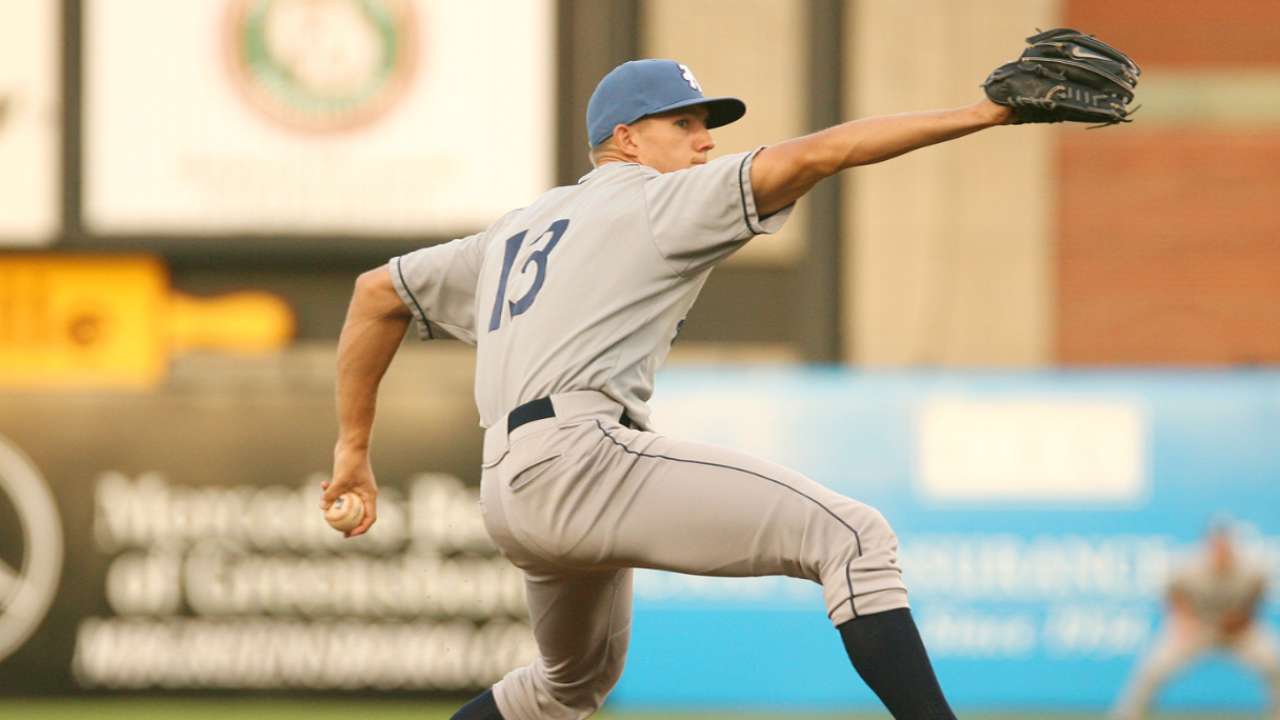 "It's a lot better than saying, 'I'd have loved to have faced that guy,' or watch pitches that somebody else threw," said Anderson, who gave up four hits and three runs with three strikeouts. "Being out there competing is fun."
Anderson, with a jerky delivery that includes some hesitation, said his "timing feels good, and the most part it's pretty close. It's a good feeling."
Weiss said, "A break here or there, he goes scoreless for the two innings. But I thought he did a great job -- first time in a long time. I thought he threw the ball well."
• The Rockies' first inning against Rubby De La Rosa included hits by DJ LeMahieu and Carlos Gonzalez, followed by Arenado's RBI double and a grounder to the right side by Gerardo Parra to score another run.
"We took some good at-bats," Weiss said. "Nolan looks really good. CarGo took some good at-bats as well."
• Left-handed-hitting outfield prospect Raimel Tapia lashed two hits, including a double, and scored a run.
Thomas Harding is a reporter for MLB.com. Follow him on Twitter @harding_at_mlb, listen to podcasts and like his Facebook page. This story was not subject to the approval of Major League Baseball or its clubs.