MLB.com Columnist
Barry M. Bloom
Old soul Frazier keeping Sox young at heart
Acquired in December, veteran already a leader for South Siders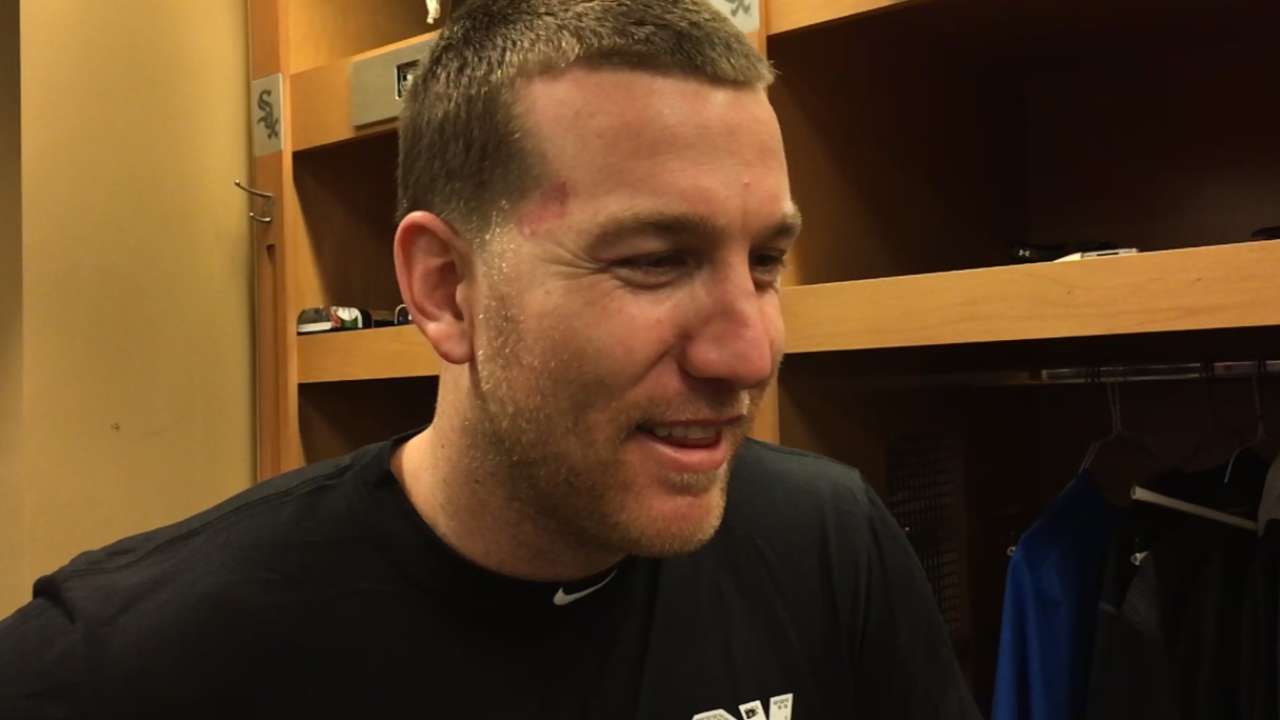 GLENDALE, Ariz. -- Todd Frazier has moved from Cincinnati to Chicago, and his first act after integrating himself as a leader of the White Sox is to decide on his walkup music for striding to the plate at U.S. Cellular Field.
Frazier arrived to camp at Camelback Ranch after he was traded on Dec. 16 by the Reds as a brash young veteran with a terrific sense of humor. He's already made his mark in the clubhouse.
"He's a veteran," said White Sox manager Robin Ventura. "You listen to him. You see him go about his work, how he talks to people, how they talk to him. There's no sign of him being young and timid and not be willing to say things.
"He probably was never like that. I'd find that hard to believe."
It shouldn't be surprising. Frazier was the National League's starting third baseman and won the Gillette Home Run Derby last July when the Reds hosted the All-Star Game and accompanying events at Great American Ball Park. He reveled in those few days in the spotlight. He had done it before.
"It's up there," Frazier said. "One of my top one or two moments. Just having my family there was unbelievable."
Now Frazier is taking his act to the Windy City. From the moment he stepped into his new role with his new team, there was no doubt about his demeanor, Ventura said.
"He's a leader," Ventura said. "I don't even have to have a conversation with him about it. He has it. I don't know what 'it' is, but he has it."
Frazier's a bit different. He's a big Frank Sinatra fan, having grown up on the New Jersey shore. Most players choose rock, rap or country as their walkup signatures. Not Frazier, who more appropriately could have been partial to fellow New Jersey native Bruce Springsteen. Frazier is 30, but he might as well be 60 when it comes to his musical taste.
In Cincinnati, Frazier made his way to the plate to the strains of Sinatra's "Fly Me to the Moon" or "Come Fly With Me." Well, the artist will remain the same, but the song will change.
Frazier reiterated on Wednesday something he's been musing about all spring: That he's considering switching to Sinatra's ode to Chicago called "My Kind of Town."
Sinatra came from Hoboken, just on the other side of the Hudson River from Manhattan. And for Frazier, whose heart and soul still remains in New Jersey, it's a no brainer. But he says there's a catch.
"I asked John Danks to help me out with it," said Frazier, preparing in the clubhouse for the last day of practice before the White Sox open their Cactus League season. "He's got the hillbilly version, but I don't know if I want to go hillbilly. We'll see."
Danks was standing in the adjoining locker, laughing. Come on. Sinatra's version? In Chicago?
"I know, you can't beat it," Frazier said.
You can take the boy out of Cincinnati, but you can never take him out of New Jersey. Frazier grew up in Toms River, a town of about 92,000 people right near the shore and not far from where Bruce built his chops playing in the bars and clubs of Asbury Park.
Frazier has a 2-year-old boy, Blake, and a girl, Kylie, who was just born two months ago.
"He's a beast," Frazier said about Blake. "He's swinging hard already. It's unbelievable."
They all live not far from Frazier's alma mater -- Toms River High School South. He also attended classes at nearby Rutgers University.
"We've got a new house there," Frazier said. "The rest of the family is a 10-minute drive away."
Frazier, who grew up rooting for the Yankees, starred as a 12-year-old shortstop and pitcher for the Toms River Little League East All-Star team that defeated a squad from Japan to win the 1998 Little League World Series. Frazier started the decisive game at short, hit a leadoff homer and went 4-for-4, eventually ending the game on the mound with a strikeout.
Later that season, Frazier's team was honored before a game at the old Yankee Stadium. Each of the young players was introduced along with the Yankees counterpart at their particular position. Frazier, of course, was introduced with Derek Jeter, his favorite player. Those Yanks went on to win the 1998 World Series.
It has been that kind of charmed life for Frazier.
• Spring Training: Tickets | Schedule | More
The Reds signed Frazier to a two-year contract extension several years ago to avoid arbitration. They traded him just as his salary accelerated from $4.5 million last season to $8.25 million. The White Sox have Frazier under control through the 2017 season.
Frazier, a two-time All-Star with 108 homers, is a bargain. He came up through the Reds' system and bounced back and forth from the Minors at a time when Jay Bruce and Joey Votto were the wise young veterans.
Frazier comes to Chicago in position now to have that kind of impact. Thus far, there have been two team meetings, and he has been a vocal participant.
"We've got some guys who know what they need to do," Frazier said. "You don't need to push them. They want to win. We had meetings here already and talked about all that good stuff. They're sick of losing.
"I don't mind being a leader. Guys have to have your back, too. That's the biggest thing. You can't do it by yourself. It's just being accountable, accountable for what you do."
Barry M. Bloom is a national reporter for MLB.com and writes an MLBlog, Boomskie on Baseball. Follow @boomskie on Twitter. This story was not subject to the approval of Major League Baseball or its clubs.