Mazzoni not dwelling on rough big league stint
Padres pitching prospect works on not tipping pitches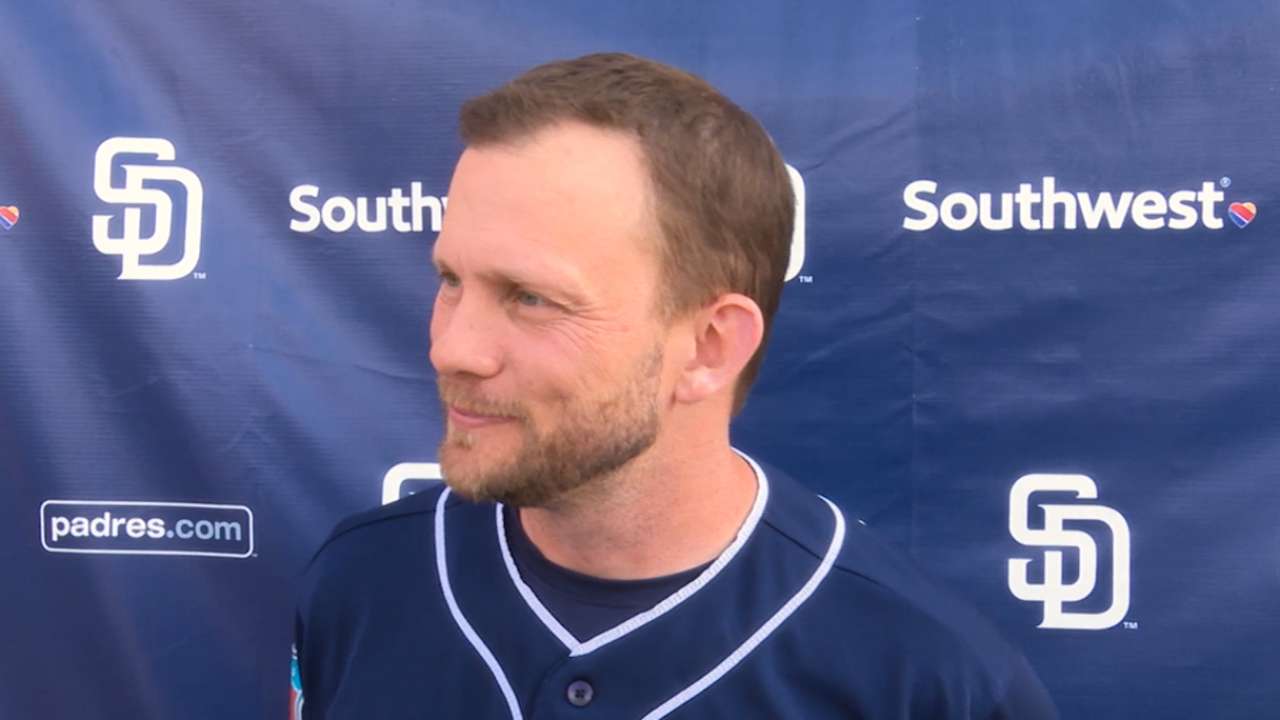 PEORIA, Ariz. -- Cory Mazzoni didn't spend much time, if any, during the offseason mulling over the results of his first stint in the big leagues last summer.
That's not to say the 26-year-old right-hander didn't ponder what went wrong in his eight appearances with the Padres, which saw him allow 20 earned runs.
"I try to look and look at all my outings and see if my arm slot is lower or if I was tipping pitches," Mazzoni said.
What Mazzoni found was that he may have been tipping his pitches, which may or may not have contributed to his struggles.
"Sometimes with my changeup, I dig [in the glove] a little bit," Mazzoni said. "It's something I worked on this offseason."
Mazzoni allowed two runs (one earned) on two hits -- including a home run to Franklin Gutierrez -- in one inning of work on Wednesday.
What Mazzoni didn't spend a lot of time pondering was the results from four separate stints with the Padres after being recalled from Triple-A El Paso.
"It's something where I was blessed to be in the big leagues. The results weren't what I expected, but it's something you can learn from. I didn't dwell on it. It's something I kind of forgot about rather quickly," Mazzoni said.
Mazzoni allowed a combined six earned runs in his first two starts, pitched better, and then was hit hard during two outings in June against the A's, as he yielded 12 earned runs in 1 2/3 innings.
"I left a lot of pitches over the plate and I was working behind a lot," he said.
In his last big league game on June 17, a 16-2 loss to the A's in Oakland, Mazzoni allowed seven runs on eight hits while getting just two outs. That was the same day interim manager Pat Murphy let infielder Alexi Amarista pitch.
"As a pitcher, you're going to have really bad days. It's something you grow from. I love baseball. I hope to have a long career," Mazzoni said.
And it's not like Mazzoni hadn't struggled before -- or moved on from a bad start.
When he was a freshman at North Carolina State University, Mazzoni had success pitching out of the bullpen early in the season. The team then opted to have him make a start in March against Liberty.
It didn't go too well, as he got one out in the first inning, allowing five runs on five hits, including two doubles and a home run. The Wolfpack lost, 17-5.
"I think I got maybe two outs in the first inning, Mazzoni said. I had another start like that against Florida State, too," he said.
"But it's just something you learn and grow from."
Mazzoni is in big league camp this spring trying to win a job in the bullpen. He's still on the team's radar and he's confident that his next stint in the big leagues will be better than those in 2015.
"I'm trying to improve and stay on the team's radar and, hopefully, get back up there," Mazzoni said.
Corey Brock is a reporter for MLB.com. Keep track of @FollowThePadres on Twitter and listen to his podcast. This story was not subject to the approval of Major League Baseball or its clubs.