Gosselin seeking D-backs' second-base job
After being acquired from Braves in '15, infielder impressed down stretch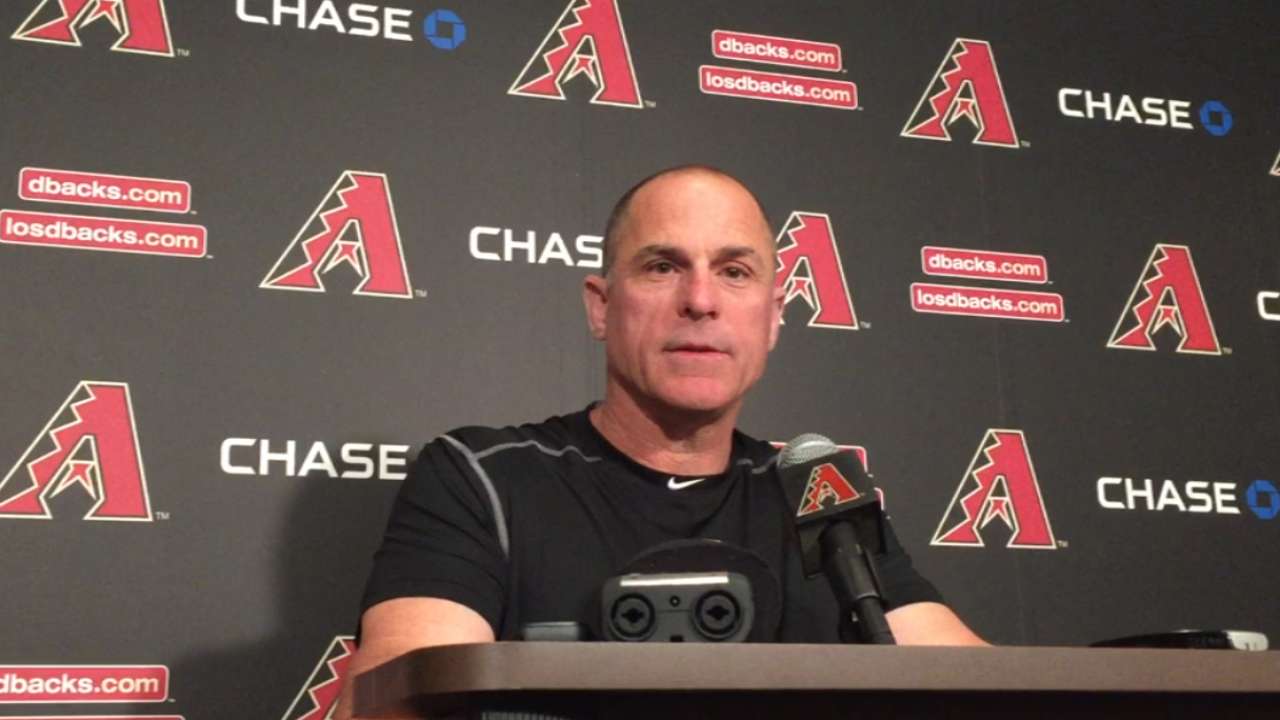 SCOTTSDALE, Ariz. -- There was not a lot of attention paid when the D-backs acquired Phil Gosselin in a trade with the Braves in June 2015.
Instead, most of the focus was on the fact that the D-backs traded their No. 1 Draft pick from 2014 -- Touki Toussaint -- in order to get out from under the roughly $10 million still owed to injured veteran Bronson Arroyo.
It was somewhat understandable given that at the time, Gosselin had just 70 big league at-bats, was on the disabled list with a fractured left thumb, and would not be able to play until Aug. 31.
• Spring Training: Schedule | Tickets | Information
But Arizona acquired him for a reason.
"He was not a throw in for me," GM Dave Stewart said. "I knew that he was a good offensive player that was young and if he got some time, he might develop into a guy that could challenge for the second-base position."
The D-backs gave Gosselin plenty of opportunities during the final month of the 2015 season and the 27-year-old made the most of them -- hitting .303 with a .927 on-base plus slugging mark in 24 games.
"They gave me a lot of chances once I was healthy so that was good for my confidence," Gosselin said. "They believed in me even though they hadn't really seen me. So I was happy they gave me so many opportunities down the stretch there, and I was able to play pretty well and help the team out."
Gosselin's play did not go unnoticed, or apparently unrewarded.
Heading into camp this season, he was all but certain to make the team as at least a reserve, but Gosselin's performance last September put him in the mix to win the starting second-base job.
"His swing is a short swing," manager Chip Hale said. "Stays on top of the ball, line drives, groundballs, just all the things that we try to teach in hitters. He also has the ability to come off the bench and hit. Obviously if he can't win that starting spot, he fits really good on our team as a role guy."
Gosselin can play second, third and both corners in the outfield. He also could see some time at first base this spring. That kind of versatility is a big plus on a National League team.
Whether Gosselin wins the starting job or not, he is happy to have the opportunity as opposed to getting labeled as a reserve.
"We talked when camp started about what we wanted to do in terms of splitting up my defensive work and all that," Gosselin said of his conversation with Hale. "He said, 'We want you to bounce around a little bit, but you're right there in the mix to play every day so don't forget about that.' That was good to hear. It fires you up that they're going to give you that opportunity.
"You can get pigeonholed as a bench guy or a utility guy, so the fact that they believe in me enough to give me a chance means a lot."
Steve Gilbert is a reporter for MLB.com. Follow him on Twitter @SteveGilbertMLB. This story was not subject to the approval of Major League Baseball or its clubs.