Kang improving, but not ready to test knee on bases
Bucs' Cole expected to throw live BP this week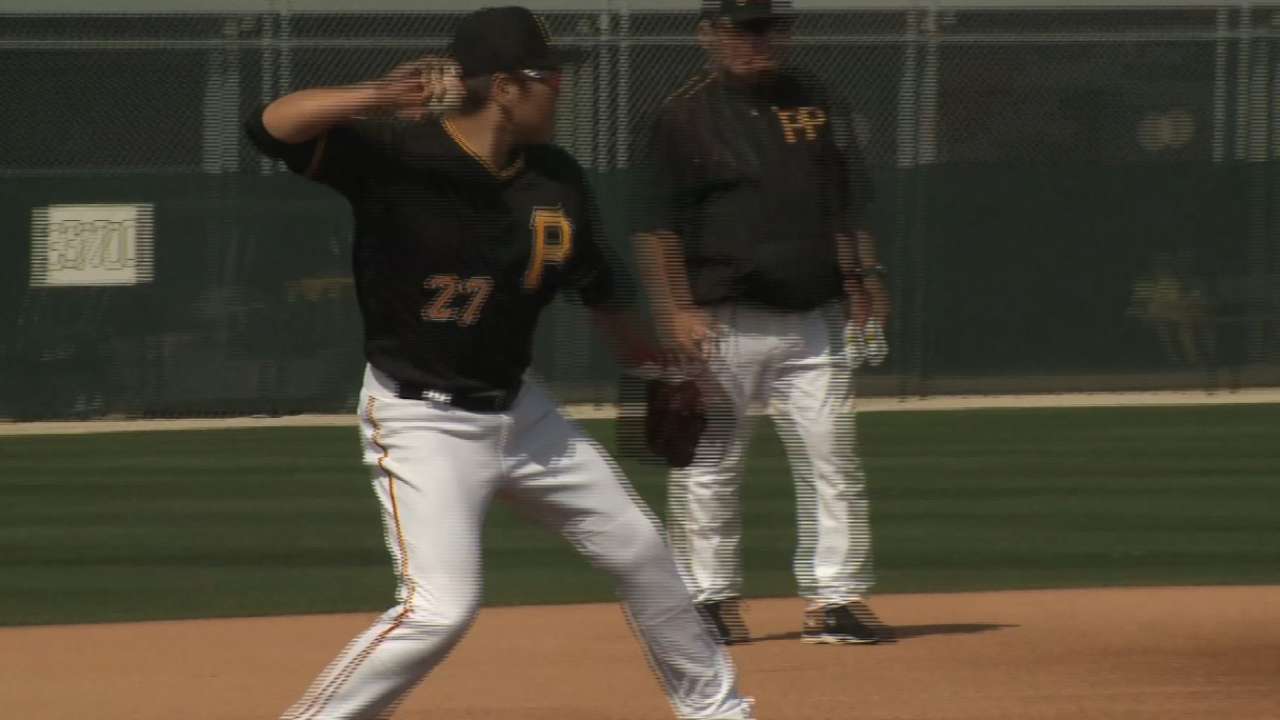 BRADENTON, Fla. -- Jung Ho Kang is doing more work more often this week, Pirates head athletic trainer Todd Tomczyk said, but he's not yet ready to test his surgically repaired left knee by running the bases.
In his weekly meeting with reporters, Tomczyk said the Pirates' plan is for Kang to "increase his frequency and volume of baseball activities" this week.
Spring Training: Tickets | Schedule | Information
"On-field activities, fielding, hitting," Tomczyk added. "At this juncture, no baserunning."
Kang is recovering from September surgery to repair a fractured tibia and a torn meniscus in his left leg. The Korean infielder spent the entire offseason rehabilitating in Pittsburgh and Bradenton, and all signs point to him returning some time in April.
Kang has been working out with his teammates since position players reported to Pirate City. When big league camp moved across town Monday, Kang reported to McKechnie Field along with the rest of the club.
The Pirates have been making two sets of plans as they progress through Spring Training: one in which Kang is in their Opening Day lineup, another in which he begins the season on the disabled list.

• Right-hander Daniel Bard recorded the final out of the ninth inning, a popout to second base, in the Pirates' 10-3 loss to the Tigers on Wednesday. Once a dominant setup reliever for the Red Sox, Bard was called over from Minor League camp on Tuesday and Wednesday. After warming up in the bullpen earlier in the game, Bard entered with two outs in the ninth and retired the only batter, Chad Huffman, he faced.
Bard is looking to get his career back on track with the Pirates, who will continue to use him this spring.
"We'll look for some opportunities to get him some traction," manager Clint Hurdle said. "That might be one of the nice wins we walked away with today at the end of the day was getting him in, getting an out and getting him moving forward."
Around the horn
• Right-hander Gerrit Cole, who began Spring Training on a modified schedule due to inflammation in his right rib, is expected to throw live batting practice this week.
"No reservations, no restrictions," Tomczyk said. "I consider him a healthy pitcher."
• Non-roster left-hander Cory Luebke, competing for a bullpen spot, threw off the mound Wednesday. Luebke had been sidelined with a strained right hamstring.
• Left-hander Robert Zarate, in big league camp after signing a Minor League deal, "hit a pause in his throwing program," Tomczyk said. Zarate is in a "rest and recovery" stage as he deals with discomfort in his throwing elbow.
• Hall of Fame hockey broadcaster Mike "Doc" Emrick, a longtime Pirates fan, will call an inning or two from the Bucs' radio booth during Thursday's game against the Blue Jays at McKechnie Field.
"I want to enjoy it," Emrick said on Feb. 18. "But I want people to enjoy it, too."
Adam Berry is a reporter for MLB.com. Follow him on Twitter at @adamdberry. This story was not subject to the approval of Major League Baseball or its clubs.