Prospect Rivera staying true to skill set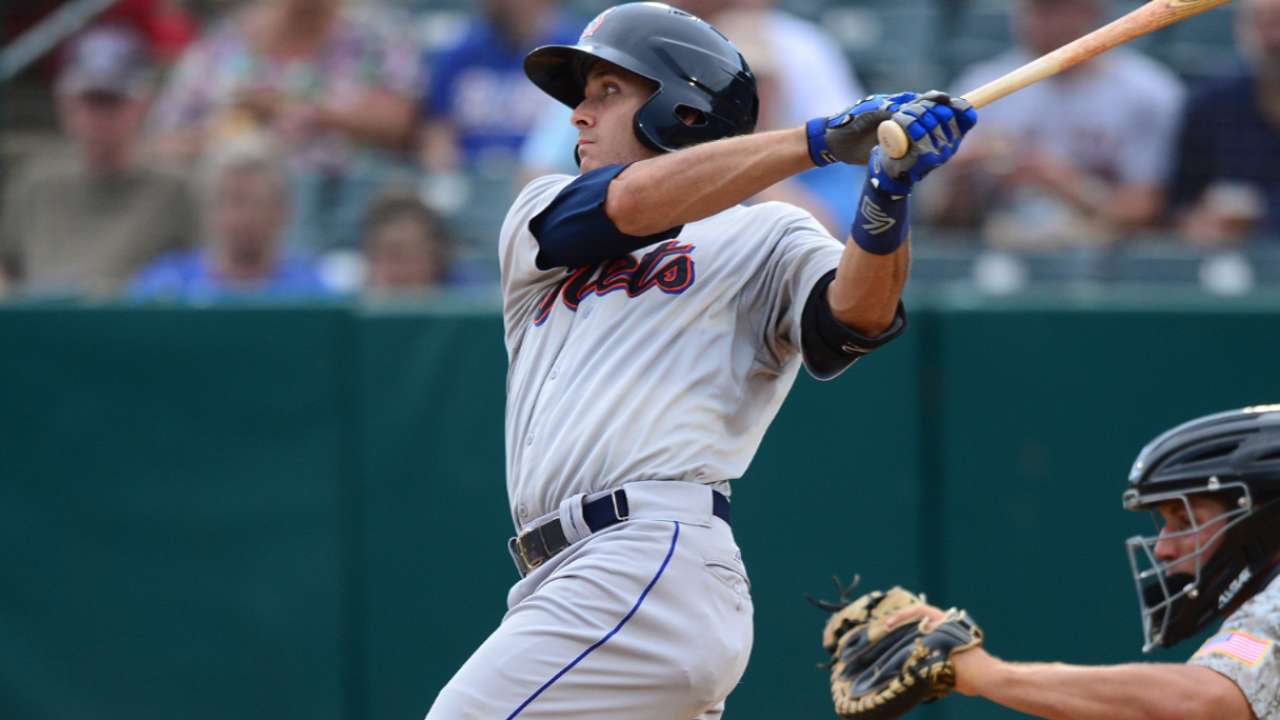 PORT ST. LUCIE, Fla. -- A career .318 hitter, T.J. Rivera watched the Royals slash and jab and poke their way to a World Series title last October, and wondered. Much ink was spilled regarding Kansas City's contact skills at the plate, eschewing the game's modern conventions -- power, power, power -- in favor of old-school bat-on-ball proclivity.
"I did think about that when I was watching," said the Bronx native Rivera, one of the Mets organization's most successful pure hitters. "You watch the World Series and you do see them talking about how much they made contact and things of that nature. But I don't let it affect the way I play my game. I'm going to try to put the ball in play hard. If it does happen that teams start looking for players like that, then that would be awesome because that might help me out. But that's just always been a part of my game is to put the barrel on the ball."
• Spring Training: Schedule | Tickets | More info
Few have done it better than Rivera, whose .318 average over five Minor League seasons includes little power -- fewer than five home runs per campaign -- and below-average plate discipline, but plenty of hits. An undrafted free agent, Rivera hooked on with the Mets in 2011 and batted .301 that season. Three years later, he made it to Double-A Binghamton, announcing his arrival with a .358 mark at the plate. That success spilled into last season, which saw Rivera hit .341 at Binghamton, earn a promotion to Triple-A Las Vegas, then celebrate with a .306 average in 54 games.
"He gives you a professional at-bat time after time," Binghamton manager Pedro Lopez said. "He's proven through the years that he's been able to hit."
It has not, however, helped Rivera advance through the system with any sort of haste. Now 27 years old, Rivera is not a prospect in the traditional sense; he peaked at No. 25 on MLB.com's Mets list a year ago, and he did not register in the Top 30 this season. More heralded Minor League teammates such as Gavin Cecchini and Matt Reynolds have leapfrogged him on the depth chart despite thinner resumes, largely because Rivera's skills do not mesh with the front office's twin tenets of power and plate discipline.
But it's hard to ignore all those hits forever.
"If you can produce, you can play," Mets director of Minor League operations Ian Levin said. "Wherever the production comes from, it's all valuable to a team. As an organization, we value certain things. But at the end of the day, how can you produce?"
And how much can you improve? Though Rivera may never become a power threat, he did muster seven home runs last season, posting the highest full-season slugging percentage of his career. He hit three more homers in 86 at-bats in the Puerto Rican Winter League and, as if on cue, cracked a two-run homer during Tuesday's intrasquad game in Port St. Lucie.
Lopez describes Rivera as an improved fielder with enough versatility -- he can play second and third base as well as shortstop -- for the organization to value. So there is potential here; often, Rivera admits, he daydreams about debuting at Citi Field, a 15-minute drive from where he grew up off Westchester Ave. in the Bronx.
"I think about it all the time," he said.
For now, and for the foreseeable future, Rivera will remain blocked by a litany of infielders with more impressive pedigrees -- if Neil Walker or Asdrubal Cabrera should falter, Wilmer Flores, Reynolds and Dilson Herrera would all receive looks before Rivera. But a strong season with Las Vegas would put Rivera on the precipice of something his resume suggests he may already deserve.
"I just try to come to the field every day and put some work in, try to find a way to get better in any way possible -- not just hitting," he said. "It's been fun. It's been a blessing. Hopefully I can get that breakthrough this year. I've just got to keep working and wait for my opportunity."
Anthony DiComo is a reporter for MLB.com. Follow him on Twitter @AnthonyDiComo and Facebook, and listen to his podcast. This story was not subject to the approval of Major League Baseball or its clubs.