Cashman, Yanks react to Chapman suspension
GM lauds MLB's new domestic violence policy; Miller to serve as interim closer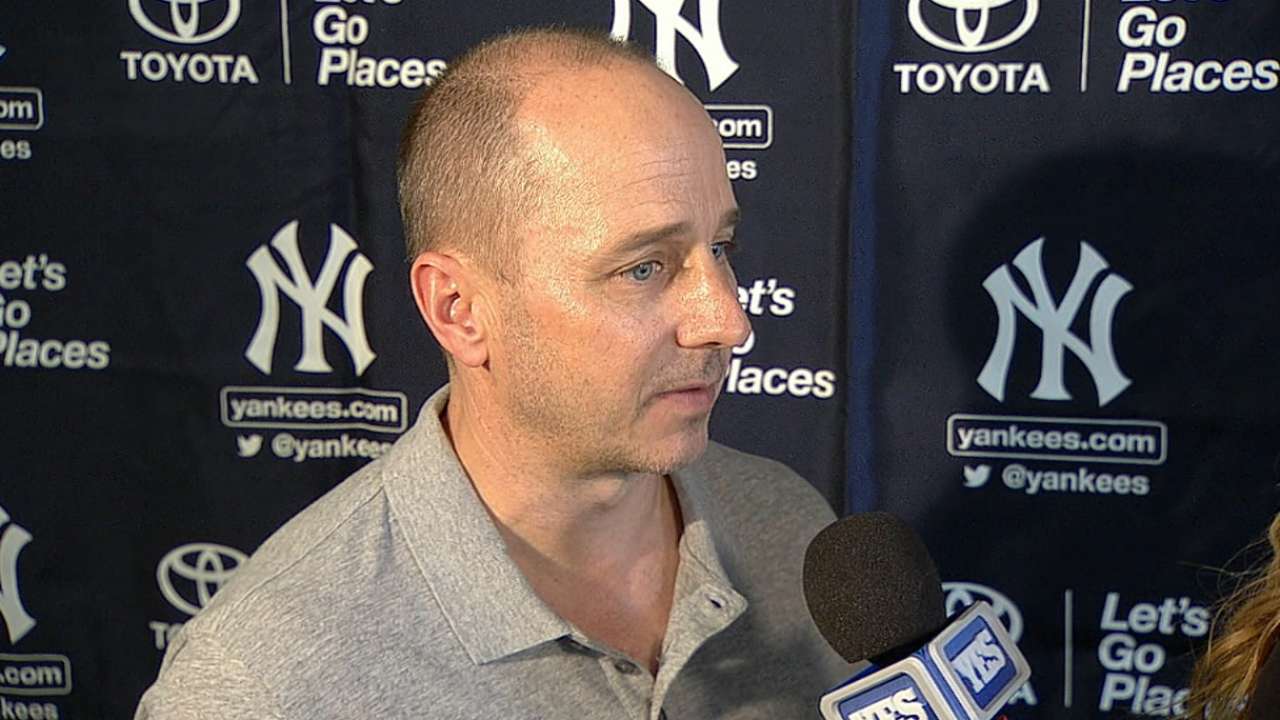 TAMPA, Fla. -- The Yankees acquired Aroldis Chapman expecting that he would be suspended for a portion of the regular season, and a day after they learned the left-hander will miss the season's first 30 games, general manager Brian Cashman applauded baseball's new domestic violence policy.
"I think it's an exclamation point. This clearly is going to be a very strong program and that's good," Cashman said. "Thirty days, that's a significant penalty and it's a significant dollar cost associated with that penalty, too. It was a hell of a statement by both Major League Baseball and the Players Association."
• Chapman gets 30-game suspension | Eager to move on, Aroldis accepts punishment
Chapman will be suspended without pay, costing him $1,856,557 of his $11,325,000 salary. He will continue working out with the Yankees in Spring Training, but cannot appear on the regular-season roster until May 9, when more than 18 percent of the schedule will have been completed.
"I think the anticipation of what's going to happen sometimes can really weigh on your mind," Yankees manager Joe Girardi said. "For him, considering he has to miss a month, I think he's ready to move on. He took responsibility for what happened and he wants to be better as a player and a person."
Left-hander Andrew Miller, who converted 36 of 38 save opportunities for the Yankees last season, will temporarily return to the closer role, with right-hander Dellin Betances serving as his setup man.
"I feel like I handled it pretty well last year, so if they ask me to do it, I should be more prepared this year," Miller said. "I'm going to try and get whoever I'm facing out, whatever inning it is or wherever it is."
Miller appeared in 15 games and tallied 13 saves over the first 30 games in 2015, but no matter how Miller performs this time around, the Yankees' plan is to have Chapman take over the ninth inning May 9. Miller said that he will be fine with passing those responsibilities to Chapman.
"Ideally, we all go out there and do our jobs, then we just add him and get even better," Miller said.
The suspension will open up another spot on the Opening Day roster for a group of bullpen hopefuls that includes Nick Goody, Jacob Lindgren, Branden Pinder, Nick Rumbelow, Chasen Shreve and Kirby Yates.
"I think it brings an opportunity for one of the younger guys to prove themselves in that first month," Betances said. "We've got to count on those guys, as much as everybody talks about us three. I think the bullpen as a whole, we've got to do our job to put us in a better chance to help the team win. That's the biggest thing."
Chapman has already faced hitters once this spring, but because he does not need to be ready for Opening Day, his program will now be more spread out. Girardi said that he did not know when Chapman would make his first spring appearance, but said it would not happen in the next few days.
"You want to make sure he's strong when he gets to us, and you can slow it down a little bit," Girardi said. "You don't necessarily have to get a guy ready in six weeks. He's got more time."
Once the Yankees go north, Chapman will continue to work out at the Minor League complex and can participate in games where no admission is charged, such as the Gulf Coast League and extended spring training.
"We acquired him understanding and knowing and expecting that there was a period of time that he would not be available to us," Cashman said. "At least we all know now, and it's time to move forward."
Bryan Hoch is a reporter for MLB.com. Follow him on Twitter @bryanhoch, on Facebook and read his MLBlog, Bombers Beat This story was not subject to the approval of Major League Baseball or its clubs.