Eager to move on, Aroldis accepts punishment
Yankees closer won't fight 30-game suspension, will be eligible to return May 9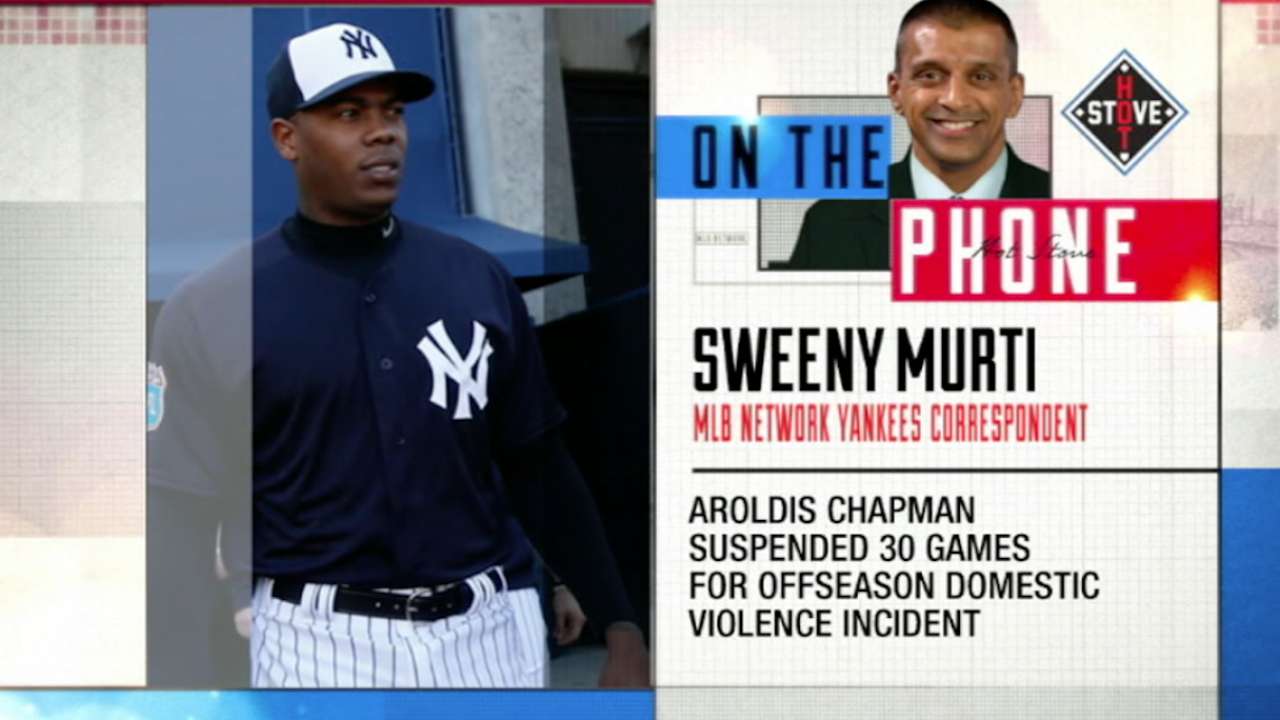 TAMPA, Fla. -- Aroldis Chapman said that he is taking responsibility for his actions as the first player to be penalized under Major League Baseball's new Joint Domestic Violence, Sexual Assault and Child Abuse policy, agreeing to be suspended for 30 regular-season games.
"This is definitely something that I want to put behind me," Chapman said on Wednesday through an interpreter. "I want to put this behind me, move on, help this team win. We're trying to win a championship here. And I think this is the best thing for me, for my teammates, for my family."
• Chapman gets 30-game suspension from MLB
Chapman will continue working out with the Yankees in Spring Training and will be eligible to play in Grapefruit League games. He will then remain behind in Florida when the Yankees open their regular-season slate. Chapman will be eligible to return to the active roster on May 9 against the Royals in New York.
The left-hander allegedly choked his 22-year-old girlfriend, Cristina Barnea, and fired eight shots in the garage of his Davie, Fla., home. On Jan. 21, prosecutors announced that they had decided not to prosecute Chapman, citing conflicting accounts and insufficient evidence that would have made a conviction unlikely.
However, under the policy MLB negotiated with the Major League Baseball Players Association, Commissioner Rob Manfred is empowered to impose discipline as he sees fit regardless of whether a case goes to trial.
"I want to take this opportunity, I want this to be clear: I'm apologizing because of the use of the gun, it was bad judgment on my part," Chapman said. "But I also want to say that I never hurt my girlfriend. I want this to be very clear. I'm taking this punishment because of my bad judgment -- something that I definitely want to put behind me and move on."
Chapman said that as a result of the incident, he no longer possesses firearms.
"When the whole thing happened, they did come and inspect the guns," Chapman said. "But as of right now, I don't have any more guns."
Chapman consulted with his attorney, Jay Reisinger, in deciding not to appeal, and acknowledged that his upcoming free agency was a factor. Had the suspension been for 46 or more games, it would have delayed his free agency by denying him the necessary service time.
When the Yankees go north, Chapman will be unable to participate in any games that charge admission while he serves the suspension, though he could pitch in extended spring games. Chapman will be suspended without pay during the suspension, costing him $1,856,557 of his $11,325,000 salary.
"I think the lesson is very clear to everybody," Chapman said. "You have to be able to make a better judgment in certain situations. At the same time, I want to take this opportunity to put this behind me. I really don't want to keep talking about this, creating a distraction not only for me, for my family and teammates.
"I think this is the last time I want to talk about this topic. I want to concentrate on baseball, which is the best thing I know how to do and help this team win a championship."
With Chapman unavailable for the Yankees' first 30 games, Andrew Miller will step back into the closer's role. Miller converted 36 of 38 save opportunities last season, taking home the Mariano Rivera Award as the American League's top closer.
Bryan Hoch is a reporter for MLB.com. Follow him on Twitter @bryanhoch, on Facebook and read his MLBlog, Bombers Beat. This story was not subject to the approval of Major League Baseball or its clubs.